Finding the right personal injury lawyer can be a daunting task, especially when you're already dealing with the aftermath of an accident or injury. With so many options and advertisements vying for your attention, it's important to have a clear understanding of what to look for in a legal representative. In this article, we will explore some key factors to consider when choosing a personal injury lawyer, ensuring that you make an informed decision and receive the justice and compensation you deserve.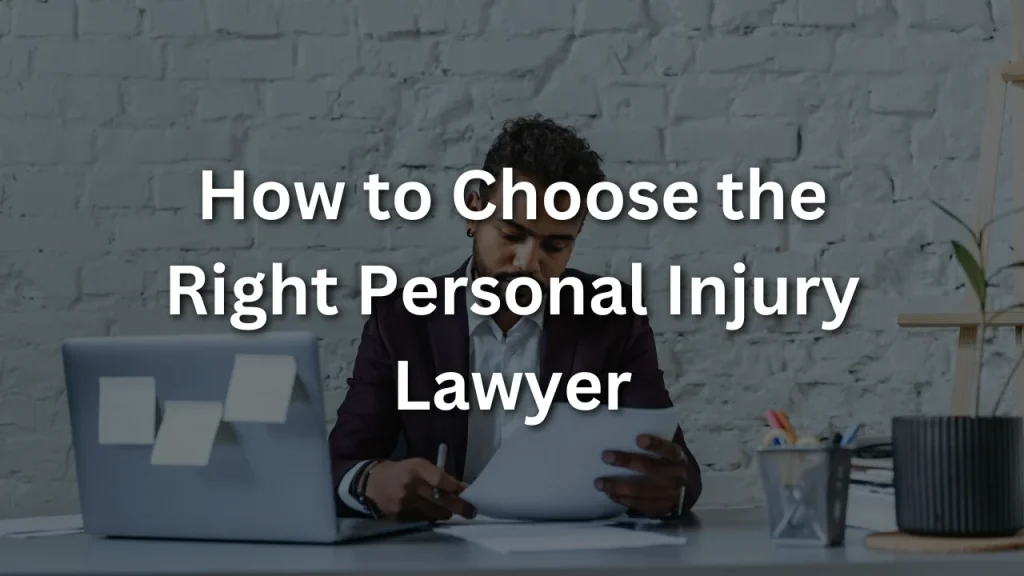 Experience and Expertise
Years of Practice
When you're searching for a personal injury lawyer, one of the key factors to consider is their level of experience. The more years a lawyer has been practicing, the more knowledgeable and skilled they are likely to be. A lawyer who has been in the field for a long time has likely handled a wide range of personal injury cases and has a deep understanding of the legal process.
Specialization in Personal Injury Law
It's important to choose a lawyer who specializes in personal injury law. Personal injury cases involve a unique set of laws and regulations, and an attorney who focuses on this area of law will have the specific expertise needed to handle your case effectively. They will be familiar with the strategies and tactics commonly used in personal injury cases, giving you an advantage when it comes to pursuing your claim.
Track Record of Success
Another factor to consider when choosing a personal injury lawyer is their track record of success. You want to work with a lawyer who has a proven history of achieving positive outcomes for their clients. Look for a lawyer who has a track record of obtaining favorable settlements or winning substantial verdicts in personal injury cases. This indicates their ability to navigate the complexities of personal injury law and negotiate with insurance companies or present a strong case in court.
Knowledge of Local Laws and Regulations
Laws and regulations regarding personal injury claims vary from state to state and even from city to city. It is crucial to hire a personal injury lawyer who is familiar with the specific laws and regulations in your area. They will understand the nuances of local jurisdiction and know how to effectively navigate through the legal system. This knowledge can greatly impact your case and give you an edge when pursuing compensation for your injuries.
Reputation and Reviews
Online Reviews and Ratings
One of the best ways to gauge the reputation and competence of a personal injury lawyer is by reading online reviews and ratings. Websites such as Google, Yelp, and Avvo provide platforms for clients to share their experiences and provide feedback on their interactions with various lawyers. Pay close attention to both the number of positive reviews and the specific details mentioned in those reviews. This will give you an idea of what to expect when working with a particular lawyer.
Testimonials from Previous Clients
In addition to online reviews, consider seeking testimonials from previous clients. A reputable personal injury lawyer should be able to provide you with references or contact information for clients they have represented in the past. Reach out to these individuals and ask about their experience working with the lawyer. Did the lawyer communicate effectively? Were they responsive and proactive in the handling of the case? Did they achieve a satisfactory outcome? Their feedback can provide valuable insights into the lawyer's abilities and dedication to client satisfaction.
Recognition from Legal Associations
A personal injury lawyer who is respected by their peers and recognized by legal associations is often a good indication of their competence and expertise. Look for lawyers who are members of prestigious organizations such as the American Bar Association, state bar associations, or trial lawyer associations. These affiliations demonstrate that the lawyer is actively involved in the legal community and is committed to maintaining high ethical and professional standards.
Referrals from Trusted Sources
Seeking referrals from trusted sources can be an effective way to find a reputable personal injury lawyer. Ask friends, family members, or colleagues for recommendations if they have had positive experiences with a lawyer in the past. They can provide valuable insights into the lawyer's communication skills, effectiveness in negotiations or litigation, and overall satisfaction with the services they received. Personal recommendations are often the most reliable way to find a lawyer who is trustworthy and capable of handling your personal injury case.
Communication and Availability
Active Listening and Understanding
Effective communication is essential when working with a personal injury lawyer. You want an attorney who actively listens to your concerns and understands the impact your injuries have had on your life. A good lawyer will take the time to truly understand your situation, gathering all the necessary information to build a strong case on your behalf.
Clear and Responsive Communication
Prompt and clear communication is crucial in a personal injury case. Look for a lawyer who responds to your calls or emails in a timely manner and provides you with updates on the progress of your case. They should be able to explain complex legal concepts in a way that you can understand and be transparent about the process and any potential challenges you may face.
Prompt Availability for Meetings
Choose a personal injury lawyer who is readily available for meetings and consultations. This accessibility ensures that you can discuss important aspects of your case or ask questions whenever necessary. A lawyer who prioritizes prompt availability demonstrates their dedication to serving their client's needs and can address any concerns or doubts you may have throughout the legal process.
Regular Updates on Case Progress
During the course of your personal injury case, it's important to stay informed about the progress being made. Your lawyer should provide regular updates on the status of your case, including any new developments, negotiations with insurance companies, or court proceedings. Regular updates ensure that you're always aware of the next steps and can make informed decisions about your case.
Resources and Support
Size and Strength of the Law Firm
The size and strength of the law firm can have a significant impact on your personal injury case. A larger firm may have more resources and the ability to dedicate a team of attorneys and support staff to your case. This can provide you with the advantage of having different perspectives and expertise working on your behalf. However, smaller firms can offer personalized attention and a more direct working relationship with your attorney.
Availability of Support Staff
When considering a personal injury lawyer, inquire about the availability of support staff. An efficient and competent support team can help ensure that your case progresses smoothly. They handle administrative tasks, gather evidence, and assist with legal research, allowing your attorney to focus on building a strong case.
Access to Medical and Expert Witnesses
In many personal injury cases, the testimony of medical and expert witnesses can be crucial. These professionals provide specialized insights and opinions that can strengthen your case. A reputable personal injury lawyer will have a network of trusted medical and expert witnesses they can call on to support your claims and provide expert opinions when necessary.
Financial Resources for Investigating and Building a Strong Case
Building a strong personal injury case often requires financial resources for investigations, expert opinions, and other necessary expenses. Ask about the law firm's ability to invest in your case and cover these costs upfront. A lawyer with the financial resources to support your case demonstrates their commitment to securing the compensation you deserve.
Client-Focused Approach
Personal Attention and Care
A client-focused personal injury lawyer understands the importance of providing personalized attention and care to each client. They should genuinely care about your well-being and be dedicated to helping you navigate the legal process. Look for a lawyer who treats you as an individual, taking the time to understand your unique circumstances and tailoring their approach accordingly.
Empathy and Compassion
Dealing with a personal injury can be emotionally and physically challenging. It's crucial to work with a lawyer who exhibits empathy and compassion for what you are going through. They should be able to provide guidance and support while understanding the impact the injury has had on your life. A lawyer who can connect with you on a personal level can provide the emotional support needed throughout the legal process.
Client Satisfaction and Reviews
Satisfied clients are a testament to the effectiveness and dedication of a personal injury lawyer. Look for evidence of high client satisfaction, such as positive reviews or testimonials. A lawyer who prioritizes client satisfaction indicates their commitment to exceptional legal representation and a positive experience for their clients.
Willingness to Fight for Maximum Compensation
A reputable personal injury lawyer should be willing to fight relentlessly on your behalf to secure the maximum compensation available for your injuries. Look for a lawyer who has a reputation for being a strong advocate for their clients and who has a track record of achieving favorable settlements or verdicts. Their willingness to fight for your rights and pursue every available avenue for compensation is crucial in ensuring you receive the compensation you deserve.
Fee Structure and Costs
Contingency Fee Agreement
Many personal injury lawyers work on a contingency fee basis, meaning they only receive payment if they successfully obtain compensation for you. This fee structure allows you to pursue your case without worrying about upfront costs or attorney fees. It's important to discuss the specific details of the contingency fee agreement with your lawyer to ensure you understand the terms and percentage of the fee.
Transparent Explanation of Costs and Expenses
A reputable personal injury lawyer will provide a transparent explanation of the costs and expenses associated with your case. They should be open and honest about any upfront costs or fees you may be responsible for, such as court filing fees or expert witness fees. Clear communication regarding costs helps you make informed decisions and avoids any surprises down the road.
No-Hidden-Fee Policy
Avoid lawyers who have a reputation for hidden fees or unexpected charges. A trustworthy personal injury lawyer will have a clear and transparent fee structure, ensuring that you are fully informed about the costs associated with your case from the outset. This transparency fosters trust and allows you to confidently pursue your personal injury claim.
Affordability and Payment Plans
While the quality of legal representation should be a priority, affordability is another important consideration. Discuss payment options with your lawyer to ensure that their services align with your financial capabilities. Some lawyers may offer payment plans or other flexible arrangements to make their services more accessible to you.
Initial Consultation
Free or Low-Cost Consultation
Most personal injury lawyers offer free or low-cost initial consultations. Use this opportunity to meet with a potential lawyer, ask questions, and discuss the details of your case. Take advantage of the consultation to evaluate whether the lawyer is a good fit for your needs and whether their approach aligns with your goals.
Assessment of Potential Case Strength
During the initial consultation, a personal injury lawyer should assess the strength of your case and provide an honest evaluation of your chances of success. They should explain the legal aspects involved, discuss potential obstacles or challenges, and outline a realistic strategy for pursuing your claim.
Clarity on Attorney-Client Relationship
The initial consultation is an opportunity to clarify the attorney-client relationship. Discuss the terms and expectations of the attorney-client relationship, including issues such as communication, updates, and the role you will play in the legal process. Clear communication and understanding of these terms will prevent any misunderstandings later on.
Discussion of Legal Strategy and Approach
A reputable personal injury lawyer should be able to discuss their proposed legal strategy and approach during the initial consultation. This discussion should include an explanation of the potential options available to you, such as negotiation, mediation, or litigation. Understanding the lawyer's preferred approach and how it aligns with your goals is crucial when making your decision.
Availability for Litigation
Willingness to Go to Trial
While many personal injury cases are resolved through settlement negotiations, some cases may require litigation and trial. It's important to choose a lawyer who is willing and experienced in going to trial if necessary. The willingness to go to trial demonstrates a lawyer's confidence in their skills and their dedication to pursuing maximum compensation on your behalf.
Litigation Experience and Success
Ask about the personal injury lawyer's experience with litigation and their success rate in taking cases to trial. A lawyer with a track record of success in the courtroom can provide reassurance that they have the skills, knowledge, and confidence to effectively represent your interests in front of a judge and jury.
Courtroom Confidence and Preparation
Courtroom confidence and preparation are crucial attributes for a personal injury lawyer. A lawyer who is confident and well-prepared in the courtroom can effectively present your case and argue on your behalf. Their ability to navigate the legal proceedings, react to unexpected developments, and present a compelling case can greatly impact the outcome of your personal injury claim.
Past Settlement vs. Trial Records
Take into account a personal injury lawyer's past settlement versus trial records. Understanding their success rate in both settlement negotiations and trials can help you assess their ability to secure maximum compensation for your injuries. While every case is unique, a lawyer with a strong record of achieving favorable settlements and success in trials is more likely to effectively advocate for your rights.
Location and Accessibility
Proximity to Your Home or Workplace
Consider the proximity of a personal injury lawyer's office to your home or workplace. Dealing with a personal injury can be physically and emotionally demanding, and having to travel long distances for meetings or appointments can add additional stress. Choosing a lawyer who is conveniently located can make the legal process easier and more accessible for you.
Convenient Office Hours
Ensure that the office hours of the personal injury lawyer you choose are compatible with your schedule. You want to work with a lawyer who can accommodate your availability and is willing to schedule meetings or consultations at times that are convenient for you. Having flexibility in meeting times can help make the process more manageable, especially if you are juggling work, medical appointments, or other responsibilities.
Accessible Communication Channels
Efficient and accessible communication channels are vital when working with a personal injury lawyer. Look for a lawyer who offers various modes of communication, such as phone, email, or video conferences. The ability to communicate with your attorney easily and conveniently allows for prompt updates, clarifications, or addressing any concerns that may arise throughout your case.
Availability for In-Person Meetings
While virtual communication is convenient, there may be instances where in-person meetings are necessary or preferred. Whether it's for a deposition, mediation, or settlement negotiations, choosing a personal injury lawyer who is available for in-person meetings when needed ensures that you have the opportunity to have face-to-face discussions and consultations as required.
Additional Services and Expertise
Negotiation and Settlement Skills
Negotiation and settlement skills are critical for a personal injury lawyer. Most personal injury cases are resolved through negotiation with insurance companies or opposing parties. A lawyer with strong negotiation skills can advocate for your interests, secure a fair settlement, and avoid the need for a lengthy and costly trial.
Mediation and Alternative Dispute Resolution Experience
In some cases, mediation or alternative dispute resolution methods may be used to resolve personal injury claims. These methods can be faster and less confrontational than litigation. It's beneficial to choose a personal injury lawyer with experience in mediation or alternative dispute resolution, as they can effectively navigate these processes and work towards a satisfactory resolution without the need for a trial.
Understanding of the Insurance Claims Process
Personal injury claims often involve dealing with insurance companies. A lawyer who has a deep understanding of the insurance claims process can guide you through the complexities of filing a claim, negotiating with insurance adjusters, and handling any disputes that may arise. Their knowledge of the tactics and strategies employed by insurance companies can greatly benefit your claim.
Knowledge of Medical Terminology and Injuries
Understanding medical terminology and the nature of your injuries is essential when handling a personal injury case. A personal injury lawyer with knowledge of medical terminology can interpret medical records, consult with healthcare professionals, and effectively communicate the impact of your injuries to insurance companies, opposing counsel, judges, and juries. This expertise ensures that your injuries are accurately presented and helps in pursuing appropriate compensation.
Choosing the right personal injury lawyer is an important decision that can greatly impact the outcome of your case. Consider the factors discussed above, including experience and expertise, reputation and reviews, communication and availability, resources and support, client-focused approach, fee structure and costs, initial consultation, availability for litigation, location and accessibility, and additional services and expertise. Each of these elements plays a crucial role in ensuring that you have a competent and dedicated advocate working on your behalf to secure the compensation you deserve for your personal injury case.