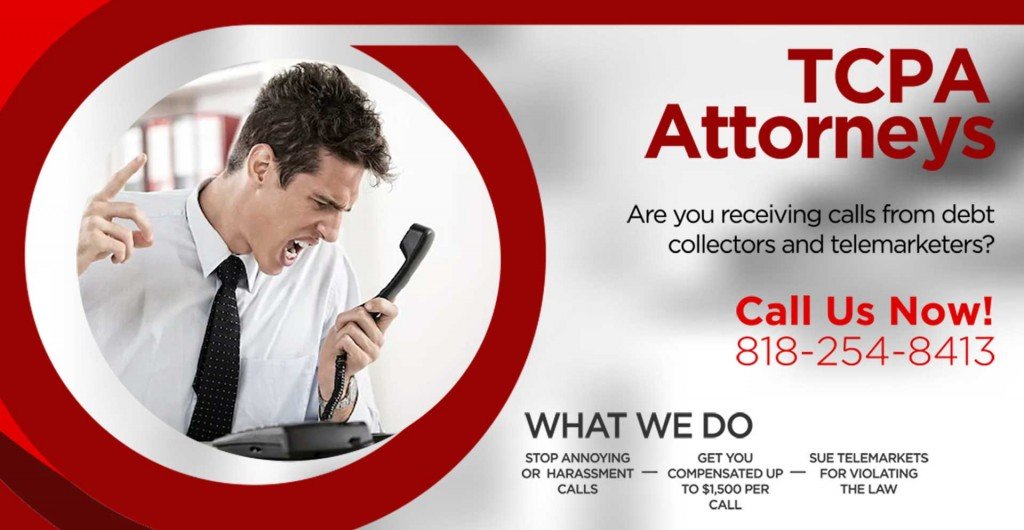 Our TCPA attorneys can help you collect $500 – $1500 for every call or text you receive from debt collectors and telemarketers! Learn how to sue telemarketers by talking to a TCPA attorney today and find out how to earn cash from telemarketers and debt collectors. The consultation is FREE!
How to Sue Telemarketers for Calling You
Our TCPA attorneys know how to sue telemarketers and are able to stop telemarketers from calling you. We are also able to get you compensated for your troubles.
Our experienced attorneys take a look at your situation, assess your case, and are able to file lawsuits against telemarketers to stop annoying calls. Sometimes, the lawsuit may transform into TCPA class action suits if there are many other similar cases. However, our firm will not take any class action suits.
Get in touch with our TCPA attorneys and learn how to stop telemarketers from calling you.
Our consultation is free!
What Is TCPA, and How Does it Help You?
The TCPA, or Telephone Consumer Protection Act, restricts telemarketers from harassing consumers with annoying calls. It also limits telemarketers from using automated telephone equipment and using automatic dialing systems to call consumers. Telemarketers are in direct violation of TCPA and are not at liberty to abuse these communication mediums to contact consumers.
If telemarketers overstep their boundaries and are in breach of TCPA stipulations, or attempting to sell consumers on purchasing products or services, immediately expose them and their practices to a lawsuit.
Sue Telemarketers for Making TCPA Violations
Here are examples of TCPA violations:
Calling you before 8 am or after 9 pm,

Constantly calling you without your permission,

Calling you at work without your consent,

Not telling you they are telemarketers,

And much more…
You can sue telemarketers up to $500 for each TCPA violation or up to $1,500 for each violation made knowingly.
So, if telemarketers called you before 8 am and didn't reveal themselves as telemarketers, you can sue them for up to $1,000 for making two TCPA violations.
You can now turn the tables on telemarketers for abusing their communication capabilities.
What TCPA Lawsuit Becoming TCPA Class Action Suits Mean
A TCPA lawsuit may turn into a TCPA class action suit if there are many individuals, who are suffering from same or similar harassing telemarketer calls, filing a lawsuit against the same telemarketing entity.
An advantage of a TCPA class action suit is that while an individual may believe that their case might be too weak to stand in trial, a group of individuals filing for the same or similar case will have greater value in court.
This means that if a TCPA attorney thinks that your case is too weak to be put on trial, they can find others pursuing the same or similar case like yours and file a TCPA class action suits instead.
If the defendant agrees to settle in a TCPA class action suit, all individuals who entered into the class action suit will be eligible for TCPA class action settlements.
However, if you are looking to file a class action suit, you will need to find help elsewhere. Our TCPA attorneys do not work with class action suits.
You Need Proof of TCPA Violations to File a Lawsuit
You can say that telemarketers have violated the TCPA, but you will need to support your claims with evidence as proof.
Our TCPA attorneys suggest these tips on collecting proof of TCPA violations:
Record all communication between you and any telemarketer. This includes communication via letter, phone call, text message, and voice message.

Keep records of yourself asking the telemarketers to not call you.

Record the date and time of the call, caller ID or 'unknown' number, length of the conversation, caller's name, and specifics of the caller's conversation.

Let the telemarketer do most of the talking. The more the telemarketer speaks, the more evidence you can collect.
Remember, the more proof you have of the harassment calls, the more chance you have of stopping their calls and getting compensated.
Find Out for Free if You Can Sue Telemarketers Today
Our TCPA attorneys are able to sue telemarketers for giving you annoying sales calls. Find out how our TCPA attorneys can help you with your TCPA situation today.
Get in touch with us at (818) 254-8413. Our consultation is free!