Stranded in the middle of a long journey, a Hyundai driver and his girlfriend experienced a nightmare when their engine failed. In a trending TikTok video, the couple shares their harrowing ordeal and highlights a common problem they believe should lead to a recall. Having diligently followed the maintenance package and visited the dealership for any issues, the couple was shocked when their vehicle suddenly lost power and emitted distressing sounds from the engine.
Investigating further, they discovered a recall associated with Hyundai engines and a class action lawsuit against the automaker. Despite extended warranties and concessions, the couple calls for better communication and accountability from Hyundai. This incident adds to the growing list of troubles faced by Hyundai and its affiliate Kia, including recent recalls, legal actions, and allegations of security vulnerabilities. The plea is clear: prioritize customer safety and well-being above all else.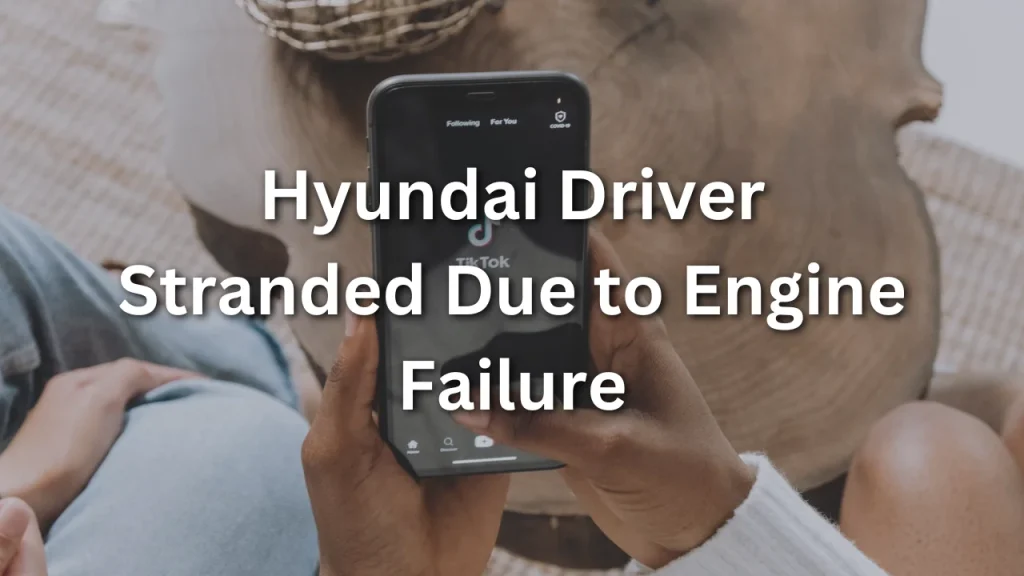 Recall Issues and Engine Failure
Hyundai driver stranded due to engine failure
Call for recall in response to common problem
Have you ever found yourself in a situation where your car unexpectedly breaks down? It can be a frustrating experience, especially if it happens when you're far away from home. Imagine being stranded on the side of the road with no idea what went wrong. This is the exact situation that a Hyundai driver found themselves in, and they believe it's a common problem that should be grounds for a recall.
The TikTok Video
TikTok video recounts couple's ordeal with Hyundai vehicle
Video highlights common issues among Hyundai vehicles
In a trending TikTok video that has garnered over 101,000 views, a couple recounts their harrowing experience with their Hyundai vehicle. They were on a road trip when they started hearing strange noises coming from their car. It wasn't long before the vehicle's power dropped, leaving them unable to accelerate. Pulling over, they were met with the distressing sound of a "hard, hard knock" coming from the engine. This video highlights a problem that the driver believes is all too common among Hyundai vehicles.
Maintenance Package and Warranty Limit
Girlfriend buys Hyundai brand new in 2014 with maintenance package
Vehicle experiences engine failure just 11,000 km past warranty limit
When the couple purchased their Hyundai vehicle brand new in 2014, they opted for the maintenance package, believing it would provide them with peace of mind. They made regular visits to the dealership for oil changes and brakes, trusting that their vehicle was being well taken care of. However, their faith was shattered when, just 11,000 km past the warranty limit, their car experienced engine failure. Despite their efforts to maintain the vehicle, they found themselves facing unexpected and costly repairs.
Recall and Lawsuit
Driver discovers recall associated with Hyundai engines
Class action lawsuit supports driver's suspicions
Extended engine warranties issued by Hyundai due to lawsuit
During their investigation into the engine failure, the driver stumbled upon a recall associated with Hyundai engines. They discovered that the issues they experienced aligned with what others had reported for the recall. This revelation was further supported by a class action lawsuit against Hyundai for engine reliability problems. As a result of the lawsuit, Hyundai extended engine warranties indefinitely. While this was a positive outcome, the couple still had to deal with the aftermath of their engine failure.
Stranded and Costly Expenses
Couple left stranded due to engine failure
$2,000 towing expenses to return vehicle for inspection at dealership
Engine failure can leave you feeling stranded and helpless, as it did for this couple. They found themselves far from home with a car that wouldn't run. In order to get their vehicle inspected at the dealership, they had to incur towing expenses amounting to over $2,000. Not only were they faced with the inconvenience of being stranded, but they also had to bear the financial burden of getting their car back to the dealership.
Lack of Communication
Lamenting the lack of communication from Hyundai regarding known issues
Owners unaware of engine problems
One of the most frustrating aspects of this entire ordeal for the couple was the lack of communication from Hyundai regarding these known engine issues. They found themselves in the dark, unaware that their vehicle could potentially have serious problems. It begs the question: How is it that owners of these vehicles had no idea about the issues they were facing? The couple implores Hyundai to do better in terms of communication and keeping their customers informed.
Hyundai and Kia Recall Troubles
Hyundai and Kia facing series of recalls
Recalls include engine fires, faulty anti-lock brake systems, and oil pump concerns
The issues faced by this couple are not isolated incidents. According to Forbes, both Hyundai and its affiliate Kia, under the Hyundai Motor Group, have been grappling with a series of recalls. These recalls cover various problems, including engine fires caused by fluid leaks, faulty anti-lock brake systems, and concerns about oil pumps overheating. It is clear that there are significant issues with the vehicles produced by these automakers.
Legal Troubles for Hyundai and Kia
Lawsuit alleging lack of security technology leading to car theft crisis
Automakers blaming thefts on city policing policies and social factors
The troubles for Hyundai and Kia don't stop at recalls. They are now facing legal troubles as well. A lawsuit has been filed alleging that a lack of security technology in their vehicles has led to a car theft crisis. It is claimed that a method popularized on TikTok is being used to exploit these vulnerabilities. In response, the automakers have defended themselves by attributing the rise in thefts to city policing policies and other social factors. This legal battle adds another layer of concern for Hyundai and Kia owners.
Accountability and Customer Safety
Hyundai and Kia under scrutiny for recalls and legal troubles
Customers urge for better communication, transparency, and safer vehicles
Automakers urged to prioritize customer safety and well-being
The combination of recalls, engine failures, and legal troubles has put Hyundai and Kia under scrutiny. Customers are no longer willing to accept the status quo and are demanding better from these automakers. They are calling for improved communication and transparency regarding known issues, as well as safer and more reliable vehicles. The plea is clear: Prioritize customer safety and well-being above all else.
Hyundai driver's plea for recall and better treatment of customers
The TikTok video shared by a Hyundai driver, recounting their ordeal with engine failure, has shed light on a common problem experienced by Hyundai owners. It has prompted a call for a recall to address these issues and ensure the safety of customers. As more owners come forward with their stories and legal actions gain traction, Hyundai and Kia must take accountability for their vehicles' shortcomings. The focus should be on providing better communication, transparency, and, most importantly, safer vehicles for their customers. It's time for Hyundai and Kia to listen to their customers and prioritize their safety and well-being.