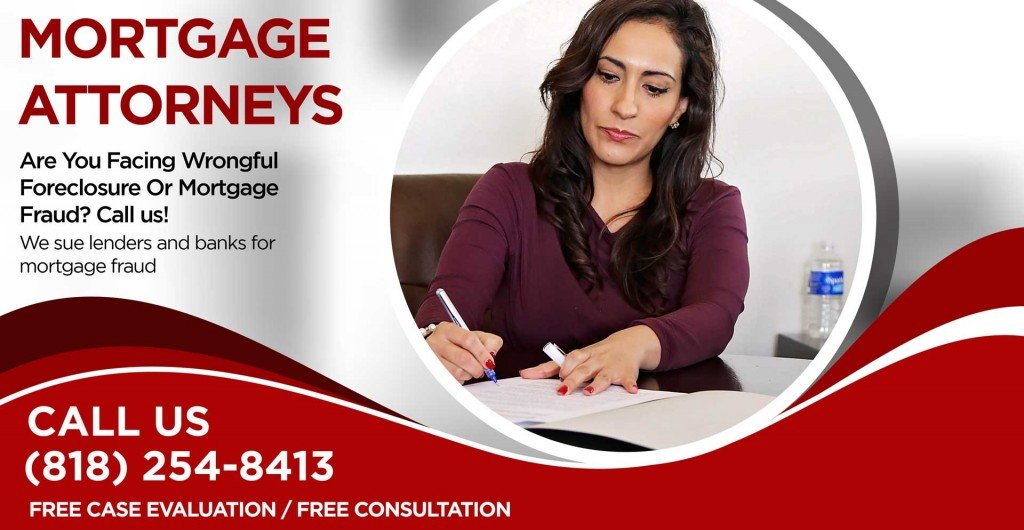 If you are facing foreclosure within California, you should know your options that can save your home. Although many mortgage companies engage in predatory lending, California has laws that protect consumers from illegal foreclosure, and our mortgage attorney files lawsuits to stop lenders from selling homes at auction. Banks often prey on the average consumer's inability to understand the law and how it affects their mortgage.
Our mortgage attorneys know when and how to sue your mortgage company, and we know what issues are important for filing a lawsuit. Our attorneys deal with mortgage foreclosures everyday, and we recommend that you do NOT hire a loan modification attorney Los Angeles has laws in place to protect homeowners and modification scams are still common. Before you hire someone to try to modify your loan, call our foreclosure attorney to discuss your situation; you may have the basis for a lawsuit and protection against from foreclosure is best provided through court action.
Mortgage Fraud Scenarios
If you are a victim of Predatory lending California has some of the best laws in the US to protect consumers. Under California foreclosure laws, our attorney will sue for lender misrepresentation, such as the common violation of SB900. A lender can be sued for dual tracking: which is telling a borrower that a loan is being reviewed for a modification while continuing with foreclosure procedures at the same time. If you face foreclosure, we advise you of your rights so that you know how to sue your mortgage company and when it is best to move forward.
Stop Foreclosure Fraud
If you are facing foreclosure, we recommend that you do not hire a loan modification attorney. Our mortgage foreclosure attorney are better equipped to save your home from foreclosure by filing a lawsuit against your mortgage company. We take legal action so that you can move forward with your life and regain financial stability.
We File Mortgage Lawsuit to Stop Illegal Foreclosure
If you are struggling to make your mortgage payments or if your mortgage lender is threatening foreclosure, you aren't alone. Every day, thousands of American's face the exact same scenario. Often, the only way you can stop or delay foreclosure is by hiring a mortgage attorney to help you. Sometimes the situation seems hopeless, but it is usually possible to save a home and stop foreclosure by filing a lawsuit.
If you want to file a mortgage lawsuit, we are here to help you determine whether you have a case. Before we take legal action we look for the following:
Have you been contacted by your mortgage lender to discuss foreclosure alternatives?
Are you struggling to save your home, will suing mortgage company help?
Do you need a way to stop or delay the foreclosure process?
Have you been denied assistance by your mortgage company?
Are there any other alternatives available to meet your goals?
By asking these questions we narrow down the options to help you avoid foreclosure and figure out if hiring our mortgage foreclosure attorney is the right decision for you.
Hire a Trusted Mortgage Attorney
Our mortgage attorneys are fully aware of common mortgage fraud practices. With a variety of laws to protect borrowers in California, it can be difficult to even know if you have become a victim of mortgage fraud. Our mortgage attorneys can easily spot unlawful practices and help you move forward with a case. If you are interested in suing a mortgage company, then call our attorney today. We have the experience necessary to get the job done well and save your home. When you hire our firm, our reputation and our track record will have a direct impact on the outcome of your litigation and avoiding foreclosure. Make the right decision by hiring our mortgage lawyer; we have the experience necessary to help you save your home and file a mortgage lawsuit.