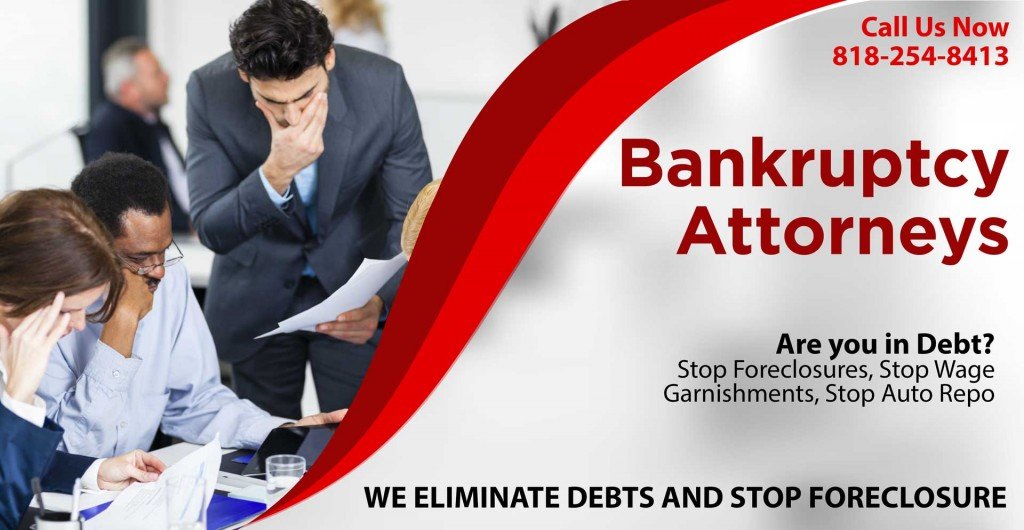 What is chapter 7 bankruptcy? In short, chapter 7 bankruptcy is very simply defined as a method of eliminating debts and stopping all collections by filing a petition with a bankruptcy court. 
When a person files Chapter 7 bankruptcy, the intended result is to eliminate all debts, stop collections, stop wage garnishment, stop collection lawsuits from proceeding, stop the foreclosure process, and stop auto repossession. 
Individuals must qualify to file Chapter 7 bankruptcy, and the general rule is that any person with substantial assets [valued over a specific amount] will need to pay down their debts through the sale of their assets.
Without getting too specific, there is a person [the trustee] appointed in every Chapter 7 bankruptcy case that looks at all debts and assets to determine if a person has the means to pay down their debts or not.
Another general rule is that any person filing Chapter 7 bankruptcy in Los Angeles CA may keep their personal belongings and house and car – but there are limits regarding the amount of equity a person can have in their house. 
Benefits of Chapter 7 Bankruptcy
Benefits of chapter 7 bankruptcy include eliminating all debts such as credit cards and medical bills, as well as personal loans, IRS debt more than 3 years old, and credit lines. Chapter 7 bankruptcy automatically stops collections, stops wage garnishment, stops filed lawsuits from progressing, stops foreclosure sales, and stops auto repossession from the very minute of filing the petition with the court. 
Drawbacks of filing Chapter 7 bankruptcy may be sales of assets, such as real estate, cars, and highly valuable personal belongings including jewelry, artwork, and other items. When a person files Chapter 7 bankruptcy, there is a specific test to determine whether a person has the means to pay down their debts and whether there is too much equity in their home, or too much personal savings to qualify.
Chapter 7 bankruptcy remains on a bankruptcy filer's credit report for 10 years. As a general rule, people that file Chapter 7 bankruptcy are not immediately able to qualify for major purchases such as home or auto loans. A person that files must also cut their credit cards; as these cards are eliminated and can no longer be used. 
Filing Bankruptcy Chapter 7
Filing bankruptcy chapter 7 is the process of submitting a petition to the BK court. At the very moment a Chapter 7 bankruptcy is filed, an immediate automatic "stay" of all collection-related activity goes into effect.
In other words, all collections must immediately stop, including calls, letters, lawsuits, auto repossessions, home foreclosures, wage garnishment, IRS liens, and any other collection activity. That stay remains in place until a trustee evaluates all debts and assets and makes recommendations to the judge to move forward.
Before filing, a petition must be prepared listing tall debts and assets, including any personal savings, loans, and personal items. A person is required by law to fully disclose all assets and liabilities on a petition. Prior to filing, a person must also run a full credit report and enroll in a credit counseling session to obtain a certificate of completion. 
Declaring Bankruptcy
Declaring bankruptcy is usually a strategic decision based on timing. A person declaring Chapter 7 bankruptcy has to weigh the pros and cons to decide whether to file and when to file. As a general rule, people declaring bankruptcy are at a point where debt is overwhelming and debilitating under the crush of calls, letters, threats, intimidation, and stress of collections.
Declaring bankruptcy is no longer a stigma, but a very common method used by many people for immediate relief. As a strategy, bankruptcy can only be filed once every 8 years, so timing becomes important. 
When to Declare Bankruptcy
Deciding when to declare bankruptcy is usually a matter of timing the end of a debt emergency. A person that files and continues to fall deeper into debt could end up in a very bad situation, unable to file again for more immediate relief. People declaring bankruptcy look at their accumulation of debt, often caused by some event or sudden hardship, and file when they want to get a fresh start by wiping the slate clean. 
As a general rule, timing bankruptcy with the end of a debt crisis is the best strategy. To give an example, imagine that a person loses their job and their income or racks up medical bills due to an illness. In this case, filing bankruptcy makes sense if the person finds a new job or recovers from the illness and stops incurring medical bills.
Who Should Declare Bankruptcy?
Anyone facing overwhelming debt should consult with an experienced lawyer to discuss filing bankruptcy. When the calls and the bills are too much to handle, and when it seems that there is no way to dig out from the debt hole, it may be a good idea to declare bankruptcy. It is always better to have professional help from a lawyer that fully understands the pros and cons of bankruptcy. 
A person that files Chapter 7 bankruptcy in California is strongly advised to get professional help from a seasoned bankruptcy lawyer to determine whether they qualify and whether the timing makes sense. Beware of "document preparers" or lawyers that prepare petitions and delegate the filing back to the person. 
Declaring bankruptcy can be very beneficial, but it's risky to file without a lawyer that knows the ins and outs of the bankruptcy court and the complicated procedures and terms that go along with filing.