Hey there! Just wanted to fill you in on some important news about the 2015-2019 Lincoln MKC. Turns out, there's a fire risk associated with this model and Lincoln has issued a recall for over 142,000 vehicles. Apparently, there's a battery sensor defect that can cause an underhood fire, even when the vehicle is parked and off. As a precautionary measure, owners are being advised to park their cars outside until the issue can be fixed. The good news is that Lincoln is on top of it and dealers have already been notified. So, rest assured, help is on the way!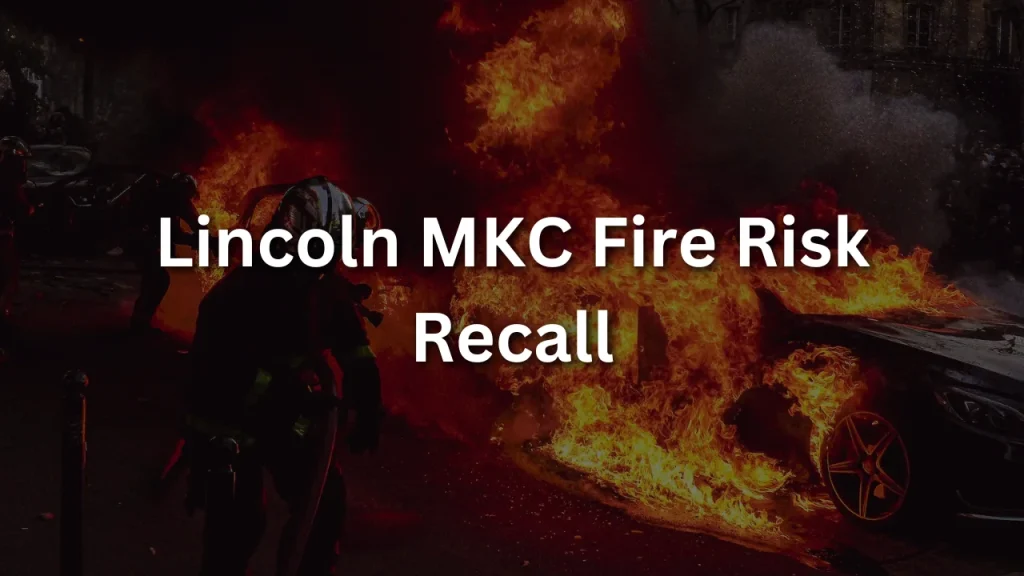 Recall Announcement and Background
Lincoln MKC Recalled for Fire Risk
Number of Vehicles Affected
Battery Sensor Defect Leading to Fires
Lincoln has issued a recall for the Lincoln MKC due to a fire risk caused by a battery sensor defect. This defect has the potential to lead to an electrical short and subsequent fire, even when the vehicle is parked and turned off. More than 142,000 vehicles are affected by this recall. So far, 11 MKC owners in the United States have reported underhood fires.
Issue Description
Battery Monitor Sensor Problem
Potential Electrical Short and Fire
The issue with the Lincoln MKC stems from a battery monitor sensor problem. This sensor could experience an electrical short, which in turn could lead to a fire. The fires can occur without warning, including when the vehicle is parked and not in use. It is crucial for owners to be aware of this issue and take the necessary safety precautions.
Safety Measures
Owners Instructed to Park Outside
Delayed Repairs and Notification
As a safety measure, owners of the affected Lincoln MKC vehicles have been instructed to park their vehicles outside until the necessary repairs can be made. This is to reduce the risk of a fire occurring while the vehicle is parked indoors. It is important for owners to follow this instruction to ensure their safety and the safety of others. However, due to the large number of affected vehicles, there may be delays in repairs and notification from the manufacturer. Owners are urged to stay updated and informed about the progress of the recall and to keep an eye out for any communication from Lincoln.
Recall Details
Year and Model Range
Cause of Defect
Number of Reported Fires
Geographical Distribution of Fires
Recall Letters to Owners
The recall applies to the 2015-2019 Lincoln MKC model range. The cause of the defect lies in the battery monitor sensor, which can experience an electrical short, leading to a potential fire. There have been a total of 19 reported underhood fires, with 11 occurring in the United States, 7 in China, and 1 in Canada. Lincoln will be sending recall letters to owners by the end of June to inform them about the issue and the necessary steps to take.
Recall Process
Dealer Notified
Vehicle Check on NHTSA Website
Dealers have already been notified about the recall and will be equipped to handle the necessary repairs once the parts are available. In the meantime, owners can check whether their vehicle is involved in the recall by visiting the National Highway Traffic Safety Administration (NHTSA) recalls website. This will allow owners to stay informed and take the appropriate action to address the recall.
Recent Recalls
GM Recalls Nearly 1M Vehicles With Airbag Issue
2022–2023 Ferrari 296 Recalled for Fuel Leak
VW Atlas Recalled, Front Passengers Shouldn't Ride
In addition to the Lincoln MKC recall, there have been several recent recalls in the automotive industry. General Motors (GM) has recalled nearly 1 million vehicles due to an airbag issue. Ferrari has recalled the 2022-2023 Ferrari 296 due to a fuel leak. Volkswagen has also issued a recall for the VW Atlas, advising front passengers not to ride in the vehicle. These recalls serve as a reminder of the importance of addressing safety concerns promptly to ensure the well-being of vehicle owners and passengers.
Other Automotive Recalls
Ford F-150 Recalled for Parking Brake Malfunction
Nissan Leaf Recalled over Faulty Control Software
Ford Escape Investigated over Door Problem
2022 Hyundai Ioniq 5 and Kia EV6 Investigated
Honda and Acura Brake Recall
BMW iX Recalled over Cruise Control Issue
Jeep Grand Cherokee Recalled for Suspension Defect
Ford Recalls Trucks and SUVs over Fire Risk
Aside from the Lincoln MKC recall, there have been several other automotive recalls recently.
The Ford F-150 has been recalled due to a parking brake malfunction.
The Nissan Leaf has faced a recall related to faulty control software.
The Ford Escape is currently under investigation for a potential door problem.
The 2022 Hyundai Ioniq 5 and Kia EV6 are also being investigated.
Additionally, there is a brake recall affecting Honda and Acura vehicles.
The BMW iX has been recalled due to a cruise control issue.
The Jeep Grand Cherokee is being recalled for a suspension defect.
Ford has also issued recalls for various trucks and SUVs due to a fire risk.
These recalls highlight the importance of regularly checking for any recalls that may affect your vehicle's safety.