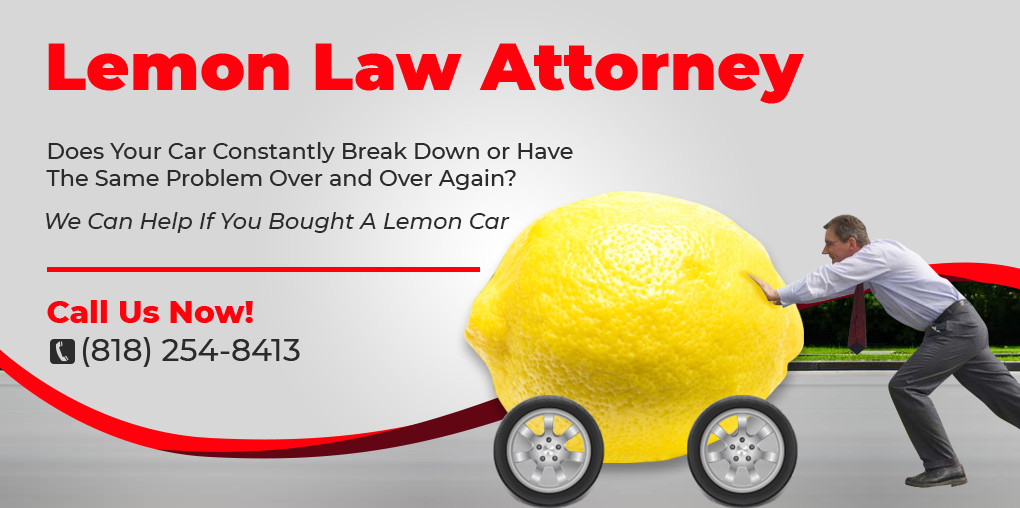 It's natural to ask yourself "how does the lemon law work in Los Angeles?" and "what are my options if you bought a bad car?" Having a vehicle that keeps showing the same problems means that you probably have a lemon. But don't panic, you don't have to be stuck with the lemon car.
The lemon law works by protecting car buyers who purchased a car that continues to have problems by providing them options to get a buyback or a replacement vehicle from the manufacturer.
The United States lemon law provides consumers with security against vehicles that don't meet quality standards. If the consumer files a claim, and the manufacturer doesn't fairly resolve the issue, then the consumer can even get their attorney's fees. So, it's basically a free process!
Our Lemon Law Attorneys Can Deal With Your Lemon Car Problems
If your car is experiencing issues with it and is not up to standards, consult with our California lemon law attorney today for a FREE consultation.
If you think you have a lemon car, our lemon law attorneys can help you:
get a replacement vehicle that is the same or similar to your lemon car or
make the dealership or the manufacturer pay for the amount you spent on repairs.
Call our lemon law attorneys in Los Angeles, CA today if you think your car is a lemon for your FREE case evaluation and consultation:
What is the Lemon Law in California?
Lemon law applies to a vehicle with mechanical issues that the manufacturer or its representatives have been unable to fix. It also applies to a situation, where the manufacturer refuses to honor the express warranty. 
Lemon law is a federal law, which means that it protects citizens of all States. The specific standards and procedures may be different in different states. According to the Department of Consumer Affairs, the lemon law applies to both new and used cars.
Learn more about what the lemon law is in California.
How Do I Know If I have a Lemon Car?

A car is considered a lemon in California if it shows one of the following conditions within the vehicle's original or extended warranty period*. 
You've attempted to fix a warranty issue twice that may have resulted in a serious injury or death. 

You've made at least four attempts to fix an issue within the warranty period.

The car stayed a total of more than 30 days in a dealer shop for repairs. 
*If the condition occurred within the first 18 months (or 18,000 miles) of purchase, then the dealer or manufacturer must prove that they did not sell a lemon car.
The Dealer Sold me a Lemon Car, What Can I Do?
If your toaster turns out to be defective, it's easy to let it go, but not a lemon car! If the dealer sold you a defective car, then your best odds are in calling a lawyer to immediately file a formal claim and cancel your contract.
Make sure that you have all the invoices and the timelines for the repair. The lemon lawyer will make a claim with all the paperwork from the previous repairs. Your paperwork needs to be proper and must include: 
Invoices that show that all repairs were made for the same problem

The repairs happened during the warranty period

The problem that was not fixed after three or more repair
What To Do If A Dealership Sells You A Lemon Car In Los Angeles?
Mostly, lemon cars are new cars that have mechanical defects. However, a used car can also qualify as a lemon, if it's sold under a warranty and has persisting issues. In this case, you can contact a lemon car attorney and get a replacement or your money back. 
A used car does not have to be junky and shouldn't break down very often. California Lemon law protects consumers in such cases. Here, the dealer gets three chances to fix the car, when it's covered under the warranty. 
If they fail to fix the issue in three attempts or the car stays with the dealer for 30 or more days, then you can declare it as a lemon. Make sure that your paper trail is complete and transparent. 
Is Driving a Lemon Car Dangerous?

Yes! Driving a lemon car is very dangerous. Most malfunctions covered under the warranty affect the brakes, steering, wheels, and vehicle transmission. If left unrepaired or unnoticed, driving a lemon car can lead to serious accidents.
This also applies to the more luxurious vehicles such as a lemon Mercedes. Just because a car is considered high-end or more expensive does not make it immune from manufacturing defects.
Don't put yourself or your family in danger and call a lemon law attorney to discuss your situation. The attorney will be able to give you advice and options on what you can do next. Call our firm today for a free case evaluation and consultation!
How to Find Out Your Car's Undisclosed History
If the car dealer sold you a bad car, then start by checking the car's history. An easy way to do that is to check the CARFAX report. The report will show if your car was in an accident previously or had any damages. 
If you don't know how to get a CARFAX report, then our lemon lawyers can help. The CARFAX report will help in several ways. Suppose you were facing issues with the brake and almost got into an accident. You sent it over to the dealer for repair, and they claimed to fix the issue, but the problem keeps coming up. 
Now, instead of compromising your security, check out the CARFAX report to see if the car was involved in an accident that compromised the frame's integrity. If you find anything, then it means that the car has an undisclosed history and can be considered for auto fraud. You can sue the dealer for selling a used lemon car. If you found out that the dealer did not disclose important history of your car, contact our consumer fraud attorney in Los Angeles today.
How Can a Lemon Car Lawyer Help Me?
Hiring an attorney is your best option if you accidentally bought a new or used lemon car. The lemon car attorneys at Consumer Action Law Group can help you with the following:
Answer your questions regarding lemon cars,

Provide Free consultation,

Do a Free case evaluation, and

Make recommendations regarding a lemon car claim within minutes!
How Does The Lemon Law Help Me?
The lemon law can help you by giving you rights to compensation for your lemon car.
What happens if the dealer sold you a bad car?
If a car dealer sold you a bad car, your lemon law attorney can help you with the following:
You can

return your bad car

and get the money back

You can get the money spent on repairs for pre-existing damages

You can get a replacement vehicle that is identical (or close) to the vehicle you purchased
What qualifies for California Lemon Law?
A defective vehicle that is defective and either dangerous or can't be fixed after 2 or more repairs qualifies for California Lemon Law while the vehicle is covered by a manufacturer's warranty. If your car has a defect or if it has been in the shop for more than a month [collectively] and the manufacturer's warranty is still in effect, it is likely that your vehicle qualifies for California Lemon Law.
What makes a car a lemon in California?
A lemon in California is any vehicle that has a defect that occurs while the original manufacturer's warranty is in effect. As long as the owner can show that the vehicle is dangerous to drive or has not been fixed after 2 or more documented attempts to repair, the vehicle qualifies as a lemon in California. It may also be a lemon in CA if the vehicle has been in the shop for more than 30 days [added altogether] for repairs.
How do I file a lemon law case in California?
You can file a lemon law case in California in state or federal court. When our law firm files a lemon law case, we typically file a complaint in state court against the manufacturer and the dealer; sometimes we include the finance company and the bond company as well.
How long is California lemon law?
California lemon law allows you to file a claim against the manufacturer for any defect that occurs while the manufacturer's warranty is still in effect. You have up to 4 years from the time the problem arises to file a lemon law claim.
Which car has the most lemons?
The car makers with the most lemons are Nissan, Ferrari, Porsche, Chrysler Daimler Trucks, Land Rover, Ford, Mercedes-Benz, and Jaguar. [based on the number of recalls published] We also see GM, Hyundai, and Kia claims quite frequently in our office.
Which car company has the most lawsuits?
The car company that has the most lemon lawsuits based on filings in our office is GM, followed by Chrysler [FCA], Mercedez Benz, Ford, Hyundai, and Kia.
What car company produces the most lemons?
Each year, the car company that produces the most lemons changes according to the number of recalls. Recently, the company with the highest number of recalls was Nissan, followed by Ferrari, Porsche, Chrysler, Land Rover, Ford, Mercedez Benz, and Jaguar.
What are my rights if my new car is faulty?
If your new car is faulty you have the right to return the car and get a refund as long as you have paperwork showing that you gave the Manufacturer and the Dealer the chance to fix the problem and nothing happened. The key to a successful claim is to prove that the defects occurred while the manufacturer's warranty was in effect.
People are often unsure about whether they have a valid lemon law claim. It depends on the personal use of the car. Even if you're unsure about whether or not to claim, it's always worth it to consult with an attorney first to see what options you have.
If you have a lemon car and are worried about your next step, call our lemon law attorney today for immediate help. We provide legal advice and consultation for FREE.
Remember, you as a consumer are entitled to compensation if the vehicle that you purchased failed to meet the industry standard.