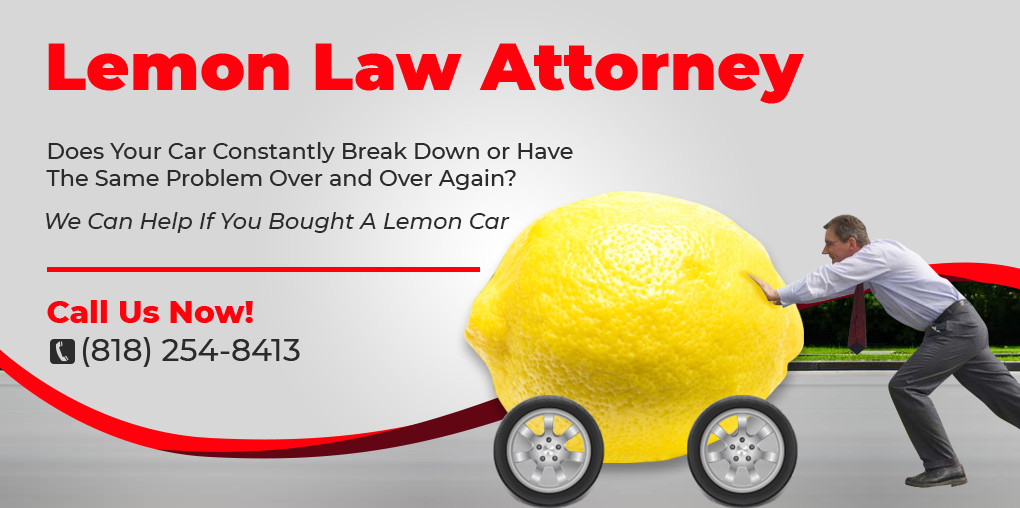 If you have purchased a vehicle that has a problem or defect and repairs don't seem to make it better, then you may have a lemon car. There are laws to help you get your money back when this type of situation comes up. If you don't want to keep taking your vehicle in for repairs, and you have documented at least 1 or 2 attempts to fix the problem, it may be time to call a lemon lawyer.
What is the Lemon Law?

By law, you don't have to be stuck with a lemon car; consumer protection laws give you the right to request a replacement for the car or a refund. Every state has Lemon Laws that protect new car buyers from being saddled with an irreparable car.
The Lemon Law started back in 1984. The Federal government established this law to protect consumers against getting stuck with automobile manufacturer defects. Each individual state has a lemon law that covers defective trucks, cars, vans, SUVs, boats, and motorcycles.
When you buy a car that is covered by the manufacturer's warranty, you should not have to worry about repeated breakdowns or safety issues. If your vehicle has spent more time in the repair shop than on the road, then you might have a "lemon car."
If your new vehicle continues to have problems after multiple attempts at repairs, then you are entitled to compensation under your state's Lemon Law. Any recurring issue that affects the safety, use, or value of a vehicle could brand the car a lemon.
To benefit from the full effect of the law, it is best to consult a lemon law or auto fraud attorney who is knowledgeable of lemon laws. They can help you understand what qualifies as a lemon and how to get a replacement car or a refund.
What is Considered a Lemon Car?
If you bought a car that is covered by the original manufacturer's warranty, either new or used, it may be a lemon car if you take it for repairs and they cannot fix the problem.
The general rule is that 2-3 repair attempts must be documented, and if the problem cannot be fixed after 2-3 attempts or if the vehicle is in the shop for more than 30 days combined, the manufacturer will have to buy the car back. To be specific, it has to be the same problem that keeps reoccurring and the problem needs to be documented.
What is the Lemon Law in California?
California law protects consumers from being saddled with cars that experience recurring mechanical problems or other issues. If you are making repeated visits to the auto repair shop, then you might have a lemon on your hands.
California Lemon Law protects you from dangerous defects in new cars that can't be repaired. California entitles buyers to get a refund or replacement vehicle if:
Two or more attempts have been made to fix a problem under warranty (only one attempt is needed if the problem is a serious safety defect).
If the problem substantially decreases the value, use, or safety of the car, then the vehicle may be considered to be a "lemon" if the problem has not been fixed after more than 30 days in the shop [combined time for repair], and the car was under warranty at the time of the first repair. 
New, used cars and leased trucks, vans, and SUVs still under the manufacturer's warranty are covered under the California Lemon Law. The Lemon Law applies throughout the original manufacturer's warranty in California.
Consult with our California auto fraud attorney for more information about California Lemon Law and advice on making a claim. Under California law, manufacturers' are required to cover the attorney's fees for consumers that are covered under the Lemon Law.
Learn more about "What is the Lemon Law in California".
FREE Case Evaluation and Consultation for Lemon Claims!
Are Used Cars Covered Under the Lemon Law?
Although Lemon Laws protect new car buyers in every state in the U.S., used car buyers don't have the same protections.
Six states have Lemon Laws that give a high degree of protection to used car buyers. Consumers in Massachusetts, Connecticut, New York, New Mexico, New Jersey, and Minnesota have more rights under state Lemon Laws than federal lemon laws.
Does My Vehicle's History for Repairs Need to be Documented?
As a general rule, you will need to document a substantial defect under most state lemon laws for either new cars or used cars that need repairs. If you buy a used car, it's best to have the vehicle inspected and have a professional give a detailed report before you sign a contract. Defective vehicles often look great, but defective cars end up being a danger to drivers stranded on the side of the road.
Even if you are not protected under the state laws in your state, a lawyer might be able to help you get compensation under consumer protection laws. The Magnuson Moss warranty act is a federal law that is designed for consumer protection, preventing deceptive warranty practices, such as forcing the manufacturer to cover the cost of any repair attempts while a vehicle is under the original warranty.
Read more at "Is There A Lemon Law For Used Cars".
Do Lemon Laws Apply to Private Sales?
While buying a used car from a private seller might seem like an excellent way to save money on a used car, you should exercise caution. That is because used vehicles purchased from private sellers are generally not covered under the same protections as those purchased from a dealer.
In many states, Lemon Law protection does not apply to private sales. You may want to check to see if individual sales are considered to be "as-is" in your state. Unless the seller offered you a warranty, you may not have grounds for a Lemon Law claim if you buy a defective car from a private party. However, there are exceptions. In Massachusetts — for instance — the Lemon Law and the Lemon Aid Law apply to the private sale of used cars.
If you are considering buying your car from a person, and not a dealer, you should run a vehicle history report from CarFax or AutoCheck [some reports are free online such as www.vehiclehistory.com]. But be advised that a substantial defect may not show up in a report and most state lemon laws do not apply to private sales. The best measure of protection is getting the vehicle inspected by a good mechanic, or going to a shop that offers detailed multipoint inspections [such as CarMax or Meineke].
The Lemon Aid Law
In some states, the Lemon Aid Law allows a buyer to cancel the purchase of a car within the first seven days if it fails to pass state inspection. You will need to check under your state's Lemon Law, to find out if a seller is required to inform buyers of all known defects. The buyer can cancel the sale of the vehicle within the first 30 days if they can prove that the seller knew about the defect and did not disclose it.
If you live in Massachusetts or have Lemon Law protections for private sales in your state, you may also have recourse if you purchased a defective car from an individual seller. You can sue the seller for fraud if the vehicle was misrepresented.
The key to winning a case like this is to convince the judge or jury that the seller lied about the car's condition. Talk to an attorney that is knowledgeable of auto fraud and Lemon Laws in your state for more information about filing a lawsuit.
Every state in the U.S. has some Lemon Law. The Lemon Laws were passed to protect consumers that have purchased new— or in some cases — used vehicles that are defective or irreparable. After reasonable repairs, a car can be declared a lemon.
Under Lemon Laws, new car owners — and used car owners in some states — can force the manufacturer to buy back a defective vehicle or refund the sales price of the car.  If your new car, truck, van, or SUV is found to be a lemon, then the manufacturer must repurchase your vehicle or refund your money.
This repurchase of your vehicle is called a Lemon Law Buyback. If your car is designed as a Lemon Buyback, then you are entitled to receive reimbursement for the money that you spent on the down payment, monthly payments, taxes, and part of your registration.
Cars that are "buybacks" must be registered as a Lemon Buyback prior to being resold. If you believe that you are entitled to a Lemon Buyback under your state's laws or if you were sold a Lemon Buyback and not notified of the fact in writing, then contact an attorney skilled in Lemon Laws.
Is There a Lemon Law for a Used Car in California?
In California, vehicle buyers are protected against being saddled with a defective used car under the Song-Beverly Consumer Warranty Act, also known as California Lemon Law. All vehicles that are purchased or leased from a California dealership are protected under Lemon Laws as long as they are still within the original manufacturer's warranty period.
The Song-Beverly Consumer Warranty Act also covers demonstration vehicles. California's Lemon Law protects used cars under warranty if any of the following apply:
At least two attempts have been made to repair a problem that could result in death or serious injury if the automobile is driven.
Four or more attempts have been made to repair an issue that would lower the value of the car, making it less safe to drive or impact the use of the vehicle.
The vehicle has been in the shop for repairs for a total of at least 30 days.
If either of these criteria is met, then the buyer might be eligible for a refund of the purchase price of the car or a replacement vehicle under California's Lemon Laws.
Contact an attorney skilled in California's Lemon Laws to understand your rights and determine what options you have available. In most cases, you will not have to pay any attorney's fees out-of-pocket until after your case is settled.
Can I Make a Legal Claim for a Used Car that had Hidden Defects?
When a dealership lies that is fraud. So if a dealer hides a defect from a buyer that is illegal. On the other hand, it is not always possible to discover potential problems until service is required. So it depends on the problem with your car. After a reasonable number of repair attempts, if your vehicle has a dealer warranty as indicated on the buyer's guide, you may be able to bring a legal claim for a refund or payment for repairs.
If you found out your car had problems that were hidden from you, you may be able to file a legal claim under the laws in your state that protect consumers. Fraud is less common in the sale of a new vehicle, and while the state lemon law may offer some protection for hidden defects, it's always best to call and discuss your issue with our legal team.
What can a Lemon Law Attorney do for You?
If your car is declared a lemon car, you have the right to be compensated for every penny that you paid, as well as attorney's fees. A buyer can receive a full refund after filing a lawsuit, but the manufacturer has the right to deduct for miles driven up to the time of the first repair attempt, and there may be additional deductions for rebates and add-ons.
In general, a vehicle can be deemed a lemon even if you bought a defective boat from a private seller. It depends on the defect and the service history to figure out if you bought a lemon, so it's worth talking to a lemon law attorney.
Call our team if you have had problems with a vehicle during the warranty period, and the same problem persists and cannot be fixed, or if the vehicle has been in the shop for more than 30 days. When we file cases, our lawyers work on a contingency basis, which means we recover when you recover. 
If you think you bought a lemon car, you might have a case. Speak with our lemon law attorneys to see if you can be compensated for your headaches and hassles resulting from your lemon car. The consultation is free, and our lemon law attorneys can advise you on your next steps.