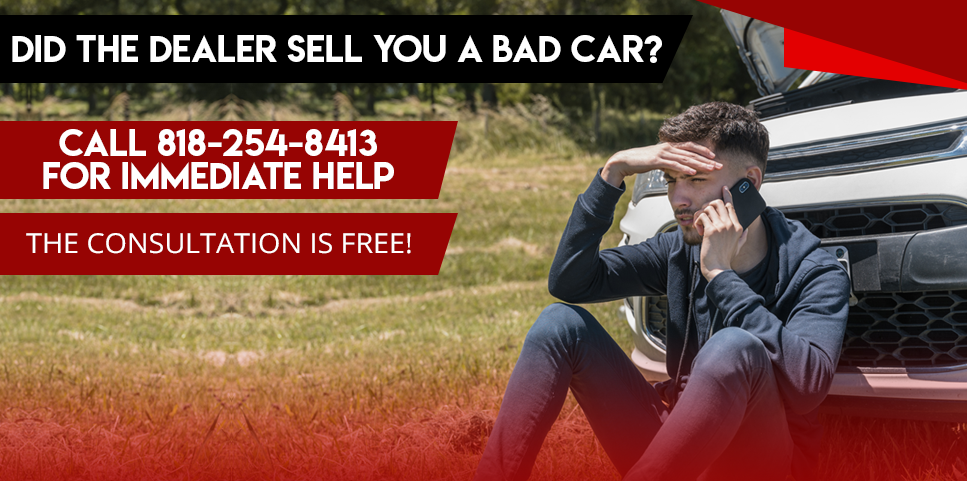 As a car buyer or owner in California, you are well protected from the many deceptive practices used by rogue car dealers. Federal and State laws are designed to combat auto dealer fraud that commonly takes place when buying or financing your new or used vehicle. Our auto fraud attorney is readily available to give free advice for scam-free car purchases and to make sure that you don't get ripped off in the car buying process.
There are different types of auto fraud that most buyers commonly encounter. There are also many grounds for claims against car dealers and manufacturers, extended warranty companies, service contract companies, and car finance companies.
Our auto fraud attorney California attorneys will give you comprehensive advice on fighting back if a dealership takes advantage of you and file a lawsuit if we see that you have a strong case. If your question is, "when can you sue a car dealership?" we can answer that for you. The answer will depend on your situation specifically.
Call our auto fraud attorneys in Los Angeles if you think you have a car claim. FREE Case Evaluation and Consultation!
In California, when you buy a car from a dealership, the salesperson must strictly follow the law when making the sale. As the consumer, it helps to be aware of the common ways you may be defrauded while buying or leasing a car.
One example: under California Law, your dealer must give you a translation of the purchase contract in the language you speak during the time of the transaction. That means negotiations in Chinese, Spanish, Korean, or Vietnamese languages require contracts in the same language. If a native language contract is not given to you, then you may have grounds to sue car dealership.
Our dealer auto fraud attorney often sees cases where the dealer hides important facts involving the vehicle from the buyer. The dealer may fail to inform you that a "new" car is not considered to be a new car if it was used as a demonstration vehicle. The seller may not tell you that the car you are about to buy is a Lemon Law buyback. The salesperson may also not warn you that the vehicle you are about to buy is salvage-titled or was in a prior flood.
Other instances of fraud include advertisement tricks such as the bait and switch trick. This is common where the dealer places a dream car in a newspaper or online ad and then offers the buyer a different vehicle. Another common trick is up-charging for Special equipment to go in your car where you are deceived and told that you must buy the add-on with the car. Our dealer auto fraud attorneys are on call anytime to help you seek remedy for any of these fraudulent sales.
In California, a dealership is required, by law, to offer you a warranty when you buy a used car. The dealer must also follow the points on a service contract document. If your dealer fails to meet any point of the warranty or fails to offer you a warranty in the first place, then you should call or visit our office immediately so that we can evaluate your case against the dealership.
There are many ways a car dealer takes advantage of buyers. The moment you detect or suspect that you are the victim of auto fraud process, you should call or visit our auto fraud attorney California office immediately.
We will litigate vigorously against any rogue dealership and get you a refund, a better car and any damages you have incurred. We take cases on a contingency basis, so we typically get our fee at the end of the case. Visit us or call today and get out of your new or used lemon and into a better car.