In a recent development, it has been announced that the 2020-2022 Hyundai Palisade is being recalled due to a potential fire risk. The recall is attributed to a tow-hitch harness that can catch fire, affecting a total of 244,980 Palisades. Both automakers have also issued a stop-sale on affected models.
The fire risk stems from the possibility of an electrical short circuit caused by debris or moisture accumulating inside the tow-hitch harness module. While repair plans are still being finalized, owners are advised to park their vehicles outside and away from buildings.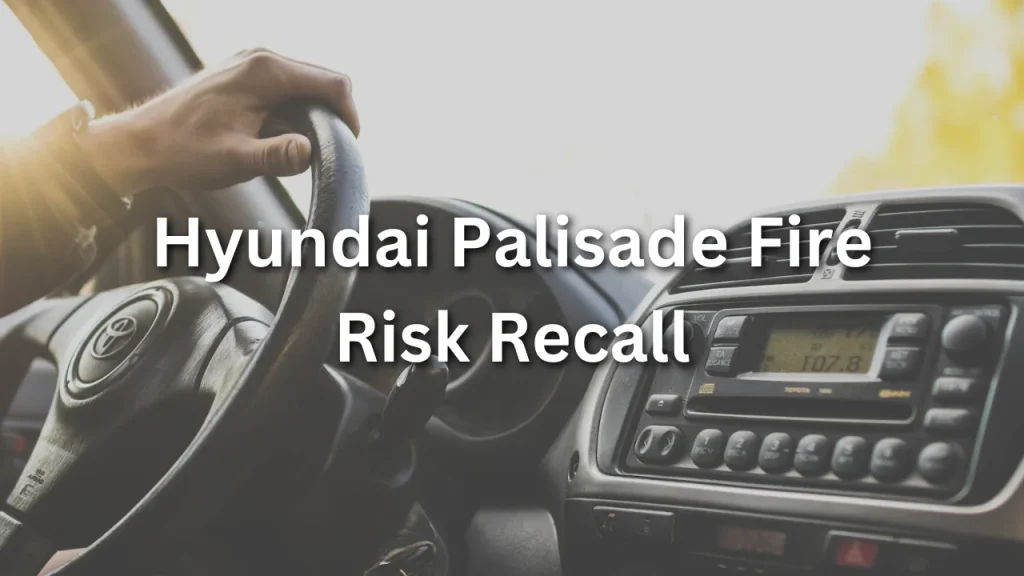 Having Problems With Your Hyundai? Get Your Case Evaluated For Free!
What is Causing the Fire Risk?
The fire risk comes from water entering the tow hitch harness module through the 4-pin tow hitch harness connector. Water entering the connector can cause an electrical short. An electrical short can increase the risk of the trailer tow hitch harness module catching on fire while driving or while the car is parked with the ignition off.
Are There Any Warning Signs of the Fire Risk?
Currently, there are no warning signs that can occur before the trailer tow hitch harness module catches on fire. If you own a 2020-2022 Hyundai Palisade, Hyundai recommends parking the vehicle outside and away from structures until the recall repair is completed.
Which Hyundai Vehicles Are Affected by the Recall?
The following vehicle is affected by the tow hitch harness fire recall:
2020-2022 Hyundai Palisades (manufactured between April 10, 2019 – May 30, 2022)
Owners of these vehicles can expect to receive a notification from Hyundai starting October 17, 2022.
Which Hyundai Vehicles Are Being Recalled In 2023?
Hyundai has recalled certain 2021-2023 Hyundai Palisades, 2023 Hyundai Elantra, 2023 Hyundai Kona, 2023-2024 Hyundai Palisade, 2023 Hyundai Sonata, and 2023-2024 Hyundai Tucson for various issues with the windshield wiper not working and the electric oil pump assembly overheating.
Here are some of the recalls in more detail:
In March 2023, Hyundai recalled over 167,000 vehicles due to the windshield wipers failing to work when there is snow or ice buildup on the windshield. This can lead to the wipers not working which can reduce visibility of the road, increasing the risk of a crash. This recall affected the 2021-2023 Hyundai Palisade.
In July 2023, Hyundai recalled over 52,000 vehicles due to the Idle Stop & Go oil pump assembly containing damaged electrical components. This can cause the pump controller to overheat, increasing the risk of the vehicle catching on fire. This recall affected the 2023 Hyundai Elantra, the 2023 Hyundai Kona, the 2023-2024 Hyundai Palisade, the 2023 Hyundai Sonata, and the 2023-2024 Hyundai Tucson.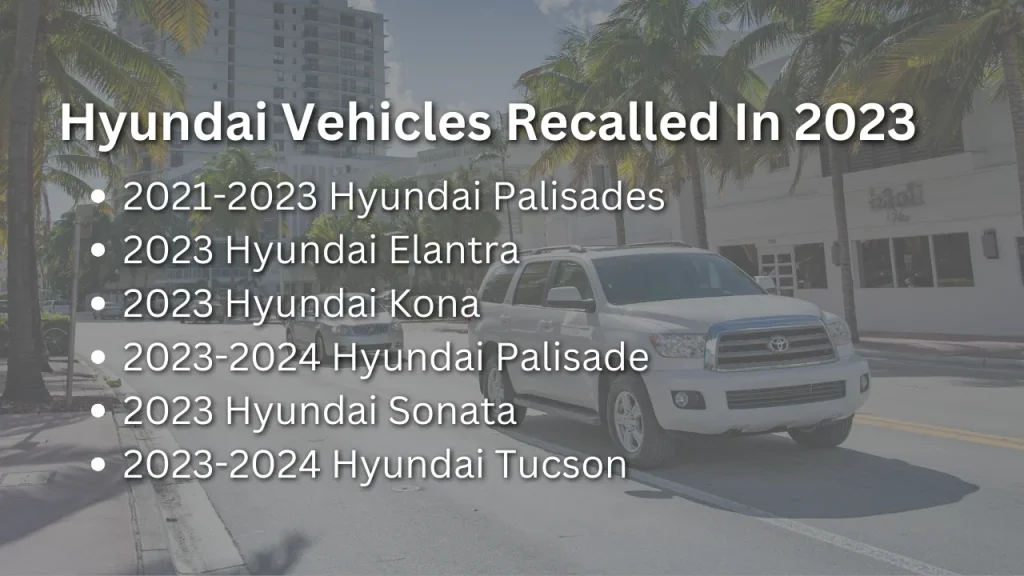 What Should I Do If The Dealer Can't Fix The Vehicle Problems?
If you took your car to the Hyundai dealer and they are not able to fix the problem, consider the following options:
Request a second opinion – Take your vehicle to a different Hyundai dealer and have them diagnose the issue from scratch. A fresh set of eyes may find something the first dealer missed.
Contact Hyundai Customer Care – Report the ongoing issue directly to Hyundai's customer service so there is a record. They may get involved to help resolve difficult repairs.
Review your warranty – If it is still valid, read through to confirm the ongoing problem should be covered under Hyundai's warranty. Push back if they deny coverage.
Document everything – Keep copies of all repair orders, communications with the dealer and Hyundai, and expenses incurred related to the vehicle problem. This may come in handy when hiring a lemon law attorney.
Report safety issues – Make NHTSA aware of any defects that could pose a safety hazard to you or other drivers. Their complaints can prompt investigations.
Consider hiring a lemon law attorney – If the issue seems systemic after multiple repair attempts, an attorney may be able to determine if you qualify for a buyback under state lemon laws.
While it may be frustrating if your vehicle is having problems that remain unfixed even after taking it in for repairs, there are ways to deal with the issue. If your Hyundai is a lemon car, it may be a waste of time to continue taking it in for repairs since the vehicle itself may have been manufactured improperly. If this is the case, getting help from a lemon law attorney may help lead to a resolution.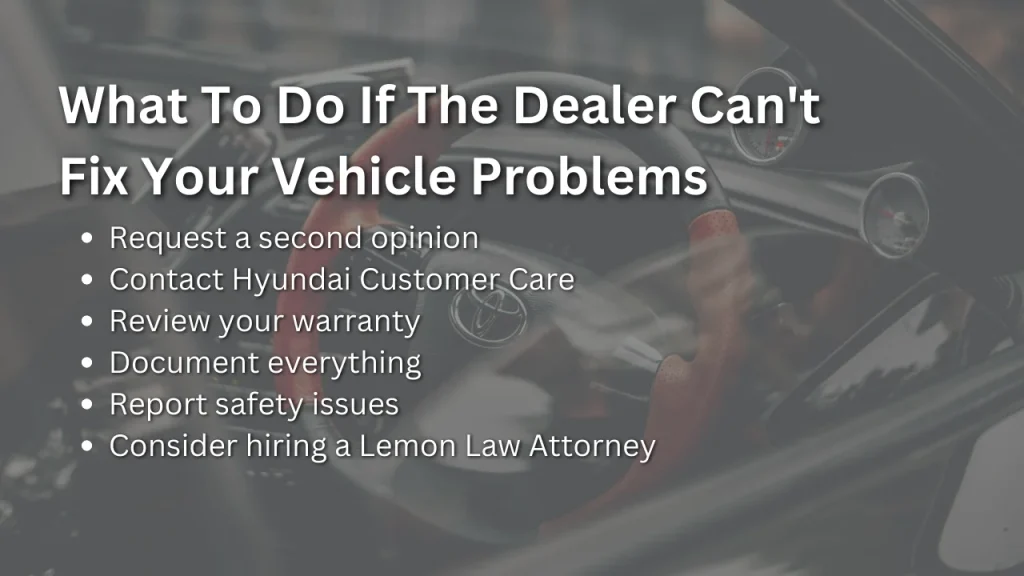 How Can A Lemon Law Attorney Help?
Hiring a lemon law attorney can help resolve the issue with your Hyundai efficiently and effectively. It may be daunting to go against a big manufacturer like Hyundai to get a remedy under the law. However, having an attorney by your side can make a big difference.
A lemon law attorney will know what steps to take to bring resolution to your lemon problem. The attorney will also get in touch with the manufacturer on your behalf to resolve to matter so you won't have to worry about taking the right step. However, you will also have to play your part in providing the necessary information and being truthful so the attorney can act accordingly.
Contact Consumer Action Law Group's Lemon Law Attorney for Lemon Help
If you are having issues with a recently purchased vehicle, Consumer Action Law Group's lemon law attorneys can help you get remedies and resolve the issues. We have helped hundreds of clients with their lemon cases and can help you next.
To see if we can help, we first need to get a grasp of your situation. While filling out the contact form can help, getting on the phone with one of our team members is the best, fastest, and the recommended way for us to better understand your issue. Once you answer our questions regarding your claim, we will then advise you on your next best step, whether or not you have a good case. This case evaluation process is free, so it won't cost you anything to find out if you have a case.
Call Us Now To Get Your Free Case Evaluation!