Chrysler has announced a recall of certain 2021-2023 Dodge Durango vehicles due to an issue with the rear spoiler not aligning properly with the roof. When this happens it causes damage to the spoiler during liftgate use, allowing the rear spoiler to detach and become a road hazard, increasing the risk of crash for other drivers.
If you own any of the affected vehicles, take your vehicle to a qualified dealer and they will inspect and replace the rear spoiler as necessary, free of charge.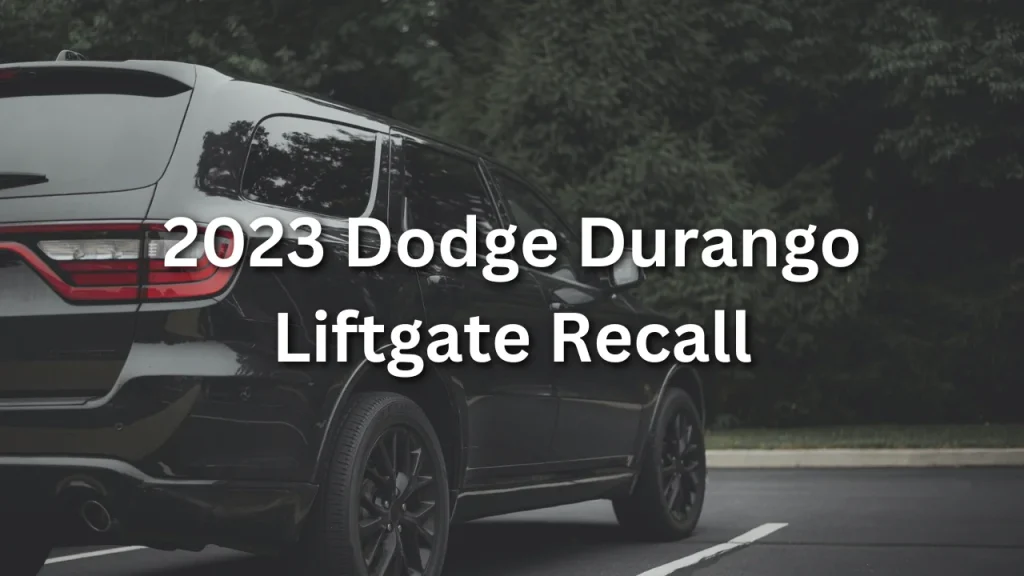 Having Problems With Your Dodge Vehicle? Get Your Case Evaluated For Free!
What is Causing the Rear Spoiler Problem?
The rear spoiler problem derives from its production stage. Some of the 2021-2023 Dodge Durango vehicles were built with rear spoilers that may be over-flush to the roof. This allows the spoilers to come into contact with the roof when you open the liftgate.
Are There Any Warning Signs of the Rear Spoiler Coming Off?
There are a couple of warning signs that may indicate a problem with the rear spoiler coming off. One sign is that there may be noise when the spoiler hits the body of the vehicle when opening or closing the liftgate. Another sign is a rattling sound that occurs when the spoiler becomes loose while driving.
Which Vehicles Are Affected by the Spoiler Defect?
The following vehicle is affected by the rear spoiler detachment recall:
2021-2023 Dodge Durango (manufactured between October 24, 2020 – February 16, 2023)
Owners of these vehicles can expect to receive a notification from Chrysler starting April 14, 2023.
Which Chrysler Vehicles Are Being Recalled in 2023?
Chrysler has recalled certain 2023 Dodge Durango and 2023-2024 Dodge Hornet for various issues with the missing or disconnected pedestrian alert siren, 12-volt battery positive cable and/or high voltage connector cable not being tightened properly, and the shifter coming out of gear while driving.
Here are some of the recalls in more detail:
In October 2023, Chrysler recalled over 4,600 vehicles due to the missing or disconnected pedestrian alert siren. This means that when the vehicle is in reverse, there would be no siren to alert pedestrians, increasing the risk of injury. This recall affected the 2023-2024 Dodge Hornet and 2023-2024 Alfa Romeo.
In September 2023, Chrysler recalled over 4,100 vehicles due to the 12-volt battery positive cable and/or high voltage connector cable not being tightened properly. This can lead to the electrical connections overheating which can lead to a fire while parked or driving. This recall affected the 2023-2024 Dodge Hornet and the 2023-2024 Alfa Romeo Tonale.
In September 2023, Chrysler recalled over 120 vehicles due to an instrument panel-mounted shifter being interfered with the shifter boot and coming out of gear while driving. This can lead to a sudden loss of drive power, increasing the risk of a crash. This recall affected the 2023 Dodge Durango.

What Should I Do If My Dodge is Having Problems?
Here are some suggestions for what to do if your Dodge vehicle has defects:
Contact Dodge customer service. Let them know the specific issues you are having with your vehicle and that you believe there may be a defect. They may be able to advise you on the next steps or potential warranty coverage.
Take the vehicle to an authorized Dodge dealer. A technician can inspect the vehicle and diagnose any issues. The dealer can also determine if the problems may be due to a defect and if the vehicle qualifies for any recalls or warranty repairs.
Review Dodge technical service bulletins (TSBs). These bulletins provide repair information for known issues that may not rise to the level of a full recall. Check online databases to see if any TSBs apply to the problems you are experiencing.
Submit a complaint to the National Highway Traffic Safety Administration (NHTSA). You can file a complaint on their website if you believe your vehicle has a safety-related defect that hasn't been addressed. This helps build a record and may prompt an investigation or recall.
Contact Dodge customer relations if you get no resolution from the dealer. Explain your situation and your desire to have the defect addressed by Dodge directly if it is not handled under warranty by the dealer.
Consider consulting an automotive attorney. They can evaluate if you have grounds for a lemon law claim or other legal action against Dodge if there is a serious defect impacting your vehicle's safety or functionality.
The most important steps are having an authorized Dodge dealer properly diagnose the issues and determining if any applicable recalls, warranties, or service bulletins exist. Persistence usually pays off in getting vehicle defects adequately addressed by the manufacturer.
However, there are times when a defect cannot be fixed because the vehicle may have been manufactured improperly. In this case, you can talk with the dealer to see if they can buy your car back or offer you a replacement vehicle. This process can be confusing and drag on if you don't know the proper steps.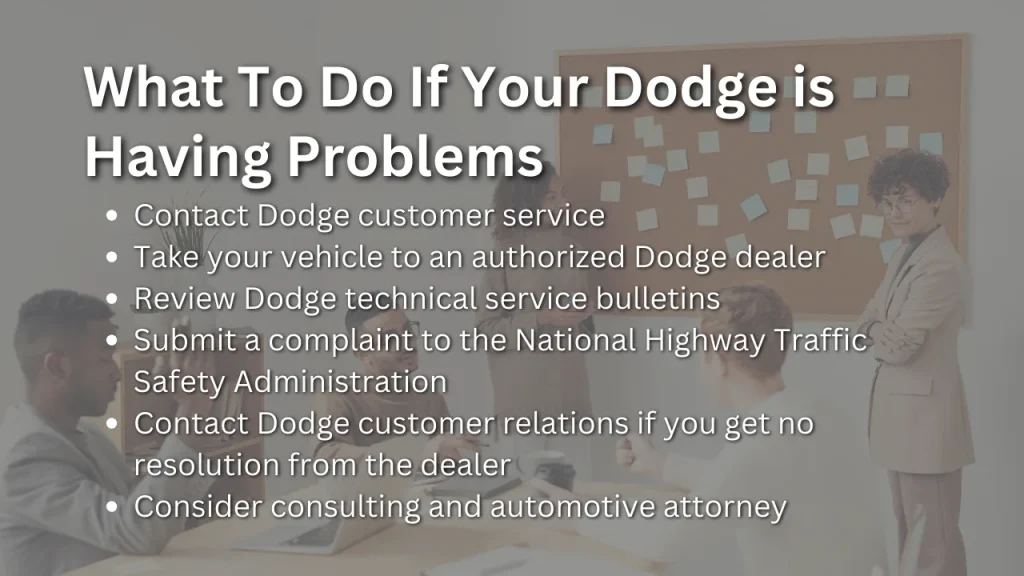 How Do I Get Help With My Vehicle Problems?
You can get help for your Dodge vehicle problems by hiring a lawyer. For any issues that involve the dealer, the attorney will know what steps to take to get the issues resolved. This is especially true for the more well-known dealerships since they do more business with consumers and have more customers who have vehicle problems.
If your car keeps having problems or has been in the shop for more than 30 days total for repairs, a lemon law attorney will be helpful. The Lemon Law has guidelines for these issues and a Lemon Law attorney will know how to approach your case best.
If the dealer has defrauded you by either lying to you or hiding any facts about your car such as a prior accident, you can look for an auto fraud attorney. In an auto fraud case, the attorney will usually work to either get your money back, help you return your car and get out of contract, or help you keep your car and make the dealer pay for repairs or pre-existing damage.
Consumer Action Law Group Can Help With Your Honda Vehicle Problem
Our attorneys can help you if you are having problems with your Honda vehicle. You can end up spending lots of time, money, and energy trying to tackle the problems alone. With our firm's help, you can rest easy, knowing that an experienced lawyer will be handling your case.
To see if you have a case that we can help with, give our office a call. We will go over your situation during our free case evaluation and let you know if you have a case.
Call Us Now To Get Your Free Case Evaluation!