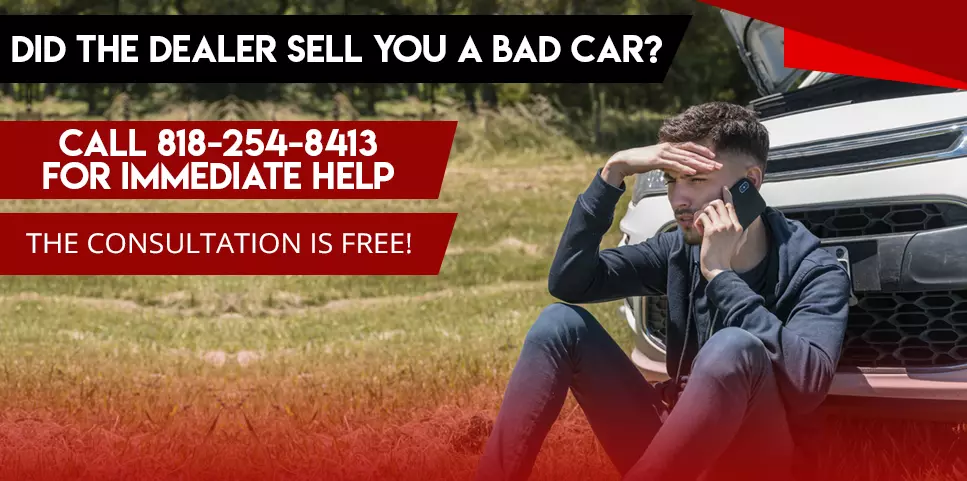 We are auto lawyers that sue car dealerships for bad car sale practices. Call us to speak to our auto attorneys immediately if this happened to you:
You bought a car and paid more than the advertised price
You bought a car and it broke down soon after you drove off the lot
You bought a car without being told that it has been in an accident or that it is defective or has frame damage.
You bought a car with a warranty that the dealer won't honor, or you are being told that your repair is not covered due to an exclusion
Your vehicle needs to be repaired soon after you bought it, and the problems date back to the date you bought it
Your dealer called you to bring back the car because the financing fell through after 10 days have passed from the date of purchase
We protect consumers from bad car sales. To speak to car dealership lawyers for immediate help call:
A Car Lawyer Can Enforce Your Rights
A car lawyer can enforce your rights if the car dealer sold you a bad vehicle. It is usually difficult for a consumer to sue the dealership without a car dealership lawyer by their side. There are several steps that must be taken in order to get the dealership to give you your money back, pay for your repairs, or have you return your vehicle and cancel your contract.
Under California law, car buyers are legally able to sue their dealers for not telling the truth about the vehicle. Our legal team and lawyers against car dealerships gather evidence for a lawsuit against dealers that rip off buyers. Used car dealer fraud is common, if you are a victim, our lawyers who deal with car dealerships can help you get the justice you deserve. Our auto fraud attorneys for bad car dealers will help to spot any signs of fraud to help you determine if you have a case.
Our Automotive Lawyers Will Help You:
 Get your money back

 Return your bad car to the dealer and get out of your contract

 Keep your car, but make the dealer pay for repairs or pre-existing damage
Our Auto Lawyers sue car dealerships for fraud and scams such as:
Selling the vehicle for more than the advertised price

Hiding and failing to disclose prior accidents

Hiding and failing to disclose prior use as a rental car

Hiding and failing to disclose prior frame damage or flood damage

Hiding or failing to disclose prior engine defects and major repairs

Breaking up the down payment into amounts to pay later [Deferred]

Adding additional options or features without your consent
"They were incredibly helpful and honest. The issue with the car dealership I was challenging got resolved very quickly and efficiently following their advice. Thank you again!" – Jihane R.
How Auto Lawyers Help If You Bought A Bad Car
Auto Lawyers are very helpful for consumers who purchased a bad car because they can apply legal pressure on the dealership that sold the bad vehicle. When consumers buy bad or defective vehicles, it may be difficult for them to actually get the dealership to give them what the law entitles them to.
There are several actions that auto dealer lawyers can take to legally pressure the dealership. One of the actions is sending the dealership a demand letter that expresses how the car buyer has been wronged and what they are demanding in response to the wrongful action. The dealership usually has 30 days to respond to the demand letter, but they do not always respond.
In the event that the dealership gives no response, certain legal steps must be taken to legally force the dealer to compensate you for selling you a bad car. Usually, this is where the auto lawyer files a lawsuit against the dealership.
We are your "auto fraud attorney near me", call us for immediate legal protection:
Car Dealership Lawyer at the Right Time

When hiring a car dealership lawyer, it is important to consider where you are in the process with your vehicle, and if you qualify. Each auto fraud case is different, so it's best to contact a car dealership lawyer as soon as possible to receive an evaluation.
Before calling a car dealership lawyer you should consider getting all the necessary details ready for your auto fraud case. This includes knowing which parties are involved and the details of the damages, such as evidence of fraudulent sales practices. There are several actions that our car dealership lawyers can take to compensate you for your damages and help you spot signs of car fraud to continue a valid case.
Our Auto Lawyers in Los Angeles Can Help You Sue Car Dealerships on Contingent Fees

Our car dealer lawyers in Los Angeles can help you to cancel bad contracts, return your vehicle, and get every penny you have paid for your car under the California consumer laws. Our team of auto lawyers will take the time to research your car's history, and we can find evidence of auto fraud when the dealer lies to buyers. Many times, our clients are unaware of any issues until our auto fraud attorneys analyze the contract and the vehicle history report revealing the truth.
For FREE legal consultations and free case evaluation, call: