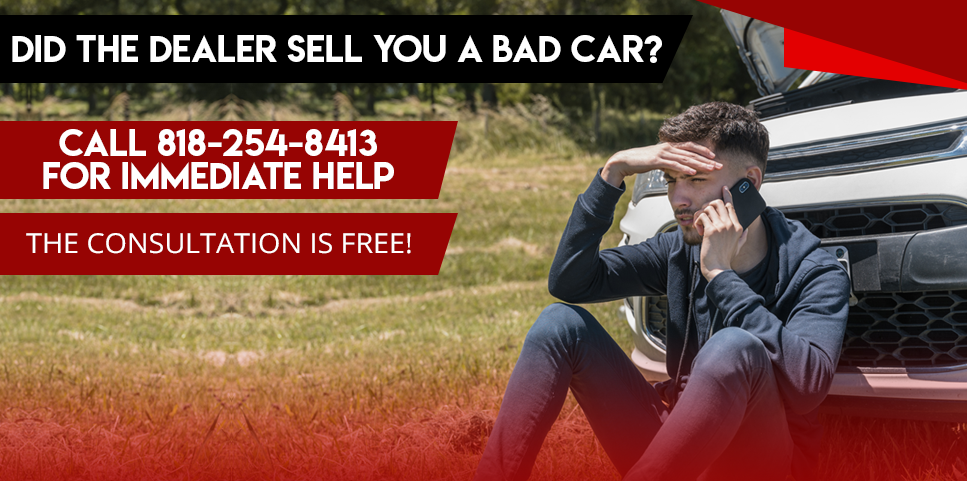 If you recently bought a used car that is a lemon, you may be able to return the vehicle to the dealership for a full refund – even if the dealership says that you cannot. While a used car is almost guaranteed to have some sort of minor defect, that doesn't mean that the car should break down on you right after the purchase, or cost you thousands in repairs within months of signing the sales contract.
The dealership has a responsibility to tell you about major damage or problems with the car prior to the sale, but if you're reading this, you probably know that they don't always do what they're supposed to. What you're actually dealing with probably doesn't fall under "lemon law," as much as it does car dealer fraud.
Call our firm for your FREE case evaluation and consultation!
When someone calls our office, they often tell us that they bought a used car that is a lemon, and as we listen to what happened with the dealership, we find out that they grossly misrepresented the vehicle for sale. If a car breaks down right after it's bought, or is having serious issues under the hood, the dealership probably knew that something was wrong before they sold it to you.
Engine problems, transmission issues, misalignment, and many other problems could end up costing you thousands in repairs even though you shouldn't have to pay. That vehicle may have been in a major accident that the dealership didn't disclose to you – there could even be frame damage to the car that makes it unsafe to drive.
Auto dealer fraud is becoming more common, and dealerships aren't running out of new ways to scam car buyers out of more money than they're really owed. Our goal is to get our clients out of the car that they're driving, get their money back from the dealership, and into a car that is NOT a lemon.
The Fastest Way to Cancel Your Contract
You need your car for work, groceries and the rest that life throws at you. We know how important it is to help our clients get out of their contract if they bought a used car that is a lemon. Our auto dealer fraud attorneys work to help clients sue dealerships that are unwilling to allow them to return the car for a refund without hassle. In cases where honest dealers sell bad cars, they often make good on the deal by issuing a full refund in exchange for the return of the vehicle – but this is not always the case.
The fastest way to cancel your contract if you bought a used car that is a lemon is to call an auto fraud attorney today. Our firm helps car buyers get what they deserve through swift legal action. Most of our clients auto dealer fraud cases never make it to the court room, as they are settled quickly – getting your money back so that you can get a safe, reliable vehicle.
How to Get Your Money Back from the Dealer
The first step is to pick up the phone, and call our auto fraud lawyer now. Our firm answers every call, and handles every case on an individual basis to provide the best service, and end results for our clients. We know that if you bought a used car that is a lemon, you may be concerned about how much it would cost to hire an attorney to sue the dealership. Just like our consultations, if we decided to take on the case there is no cost to you. All auto fraud cases taken on by our car dealership lawyers are on contingency basis, and will cost you very little. We look forward to helping you!