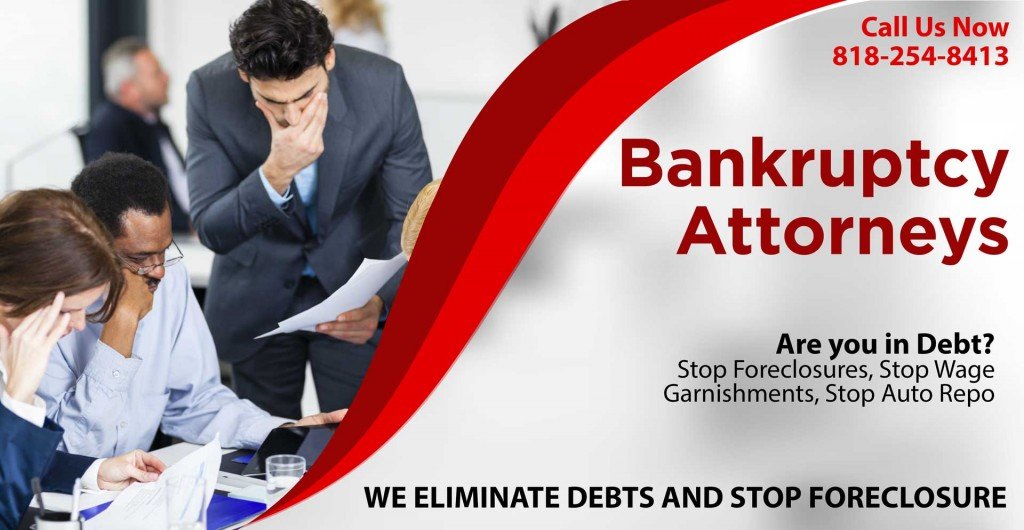 Filing bankruptcy in California will stop foreclosure, get rid of annoying collection calls, and give you a fresh start with a debt-free life. There are specific rules on filing bankruptcy in California, which means you need to locate a bankruptcy attorney who knows the rules very well and can resolve your issues.
There are two types of bankruptcies most people file. Chapter 7 eliminates unsecured debts and Chapter 13 reorganizes debts. No matter what Chapter you file, you are required to participate in a credit counseling course that is approved by the U.S. Trustee in California. You will also be required to take a debtor education course to obtain a bankruptcy discharge.
Our Los Angeles bankruptcy lawyers will counsel you about the types of bankruptcy to file and help determine if you fall within the income requirements for eligibility. You will need to fill out a form listing living expenses and liabilities plus income and assets. You may be required to file local bankruptcy forms. Your Los Angeles bankruptcy attorney will know the particular rules.
Chapter 7 Bankruptcy
Medical bills, credit cards, and other unsecured debts are eliminated when you are discharged from a Chapter 7 bankruptcy. When going through a Chapter 7 Bankruptcy, after you stop making payments to unsecured creditors you can continue to make payments to keep your home or auto. Chapter 7 is usually complete in abut 3-4 months when you are no longer under an obligation to pay your unsecured debts [credit cards, medical bills, old IRS debt].
One of the most time consuming aspects of a bankruptcy is filing an official petition, schedules and statement of finances. The court requires that you list every creditor in the schedules and provide accurate mailing addresses. If you intend to reaffirm or keep the debt, it also must be listed. You should know, relief is immediate: The day your case is filed, not discharged, all the rights of your creditors cease.
Chapter 13 Bankruptcy
Reorganizing your debt is the goal of a Chapter 13 bankruptcy. You use your income to pay off all of what you owe to creditors. The time you have to pay back debts is from three to five years. The length of time depends on the size of debts and your income. You keep all your property.
On big advantage of a Chapter 13 bankruptcy is the ability to "strip" a second mortgage from your real property. If your home has lost value during the economic down turn, this can be a huge benefit for home owners.
Cheap Bankruptcy Filing in California
The average costs of a bankruptcy vary from one Los Angeles bankruptcy attorney to another. Consult with our experienced attorney today, rest assured our bankruptcy fees are cheap compare to other bankruptcy attorney in California and you can start new.