Legally reviewed by: Chuck Panzarella, J.D.
Ford has issued a recall for its Ford Mustang Mach-E to replace the high-voltage battery junction box to address the issue of its overheating. Ford has instructed the owners to take their vehicle to a Ford or Lincoln dealer where they will get the battery replaced free of charge.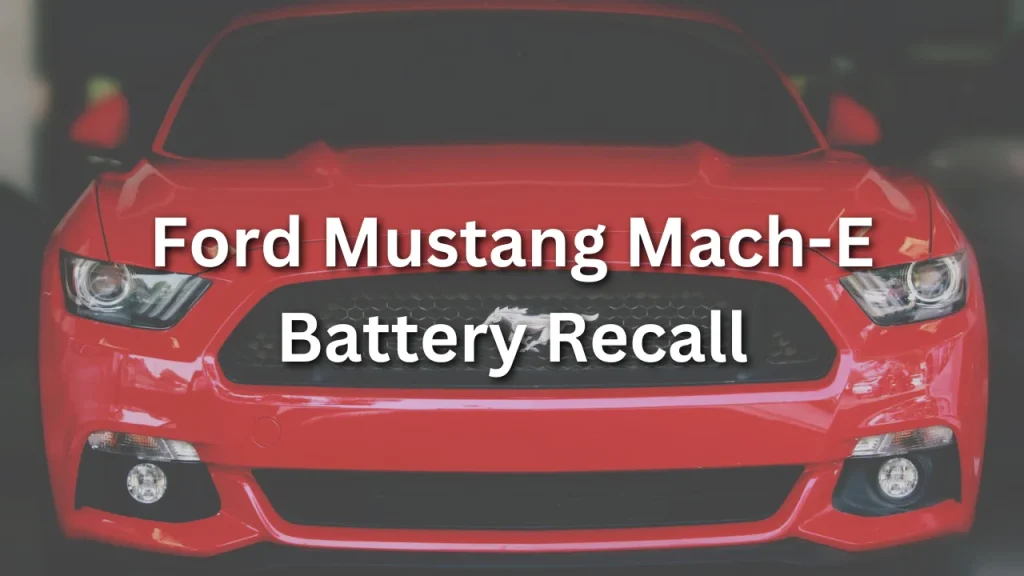 Having Problems With Your Ford? Get Your Case Evaluated For Free!
What is Causing the Issue with the Battery?
The main cause of the battery overheating is the design of the high voltage battery Bussed Electrical Center (BEC) not being robust enough to handle heat generated from multiple wide-open pedals and DC Fast-Charge events. If the contactors have accumulated enough damage from overheating, they may fail to close properly or weld closed when driving, increasing the risk of a crash.
What Are the Warning Signs of the Battery Problem?
Vehicles that have received the 22S41 software update will, in most cases, proactively detect damage to the contactors and display a warning to the driver.
If the contactors weld closed while driving, there will be no impact on the vehicle's operation. However, when turning on the car again, there will be a wrench light turned on, the vehicle diagnostics will set a DTC, and the vehicle will not start.
If the contactors did not properly close while driving, the vehicle diagnostics will set a DTC, the wrench light will be turned on, the vehicle will display "Stop Safely Now", and the vehicle will immediately lose motive power. The vehicle will eventually come to a stop, and all 12V systems, including the power brakes and steering, will remain functional.
Which Vehicles Are Affected by the Battery Recall?
The following vehicles are affected by the battery recall:
2021-2022 Ford Mustang Mach-E (manufactured between May 27, 2020 – May 24, 2022)
Owners of the vehicle can expect to receive a notification from Ford starting October 30, 2023.
Which Ford Vehicles Are Being Recalled in 2023?
Ford has recalled certain 2020-2023 Ford Explorer, 2020-2022 Lincoln Aviator, and 2020-2022 Lincoln Corsair for various issues with the driveshaft disconnecting, battery failing, rearview camera losing image, and an incomplete PCM update.
Here are some of the recalls in more detail:
In October 2023, Ford recalled over 238,000 vehicles due to the driveshaft disconnecting from the rear axle horizontal mounting bolt. This can lead to a loss of drive power or the vehicle rolling away if the parking brake is not applied, increasing the risk of a crash. This recall affected the 2020-2022 Ford Explorer.
In September 2023, Ford recalled over 2,900 vehicles due to battery failure from a manufacturing defect in one or more of the high-voltage battery cells. This leads to an internal short circuit and battery failure, causing a loss of drive power, which increases the risk of a crash. This recall affected the 2020-2022 Ford Explorer and 2020-2022 Lincoln Aviator.
In May 2023, Ford recalled over 442,000 vehicles due to the rearview camera not working. This leads to a decrease in the driver's rear visibility, increasing the risk of a crash. This recall affected the 2020-2023 Ford Explorer, 2020-2023 Lincoln Aviator, and 2020-2022 Lincoln Corsair.
If you own a Ford vehicle and would like to check if your Ford has an open recall, check with the National Highway Traffic Safety Administration (NHTSA) site.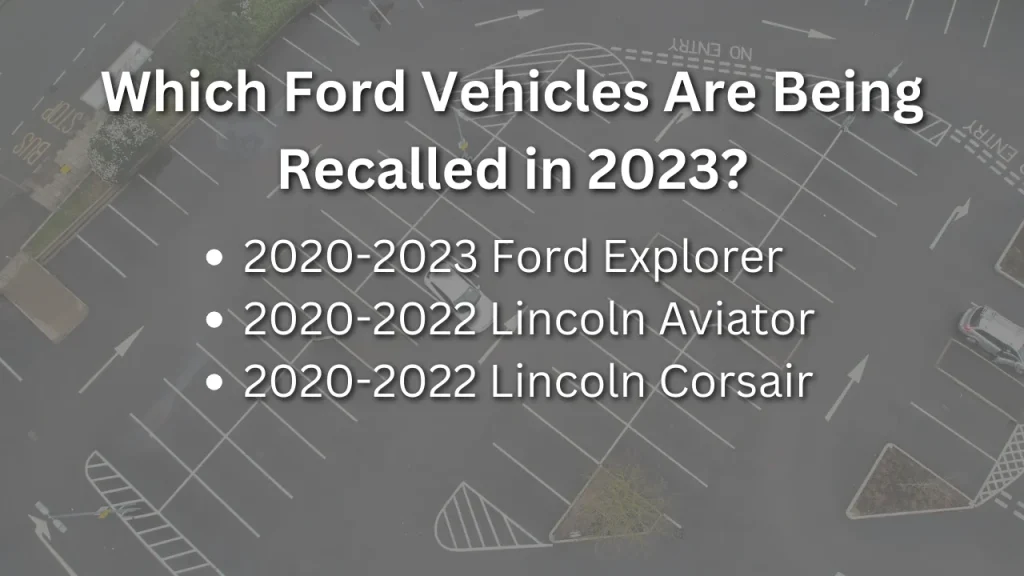 What Should I Do If My Mustang Is Having Problems?
Here are some suggested steps to take if your Ford Mustang is having problems:
Identify the symptoms – Make notes of exactly what issues you are experiencing with the vehicle (e.g. engine noises, electrical malfunctions, leaks, etc). Be as detailed as possible.
Inspect the vehicle yourself – Pop the hood, check fluid levels, and look for any obvious loose parts or damage. This can help provide clues to what may be wrong.
Review any pending recalls – Check the NHTSA website and Ford's website for any technical service bulletins (TSBs) or recalls that may be related to the symptoms you are experiencing.
Take it to a Ford dealer – An authorized Ford dealer will have factory-trained technicians and the specialized tools and software needed to diagnose Mustang issues. They can inspect the vehicle, perform tests, and determine what repairs may be needed.
Ask about warranty coverage – If the vehicle is still within the factory warranty period, repairs may be covered by the manufacturer. The dealer service center can check and advise you.
Consider an independent shop – For out-of-warranty vehicles, an independent shop specializing in Mustangs may provide repairs for less cost than a dealer. However, the dealer may still hold an advantage for diagnostics.
Contact Ford customer service – If the issues seem unresolved through the dealer, you can escalate to Ford's customer service for additional help and support.
File a complaint with NHTSA – If the problems pose a safety concern that you feel Ford is failing to address adequately, the NHTSA can log the complaint and potentially compel Ford to take action if enough complaints accumulate.
Talk to an attorney – If your vehicle continues to experience problems even after taking it to the dealer, the problem may come from manufacturing. In this case, it would be beneficial to hire an attorney to figure out your next best steps and approach the problem legally.
The key first steps are identifying the issues, methodically inspecting the vehicle, and involving a Ford service department to diagnose and repair the problems. Utilizing warranties, recalls/TSBs, and escalating to Ford or the NHTSA provide further options if issues remain unresolved.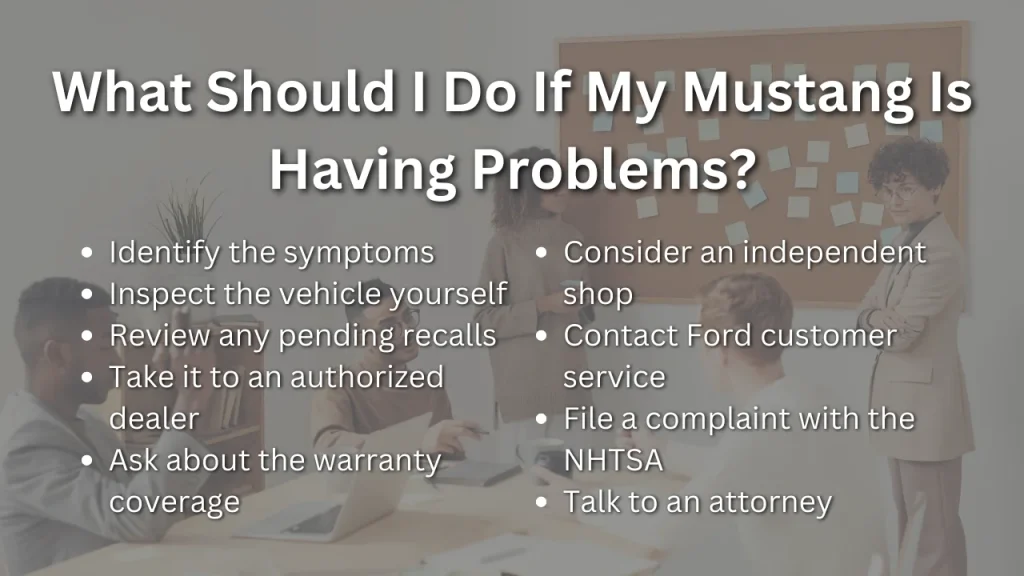 How Can an Attorney Help?
An attorney can help by moving your case forward more quickly and effectively than pursuing it alone. The attorney also handles communication and negotiation with the dealer so you won't have to. Legal pressure from a lawyer also helps because the dealer may not want to spend time and effort dealing with your case if it is obvious that they made a mistake.
Call Consumer Action Law Group for Your Ford Vehicle
If you are having issues with your Ford, our attorneys can help. Give our office a call, and we will ask some intake questions to get a better understanding of your situation. Once we learn more about your case, we'll be able to make a recommendation for your next best steps.
Our case evaluations are also free, so you won't have to worry about paying anything out-of-pocket to learn if you have a case.
Call Us Now To Get Your Free Case Evaluation!