Reviewed by: Chuck Panzarella
General Motors has issued a recall for nearly one million vehicles as part of a larger airbag recall. This recall specifically affects Buick Enclave, Chevrolet Traverse, and GMC Acadia vehicles from the 2014 to 2017 model years. The concern is that the airbags in these vehicles may rupture, posing a serious risk to the driver and passengers.
The recall comes after a report of a 2017 Chevrolet Traverse involved in a crash, where the front-driver airbag inflator ruptured. GM dealers will replace the driver's airbag unit for free, and owners can check the NHTSA recalls site for further details. Stay safe on the road and make sure to confirm if your vehicle is affected by this recall.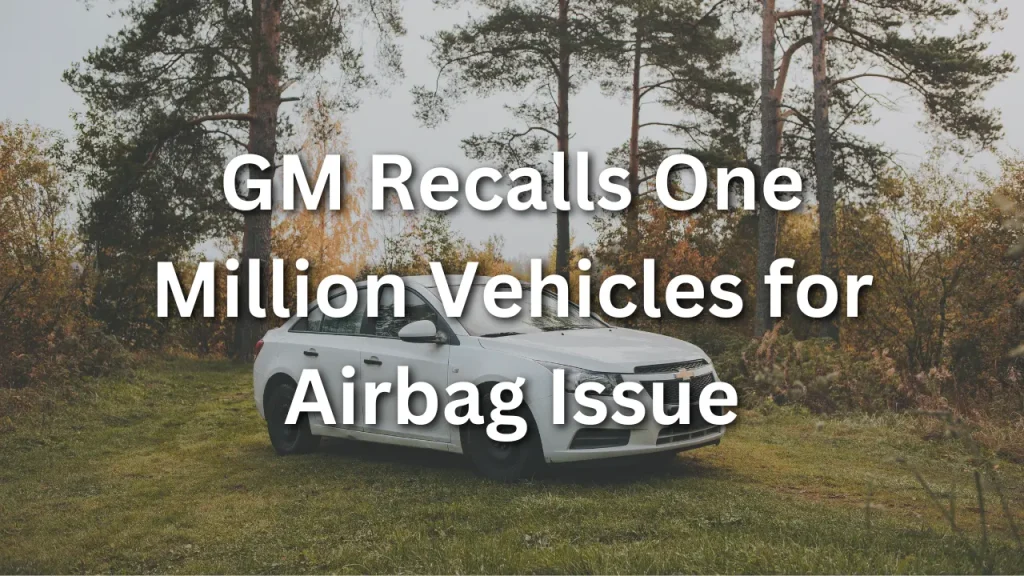 Having Problems With Your GM Vehicle? Call Us For A Free Consultation.
Recall Details
GM has issued a recall for 994,763 vehicles. The models affected by this recall are the Buick Enclave, Chevrolet Traverse, and GMC Acadia. If you own a vehicle from one of these models and it was manufactured between 2014 and 2017, there is a chance it may be affected by this recall.
What is Causing the Airbag Defect?
General Motors reached the conclusion that the airbag safety issue comes from the front-driver airbag inflator containing a supplier manufacturing defect which can cause the inflator to rupture during its deployment.
Which Vehicles Are Affected by the Recall?
The 2014-2017 Buick Enclave, 2014-2017 Chevrolet Traverse, and 2014-2017 GMC Acadia are the vehicles that have been affected by this recall. If you own any of these models that were manufactured between 2014 and 2017, check with the National Highway Traffic Safety Administration Vehicle Safety Hotline at 1-(888)-327-4236 or go to www.nhtsa.gov.
What Are the Potential Dangers of the Defective Airbags?
The primary concern that led to this recall is the potential for the driver's airbag inflator to rupture during deployment. If this happens, sharp metal fragments may enter the vehicle's cabin. This poses a significant risk of serious injury or even death. It is crucial to address this issue promptly and take the necessary precautions in order to avoid being injured by the potential defect.
Crash Report of the Airbag Defect
In response to the airbag concerns, GM investigated a crash involving a 2017 Chevrolet Traverse that occurred in March. During the crash, the front driver airbag inflator ruptured upon deployment. This incident confirmed the seriousness of the issue and prompted GM to take action.
In 2022, GM retained an independent third-party engineering firm to help with the airbag investigation. Then on May 7, 2023, GM's Safety and Field Action Decision Authority decided to recall the 2014-2017 model year Chevrolet Traverse, Buick Enclave, and GMC Acadia vehicles out of precaution.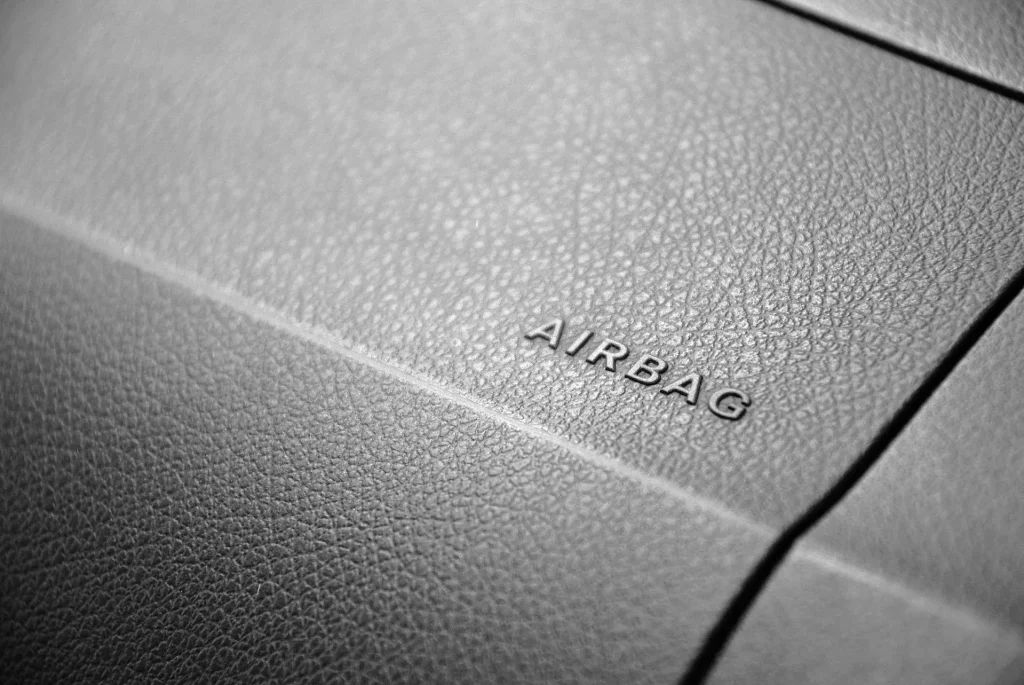 Notification and Replacement
GM dealers are scheduled to be notified of this recall on May 10, 2023. Owner notifications are estimated to begin in late June. The good news is that the replacement of the driver's airbag unit will be free of charge. It is crucial to respond to the notification promptly and have the necessary repairs done as soon as possible.
How to Check If Your Vehicle is Affected
If you are unsure whether your vehicle is affected by this recall, you can visit the NHTSA recalls site. There, you will find all the necessary information to confirm your vehicle's involvement and learn more about the specific details of the recall.
Larger Airbag Recall
This recall is part of a more extensive request made by the NHTSA to ARC Automotive Inc. to recall 67 million airbag inflators. The request was made due to the risk of these inflators exploding. Unfortunately, ARC denied the request. It is essential to stay informed about the progress of this larger airbag recall to ensure your safety on the road.
ARC Automotive Inc.'s Response
ARC Automotive Inc. is the manufacturer responsible for producing the airbag inflators affected by this recall. Their denial of the NHTSA's request to recall these inflators raises concerns about the safety of their products. It is crucial for consumers to stay updated on any developments regarding ARC Automotive's response and take appropriate measures to address the issue.
What Should I Do If My GM Vehicle is Having Issues?
If your GM vehicle is experiencing problems, you should take the appropriate steps to deal with the issue:
Identify the issue – Pay attention to any warning lights, strange noises, changes in performance, etc., and try to pinpoint exactly what the problem is. Knowing the specifics will help your mechanic diagnose it.
Check your owner's manual – The manual will often have troubleshooting tips or instructions related to common issues. Following their guidance can sometimes resolve problems quickly.
Make an appointment with your dealer – For complex issues, it's best to have a GM-certified technician take a look. They'll have the proper diagnostic tools and training for your vehicle model.
Describe the issues in detail – When you take your vehicle in, be prepared to explain exactly what is happening with as many specifics as possible. The more details you can provide upfront, the faster the mechanic can identify the problem.
Ask about warranty coverage – Many GM vehicles come with powertrain and other warranties. If your issue is covered under warranty, repairs will be free or low cost. Check coverage when booking the appointment.
Consider GM Roadside Assistance – If your vehicle can't be safely driven, GM offers 24/7 roadside assistance to tow it to the dealer for service. Give them a call if needed.
Ask for a rental car – Make sure to inquire about getting a loaner or rental car while your vehicle is being serviced, if an extended repair is required.
Follow up on fixes – If the issue reappears after service, take it back to the dealer and have them take another look. Be persistent to ensure problems get fully addressed.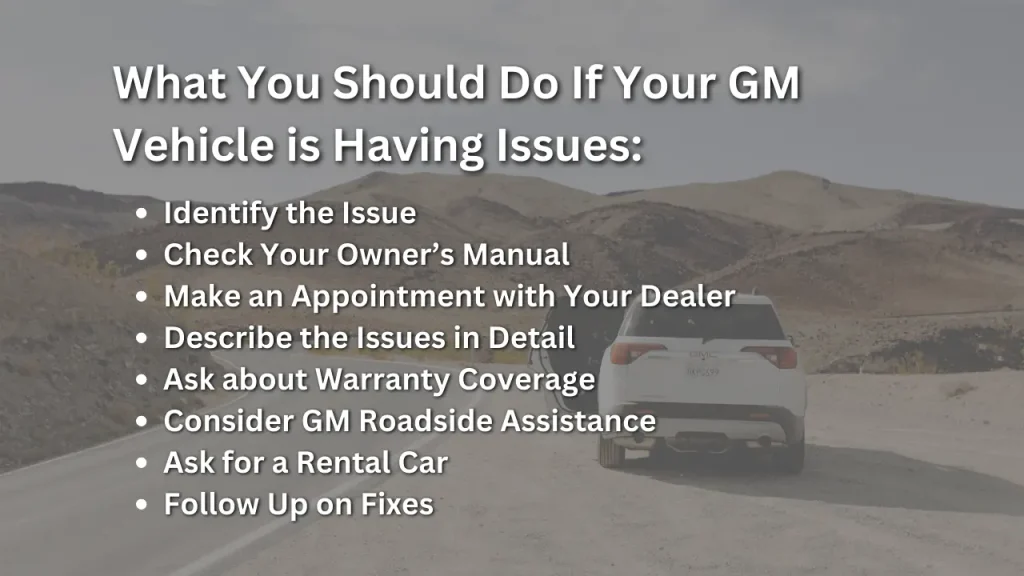 Other Vehicles Affected
Aside from the GM vehicles mentioned earlier, there are other vehicles affected by this airbag recall. Stellantis vehicles, BMW vehicles, and Hyundai Motor Group vehicles have also been identified as having airbag inflators produced by ARC Automotive. If you own a vehicle from any of these manufacturers, it is essential to stay informed about any potential recalls or safety concerns related to your vehicle.
Get Help From A GM Lemon Law Attorney
If your car keeps having issues that GM can't seem to fix, call our lemon law experts to resolve your problem. We offer free consultations over the phone to review your case and advise if you qualify for lemon law protection.
Call us at (818) 254-8413 today for your free case evaluation, or fill out our contact form and we'll get back to you as soon as we can.
Call Us Now To Get Your Free Case Evaluation!