Are you dealing with the aftermath of a slip and fall accident? Deciding on the right slip and fall lawyer to represent you can be a challenging task. With so many options out there, it's important to find an attorney who understands your unique situation and has the experience and expertise to fight for your rights.
In this article, we will provide you with valuable tips on how to choose the right slip and fall lawyer, ensuring that you receive the legal support and guidance you deserve during this difficult time.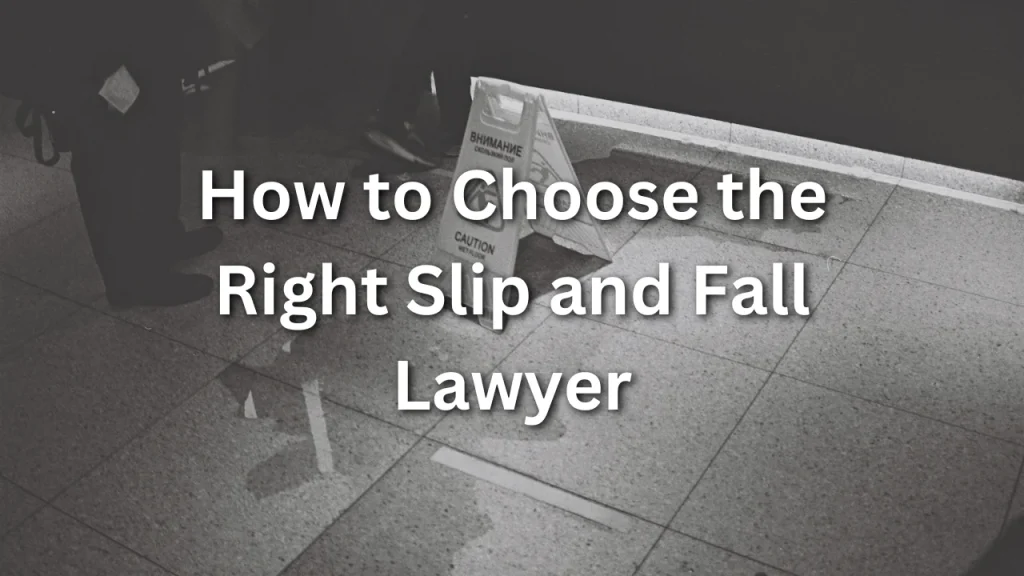 Experience and Expertise
When choosing a slip and fall lawyer, one of the most important factors to consider is their experience and expertise. You want to ensure that the lawyer you hire has ample experience in handling slip and fall cases specifically. It is crucial to work with someone who is well-versed in the intricacies of this area of law and has a track record of success. An experienced lawyer will have a deep understanding of the legal strategies, tactics, and nuances needed to effectively advocate for you and maximize your recovery.
Reputation and Track Record
The reputation and track record of a slip and fall lawyer can speak volumes about their competence and effectiveness. Look for lawyers with a solid reputation within the legal community and a proven track record of achieving favorable outcomes for their clients.
A reputable lawyer is more likely to be respected by insurance companies and other opposing parties, which can work to your advantage during settlement negotiations or in the courtroom. One way to assess a lawyer's reputation is to seek referrals from trusted sources who have had positive experiences with slip and fall lawyers in the past.
Specialization in Slip and Fall Cases
Not all personal injury lawyers specialize in slip and fall cases, so it is essential to choose a lawyer who has expertise specifically in this area. Slip and fall cases can be complex and require a unique set of skills and knowledge. A lawyer who specializes in slip and fall cases will have a deep understanding of premises liability, know how to prove negligence, be familiar with relevant building codes and standards, and have experience handling different types of injuries associated with slip and fall accidents. A specialized lawyer will be equipped to navigate the complexities of your case and fight for your rights effectively.
Availability for Consultation
Before hiring a slip and fall lawyer, it is vital to consider their availability for consultation. This includes their promptness in returning phone calls, willingness to meet in person, and flexibility in scheduling appointments. A lawyer who is easily accessible and responsive to your needs can provide you with peace of mind and ensure that your questions and concerns are addressed in a timely manner. Additionally, a lawyer who is available to attend your medical appointments can gather crucial evidence and build a strong case on your behalf.
Communication and Responsiveness
Effective communication is essential in any legal case, and slip and fall cases are no exception. When evaluating potential slip and fall lawyers, pay attention to their communication style and responsiveness. A good lawyer should be a clear and effective communicator, actively listen to your concerns, and be transparent in sharing case updates.
They should also exhibit empathy and compassion throughout the process, making you feel comfortable and confident. The ability to explain legal jargon and concepts in a way that is easily understandable to you is also crucial. Don't hesitate to ask about their communication protocols and expectations upfront.
Legal Fees and Payment Structure
Considering the legal fees and payment structure is an important practical factor when choosing a slip and fall lawyer. Understanding how a lawyer charges for their services is crucial in managing your expectations and ensuring you can afford their representation. Some lawyers work on a contingency fee basis, where they only get paid if they win your case and receive a percentage of the recovery. Others may charge an hourly rate or a flat fee.
Additionally, it is essential to discuss any additional costs and expenses that may arise throughout the legal process, such as court filing fees or expert witness fees. Make sure to review the fee agreement and clarify any questions or concerns you may have regarding payment.
Client Testimonials and References
Checking client testimonials and references can provide valuable insight into the quality of a slip and fall lawyer's services. Look for written testimonials on their website or social media platforms, as well as any video or audio testimonials they may have. These testimonials can give you an understanding of how former clients viewed their experience with the lawyer and the outcome of their cases.
Additionally, consider reaching out to the lawyer for contact information for references. Speaking directly with former clients can allow you to ask specific questions related to the lawyer's communication, support, and overall satisfaction.
Location and Local Knowledge
The location of a slip and fall lawyer's practice can play a significant role in the success of your case. It is beneficial to choose a lawyer who is familiar with the local laws, court systems, and insurance companies in your area. They will have a better understanding of how to navigate the local legal landscape and may have established relationships with key figures in the legal community. A local lawyer can also be more accessible for in-person meetings, reducing the logistical challenges associated with distance.
Resources and Team
Another factor to consider when selecting a slip and fall lawyer is the resources they have at their disposal. Building a strong case requires extensive research, access to expert witnesses, and support staff to assist with various tasks. A lawyer with a well-established team and adequate resources will be better equipped to handle the complexities of your case effectively. These resources can help gather evidence, conduct investigations, and develop compelling legal strategies to strengthen your claim.
Initial Consultation Accessibility
The initial consultation with a slip and fall lawyer is an opportunity to assess whether they are the right fit for your case. It is essential to consider the accessibility and approachability of a lawyer during this initial meeting. Look for lawyers who offer gratis or low-cost consultations to alleviate any financial burden during your evaluation process. The lawyer should allocate enough time for the consultation to thoroughly discuss your case and assess its potential value.
Additionally, pay attention to how they listen to your concerns and explain the legal rights and options available to you. A good slip and fall lawyer will focus on building an attorney-client relationship based on trust and understanding during this initial meeting.
Researching Potential Lawyers
Now that you understand the key factors to consider when choosing a slip and fall lawyer, it's time to explore the various avenues for researching potential lawyers.
Online Searches and Directories
One of the first places to start your research is through online searches and legal directories. Many reputable lawyers have an online presence, including their own websites or listings on legal directories. Utilize search engines and legal directories to find slip and fall lawyers in your area. Take the time to review their websites, read about their experience and expertise, and note any testimonials or awards they may have received.
Referrals from Trusted Sources
Seeking referrals from trusted sources, such as friends, family, or colleagues, can be an excellent way to find reputable slip and fall lawyers. Personal recommendations from people you trust can help you gather valuable insights into the lawyer's qualities, communication style, and overall satisfaction. Ask about their experiences with the lawyer and whether they were successful in similar cases. Referrals from individuals who have gone through a slip and fall case themselves can provide you with firsthand knowledge of the lawyer's abilities.
Bar Associations and Legal Directories
Bar associations and legal directories can be valuable resources when researching slip and fall lawyers. Many professional organizations, such as state or local bar associations, have directories of lawyers who specialize in various practice areas, including personal injury law. These directories often provide information about a lawyer's background, experience, and contact information, making it easier for you to narrow down your options.
Local Personal Injury Law Firms
Local personal injury law firms are often a reliable source for finding slip and fall lawyers. These firms typically have a team of experienced lawyers who specialize in personal injury cases, including slip and fall accidents. Research the websites or contact these firms directly to inquire about their lawyers' expertise and availability. They may also have resources and support staff that can bolster the strength of your case.
Reviews and Ratings Websites
Reviews and ratings websites can provide additional perspectives on slip and fall lawyers. Websites such as Avvo, Martindale-Hubbell, and Lawyers.com allow clients to leave reviews and ratings based on their experiences with lawyers. Take the time to read through these reviews to gain insight into the lawyer's communication skills, responsiveness, and success in slip and fall cases. Keep in mind that reviews should be considered alongside other factors and not as the sole basis for your decision.
Professional Networks and Organizations
Professional networks and organizations can give you access to a network of qualified slip and fall lawyers. Consider reaching out to organizations such as the American Association for Justice or your local trial lawyers association to request a list of members who specialize in slip and fall cases. These organizations often have strict membership criteria, ensuring that the lawyers who belong to them meet certain professional standards.
Credentials and Certifications
A slip and fall lawyer with additional credentials and certifications can convey their commitment to excellence and specialized knowledge. Look for lawyers who belong to relevant professional organizations or have obtained certifications in personal injury law or slip and fall cases. These additional qualifications can demonstrate a lawyer's dedication to their craft and their ongoing pursuit of legal education beyond their law degree.
In-Person Events and Seminars
Attending in-person events and seminars related to personal injury law can provide an opportunity to meet and learn from slip and fall lawyers firsthand. Look for local events or seminars hosted by legal organizations, bar associations, or personal injury law firms. These events often feature experienced lawyers as speakers and provide an opportunity to network and gain a deeper understanding of their expertise and approach.
Publications and Written Works
A slip and fall lawyer who has published articles or written works on personal injury law can demonstrate their knowledge and commitment to educating others. Look for any publications or written works by potential lawyers, such as legal articles, blogs, or books. Reading their written works can give you valuable insights into their understanding of personal injury law and slip and fall cases.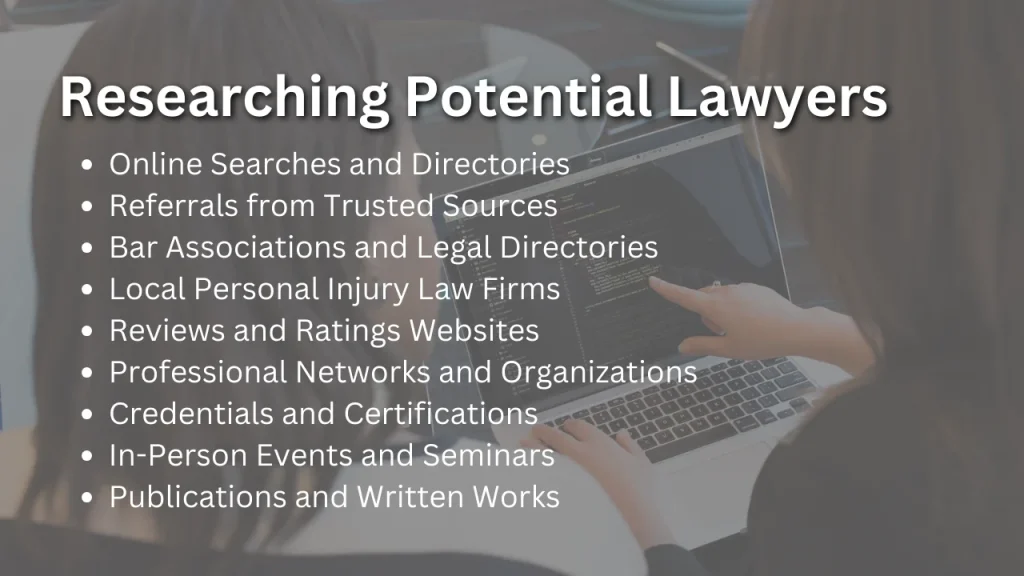 Consistency in Results
When researching potential slip and fall lawyers, consider their consistency in achieving successful outcomes for their clients. Look for lawyers with a track record of consistently obtaining favorable results in their slip and fall cases. An attorney who consistently delivers positive outcomes may be better equipped to handle your case and maximize your chances of a successful resolution.