Hyundai Motor America recently announced a recall of certain model year 2023-2024 Palisade, 2023 Tucson, Sonata, Elantra, and Kona vehicles. The recall aims to address the problem by inspecting the oil pump controllers in affected vehicles and replacing them as needed. Owners of recalled Hyundai models should be alert for recall notifications so this important inspection and repair can be completed.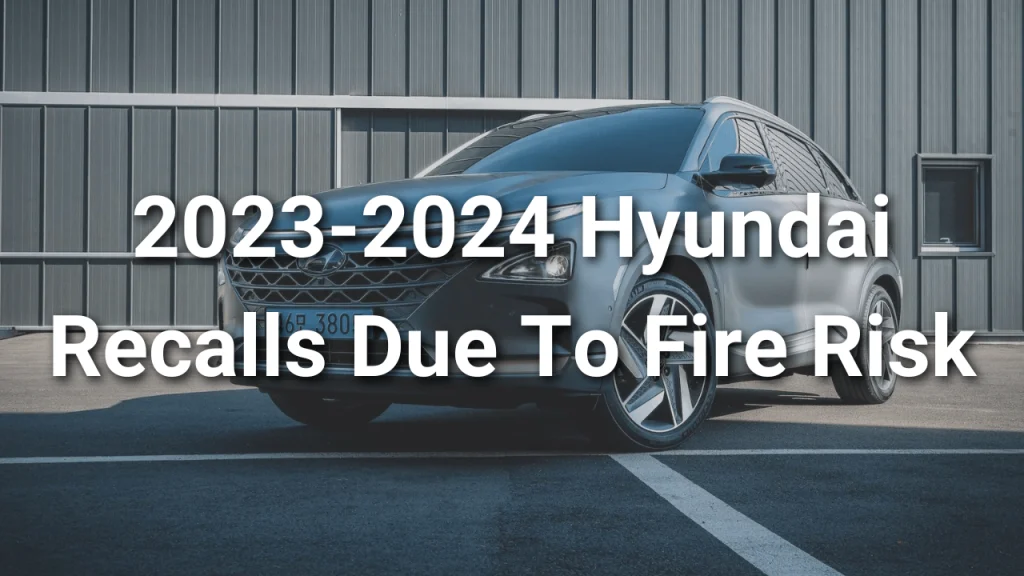 Having Problems With Your Hyundai? Call Us For A Free Consultation.
What is Causing the Fire Risk?
The reason for the recall is an issue with these vehicles' electronic controllers for the Idle Stop & Go oil pump assembly. The controller can contain damaged electrical components that may cause it to overheat while in operation or even when the engine is off. This poses a potential fire risk.
Which Hyundai Vehicles Are Affected By The Fire Risk?
Here is a breakdown of the Hyundai vehicles that are affected by this fire risk recall:
2023-2024 Hyundai Palisade (28,613 units)
2023 Hyundai Tucson (4,238 units)
2023 Hyundai Sonata (1,143 units)
2023 Hyundai Elantra (4,844 units)
2023 Hyundai Kona (13,160 units)
If you are an owner of these vehicles, you can expect to receive a letter with more details regarding the recall on September 25, 2023.
Is It Safe To Continue Driving My Affected Hyundai Vehicle?
While the recalled vehicles can still be driven, Hyundai recommends parking them outside as a precaution until the recall repair is completed. All affected owners will receive recall notification letters by first-class mail with instructions to schedule an appointment at their Hyundai dealer. The dealer will inspect the electric oil pump and front harness on the vehicle and replace them free of charge if necessary.
Owners of the recalled models can get this repair done at no cost regardless of their warranty status. Additionally, Hyundai will reimburse owners for any out-of-pocket expenses they may have incurred related to previous repairs for this issue prior to the recall. Reimbursement will be provided as per the plan submitted by Hyundai to the National Highway Traffic Safety Administration in February 2022.
This recall is crucial to address a potential fire hazard, so owners should schedule inspection and repair appointments as soon as they receive notification letters. Contact your Hyundai dealer with any questions or concerns.
What Hyundai Cars are being Recalled in 2023?
Here are some of the major Hyundai vehicle recalls in 2023:
March 2023 – Over 167,000 vehicles were recalled for a windshield wiper failure issue that increased the risk of a crash. This issue affected the 2021-2023 Hyundai Palisade.
March 2023 – Over 584,000 vehicles were recalled for an issue where the tow hitch harness would catch on fire. This issue affected the 2022-2023 Hyundai Santa Cruz, the 2019-2023 Hyundai Santa Fe, the 2021-2023 Hyundai Santa Fe Hybrid, and the 2022-2023 Hyundai Santa Fe Plug-In Hybrid.
July 2023 – Over 52,000 vehicles were recalled for an electric oil pump assembly overheating issue that increased the risk of a vehicle fire. This issue affected the 2023 Hyundai Elantra, the 2023 Hyundai Kona, the 2023-2024 Hyundai Palisade, the 2023 Hyundai Sonata, and the 2023 Hyundai Tucson.
August 2023 – Over 37,000 vehicles were recalled for a software error that can lead to unintended vehicle acceleration. This issue affected the 2021-2023 Hyundai Elantra HEV.
Hundreds of thousands of Hyundais, including popular models like the Palisade, Elantra, and Santa Fe, were affected by recalls in 2023. Hyundai owners of these models should check regularly for any open recalls that might affect their cars. Look up your vehicle model at the National Highway Traffic Safety Administration site to see if your Hyundai has an open recall.
What Should I Do If My Hyundai Is Having Issues?
Here are some tips on what to do if your Hyundai vehicle is experiencing problems:
Don't ignore warning lights or symptoms. Issues like warning lights illuminating, strange noises, leaks, smoke, or loss of power could signify bigger problems. Get them checked out promptly.
Inspect your owner's manual and follow the troubleshooting advice if you experience minor problems. The manual outlines common issues for your model and how to address them.
Contact your Hyundai dealership and schedule a service appointment. Dealerships have Hyundai-certified technicians, access to parts, and the needed diagnostic tools to inspect and fix problems.
Ask if any current recalls or technical service bulletins apply to your vehicle – dealers can check this and perform recall repairs if needed.
Keep records of all symptoms, when they occur, maintenance work done, and repair invoices. This helps the technician diagnose the issue.
Consider an extended warranty or vehicle protection plan if your original warranty is expiring. This provides affordable coverage for future repair costs.
Routinely get scheduled maintenance done like oil changes, fluid flushes, tire rotations, etc. This prevents bigger issues down the road.
Don't delay getting Hyundai vehicle issues checked out. Early diagnosis can help avoid breakdowns, expensive repairs, and safety hazards. Consult your dealer or owner's resources for specific guidance related to your vehicle.
Do I Need An Attorney?
If you own a Hyundai vehicle and have experienced ongoing problems with it that have not been resolved, it may be time to contact a lemon law attorney. Some defects may pose serious safety defects, and you have legal protections if the manufacturer is unable to repair the issue.
A lemon law attorney can take a look and see if your Hyundai qualifies for repurchase or replacement under the lemon law statutes of the state you purchased the vehicle in. You might also be entitled to compensation for damages related to the defect.
How Consumer Action Law Group Can Help
If you purchased or leased your Hyundai vehicle in California and it is experiencing defects, lemon law attorneys at Consumer Action Law Group can help. We understand how frustrating it can be when the new car you spent money on keeps having issues. We've helped thousands of clients in California get compensation for their lemon vehicles and can do the same for you.
Contact us if you are having issues with your vehicle. Call us at (818) 254-8413 or fill out our contact form today.