On June 29, 2023, Honda announced a recall of certain 2020-2021 Civic, 2020-2023 Ridgeline, 2021-2023 Passport, 2021-2022 Pilot, and 2020 Acura MDX vehicles to fix the brake booster assembly that can cause the brake to not function properly. The recall includes the inspection and the repair of the brake booster assembly if necessary. If you own any of the vehicle models listed above, make sure to take your vehicle to a Honda dealership to get it checked out.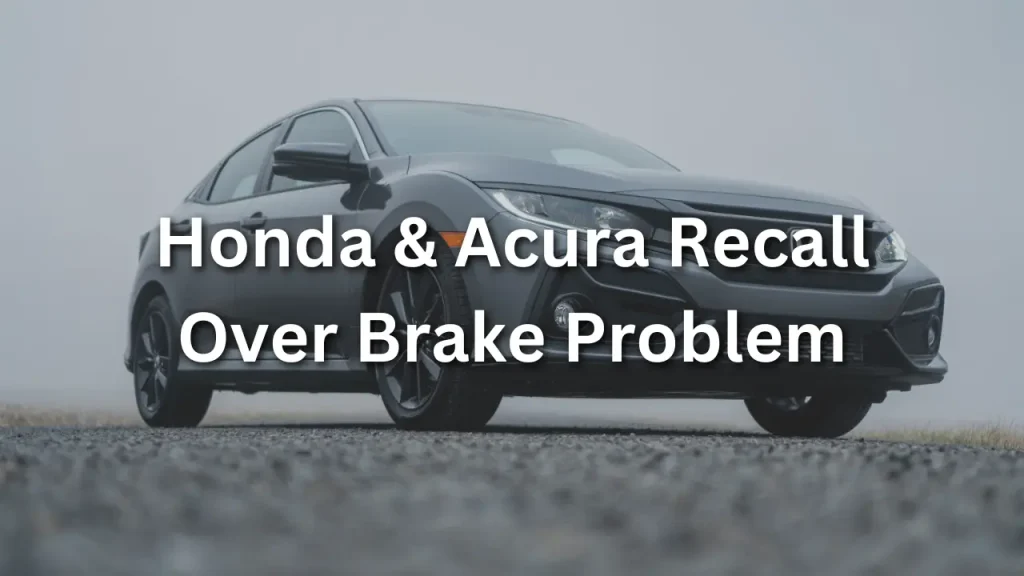 Having Problems With Your Honda or Acura? Get Your Case Evaluated For Free!
What is Causing the Brake Problem?
On or around December 1, 2022, Honda began to investigate a potential issue with their brake after receiving a quality report on a 2021 Pilot brake failure. Upon investigating, Honda found that the brake master cylinder was not properly fastened to the brake booster assembly during its production stage. This can lead to loose or missing tie rod nuts. This means that when the driver presses the brake pedal, the tie rod studs may break, causing the brake master cylinder to separate from the brake booster assembly.
Are There Any Warning Signs of the Brake Problem?
Some car problems usually have some sort of warning indication before a problem occurs. However, Honda does not believe that there will be a warning sign before the tie rod breaks. This means that if you have a vehicle that is included in the recall, you should take it in for inspection.
Which Vehicles Are Affected by the Brake Recall?
The following vehicles are affected by the safety recall:
2020-2021 Honda Civic (manufactured between Oct 5, 2020 – May 13, 2021)
2020-2023 Honda Ridgeline (manufactured between Oct 8, 2020 – Mar 21, 2023)
2021-2023 Honda Passport (manufactured between Oct 8, 2020 – Feb 22, 2023)
2021-2022 Honda Pilot (manufactured between Oct 6, 2020 – Nov 30, 2022)
2020 Acura MDX (manufactured between Oct 9, 2020 – Dec 20, 2020)
Owners of these vehicles can expect to receive a mail regarding the recall starting August 7, 2023.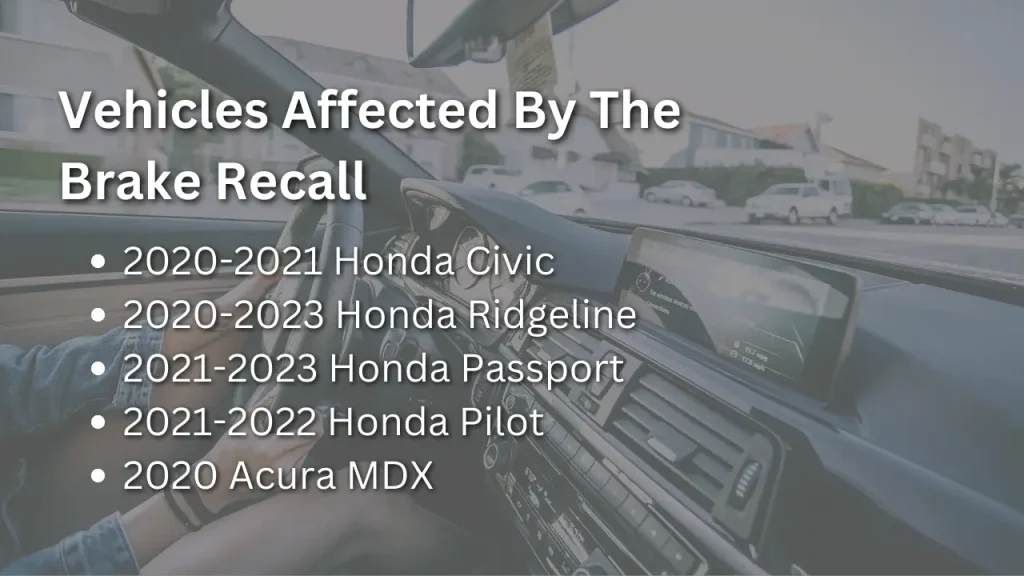 Which Honda Vehicles Are Being Recalled in 2023?
Honda has recalled certain 2007-2011 Honda CR-V, 2018-2023 Honda Odyssey, 2019-2023 Honda Passport, 2019-2022 Honda Pilot, and 2022-2024 Honda Civic for various issues with detached rear trailing arms, defective rearview camera, and damaged tires.
Here are some of the recalls in more detail:
In March 2023, Honda recalled over 610,000 vehicles due to the risk of the rear trailing arm that could detach from the frame from the accumulation of road salt. The detachment would lead to a loss of vehicle control, increasing the risk of a crash. This recall affected the 2007-2011 Honda CR-V.
In June 2023, Honda recalled over 1,200,000 vehicles due to a faulty Media Oriented Systems Transport (MOST) communication coaxial cable connector. This would lead to the rearview camera image not appearing on the car display, increasing the risk of a crash or injury. This recall affected the 2018-2023 Honda Odyssey, 2019-2023 Honda Passport, and 2019-2022 Honda Pilot.
In October 2023, Honda recalled over 176,000 vehicles that received a replacement power steering rack as part of a service repair. The steering rack may have been assembled incorrectly which can lead to the tire rubbing against the lower suspension or tie rod end, increasing the likelihood of the tire becoming damaged. A damaged tire can fail and lead to a crash or injury. This recall affected the 2022-2024 Honda Civic.
If you own a Honda vehicle, check with your local dealer or the Honda website to see if your model has been affected by a recall. You can also look up your vehicle's VIN or model on the National Highway Traffic Safety Administration website for any open recalls.
What Should I Do If My Honda Is Having Problems?
Here are some recommended steps if you are experiencing problems with your Honda vehicle:
Check your owner's manual and follow any troubleshooting guidance provided for the specific issue you're encountering. The manual may help you resolve more minor problems yourself.
Pay attention to any warning lights that illuminate on your dashboard. These could signal issues with specific systems in your vehicle that may need professional attention.
Make an appointment to have your Honda serviced at an authorized Honda dealer. Honda technicians will have the training, experience, and diagnostic tools to properly inspect and repair your vehicle.
When you take your vehicle in, provide the dealer with details about any symptoms or problems you've noticed. Be prepared to answer questions about when issues occur, any recent changes, etc.
If your vehicle is still under Honda's original factory warranty or you have an extended warranty, determine if the issue may be covered. This could save you money on repairs.
Discuss all diagnostic findings and repair options fully with the servicing dealer's technicians or service manager. Obtain a second opinion if uncertain.
Save all service invoices and documentation related to any repairs performed. This creates a paper trail in case any issues reoccur.
Report any serious defects or safety concerns to Honda directly via their customer service line or website. They may initiate recalls if systemic issues emerge.
The best approach is being an informed, proactive owner who addresses problems promptly before small issues turn into major repairs. Honda dealers can provide expert care for your vehicle if problems arise.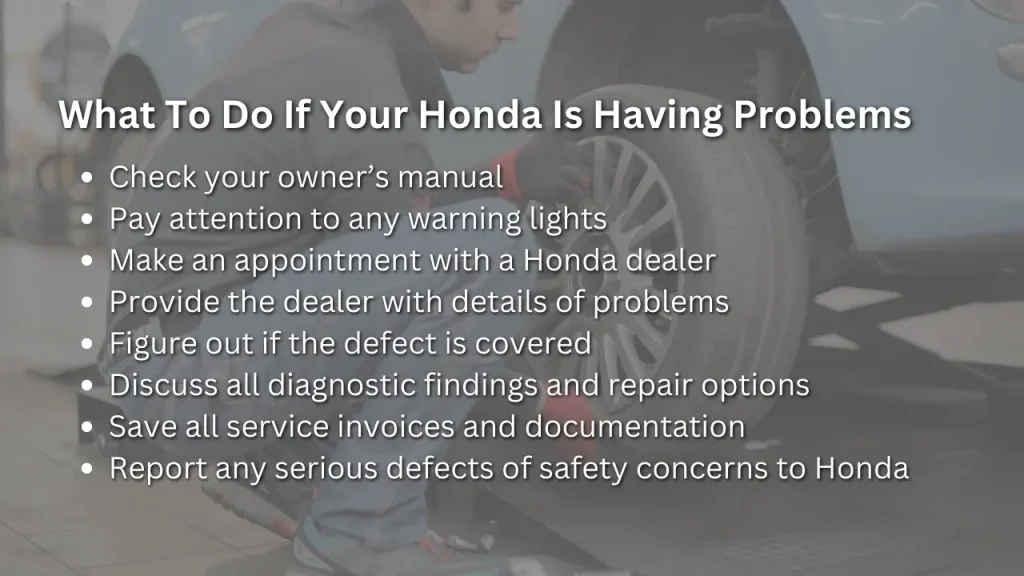 Can An Attorney Help If My Car Is Having Issues?
Whether an attorney can help if you're having issues with your car depends on the specific circumstances. Here are some examples of how an attorney may be able to assist:
Lemon Laws – If you've purchased a new car that is having continual mechanical problems that the dealer is unable to repair, an attorney can help determine if your state's lemon laws apply. They can manage the lemon law process including settlement/buyback negotiation.
Deceptive Sales Practices – If you feel a dealer misled you or failed to disclose known issues when selling the car, an attorney can determine if you have a case under consumer protection laws.
It may be difficult to get the remedy that you are entitled to under the law. This is why having an attorney by your side can be extremely beneficial. The attorney can apply legal pressure to the manufacturer to enforce any rights you have under your circumstances.
Get Help From Our Lemon Law Attorneys
If you are having issues with your newly purchased car that continues to have mechanical defects even after several repair attempts, our lemon law attorneys can help you get a remedy for your lemon car.
When you give our office a call, you can expect a free case evaluation with one of our team members, where we will learn more about your situation and advise you on your next best step in resolving your vehicle issue. Since the consultation will be free, there really isn't a good reason to not give us a call!