Porsche is a towering monolith in luxury vehicles, renowned for its high-performance and elegantly crafted cars. But this revered automaker has found itself wrestling with a series of recalls in recent years. 
In particular, the period of 2022-2023 witnessed Porsche issuing recalls for an alarmingly high number of vehicles, exceeding 1 million.
These recalls, involving a range of models and a range of safety issues, have hurled grave questions into the spotlight about vehicle safety. The drivers of the potential risks may unwittingly be courting if these recalls are left unattended.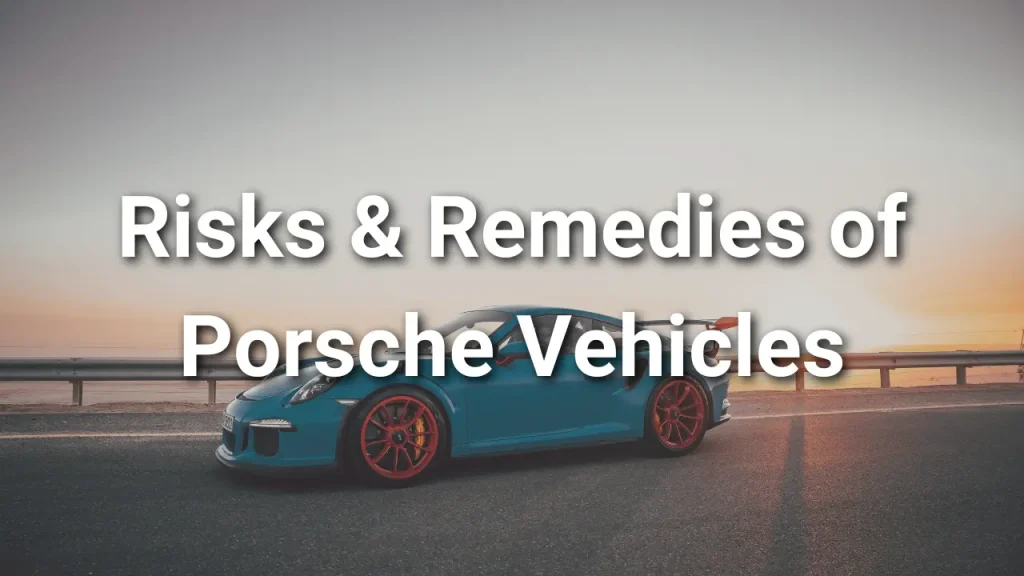 The Recalls: An Array of Dangers
The recalls enveloping Porsche during 2022-2023 were not trivial. They revolved around serious safety issues, each of which, if left unresolved, could have severe, potentially fatal consequences.
Faulty Brakes
One of the most dangerous recalls to surface involved faulty brakes, a phenomenon that could lead to devastating crashes. If the brakes fail, the vehicle becomes uncontrollable, potentially leading to catastrophic accidents. 
This recall was especially pertinent to the 2020-2022 Taycan models, where an incorrect warning indicator could lead to drivers unknowingly operating vehicles with worn brake pads, reducing brake performance and increasing the risk of a crash.
Defective Airbags
Another alarming recall surrounded defective airbags. When airbags fail to deploy in a crash, they leave passengers unprotected. 
But even more troubling is when these airbags deploy prematurely, causing injuries to passengers. 
This was the case with the 2022-2023 Porsche 911 models, where a crash involving passenger airbag deployment could result in the dashboard console breaking, leading to improper airbag deployment and enhancing the risk of injury.
Loose Fuel Lines and Electrical Problems
Loose fuel lines pose a significant fire risk, while electrical problems can engender various issues, from engine fires to power steering failures, brake failures, and electrical shorts. 
In the 2017–2022 Panamera models, a faulty external coolant pump could allow humidity to enter the climate control system, potentially leading to a short circuit and thermal damage resulting in a vehicle fire.
Rear Axle Misalignment
Rear axle misalignment may seem less pressing, but it can also have serious consequences. This was the case with the 2021-2022 Cayenne vehicles, where the misalignment could lead to premature or uneven tire wear, increasing the risk of a crash​.
The Urgency of Addressing These Issues
Given the potential severity of the issues involved in these recalls, the urgency of addressing them must be addressed. 
From potential fire risks to ineffective braking systems, these problems are not to be taken lightly. Owners of these vehicles are urged to contact Porsche customer service at 1-800-767-7243 for more information and to arrange for necessary repairs.
While Porsche has been proactive in issuing these recalls and offering remedies, such issues in a luxury automaker's lineup remind us of the importance of continued vigilance in vehicle safety and the need for thorough inspection and maintenance routines for all car owners.
Implications of Recalls and the Perils of Releasing Faulty Vehicles
Recalls are not just a logistical nightmare for manufacturers; they also have far-reaching implications that can damage a brand's reputation and financial health.
Reputation and Trust
A brand's reputation for reliability and safety is paramount in the automotive industry. When a manufacturer issues a recall, it questions the company's commitment to these values. 
For luxury brands like Porsche, where customers expect high quality and safety standards, recalls can be particularly damaging. Serious safety issues like faulty brakes, defective airbags, and potential fire risks can erode trust in the brand and deter potential customers.
Financial Implications
The financial impact of recalls is another significant concern. Recalls involve significant costs, including repairing or replacing faulty parts, the logistics of managing the recall process, potential lawsuits from affected customers, and the indirect costs of lost sales due to a damaged reputation. 
Moreover, the sheer scale of recalls, such as the ones Porsche faced in 2022-2023, which affected over a million vehicles, magnifies these costs.
Regulatory Scrutiny
Manufacturers also face increased scrutiny from regulatory bodies following a recall. In many jurisdictions, automakers must demonstrate that they have identified and addressed the root cause of the recall. Compliance with these regulations can add to the direct costs of a recall.
The Danger of Releasing Faulty Vehicles
Beyond the implications of a recall, releasing faulty vehicles into the market poses severe dangers to public safety. Safety issues like faulty brakes or defective airbags could lead to serious or even fatal accidents. 
In the case of Porsche's recalls in 2022-2023, the risks ranged from crashes due to brake performance degradation to injuries from premature airbag deployment and fires due to electrical problems.
Given these implications and dangers, automakers must invest in rigorous quality control and safety testing processes. These processes not only help prevent recalls but also protect customers and maintain the brand's reputation for reliability and safety.
While recalls are sometimes unavoidable, their frequency and scale can often indicate deeper issues within a company's production or quality control processes. 
The Porsche recalls of 2022-2023 are a stark reminder of the importance of rigorous testing, vigilant quality control, and the need for continuous improvement in the automotive industry.
References:
https://www.autoblog.com/buy/2022-Porsche-Taycan/recalls/
https://www.autoblog.com/buy/2023-Porsche-911/recalls/
https://www.caranddriver.com/news/a42777448/porsche-panameras-bentley-continentals-recalled-over-fire-risk/