Attention Jeep Grand Cherokee owners! Stellantis has recently issued a recall for 2021–2023 models of the popular SUV due to a potential suspension problem. More than 300,000 vehicles may be affected, as the rear coil springs have the potential to detach while driving, which could lead to a dangerous crash. The automaker will be sending out notification letters by July 28, and the necessary repairs will be done at no cost to owners. If you own a Jeep Grand Cherokee, it's important to check if your vehicle is included in the recall and take action promptly to ensure your safety on the road.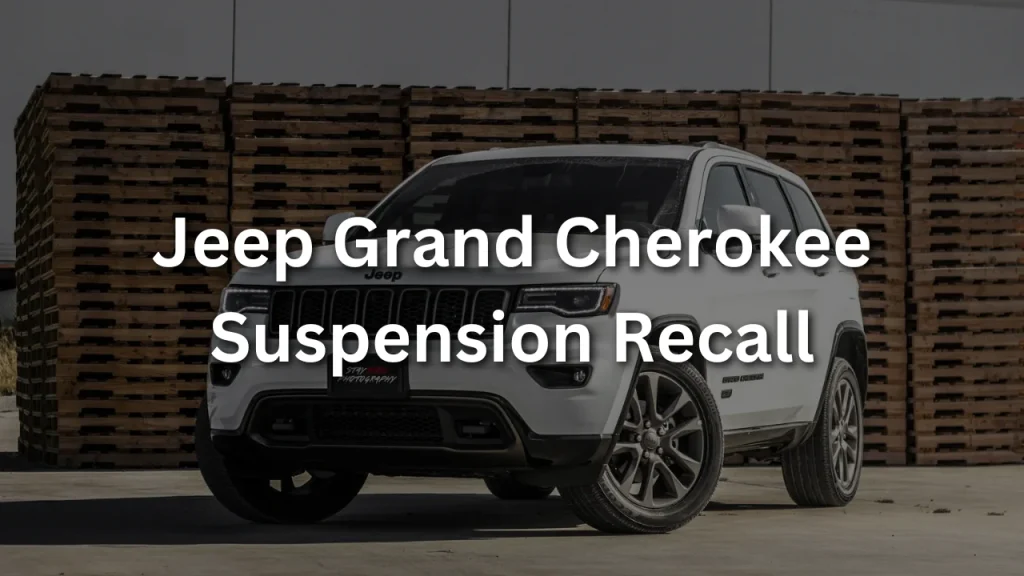 Overview of the Recall
Stellantis Recalls 2021–2023 Jeep Grand Cherokees for Suspension Problem
Faulty coil springs could detach from the vehicle while driving
Potential risk of a crash
Approximately 331,000 affected vehicles
Recall notices to be sent by July 28
Free repairs offered by dealers
Hey there! We have some important news for you if you own a 2021–2023 Jeep Grand Cherokee. Stellantis, the parent company of Jeep, has announced a recall for these models due to a suspension problem. Specifically, there is a chance that the rear coil springs may detach from the vehicle while driving, which could potentially lead to a crash. We definitely don't want any accidents to happen, so it's crucial to address this issue as soon as possible. Approximately 331,000 vehicles are affected by this recall, but the good news is that dealers will be offering free repairs to fix the problem. Keep an eye out for recall notices, as they should be sent to owners by July 28.
Details of the Recall
Incorrectly installed rear coil springs
Affects 2021–2023 Grand Cherokee and Grand Cherokee L models
Excludes Grand Cherokees with optional air suspension
Issue occurred during manufacturing in May 2023
Separation of coil spring could cause loss of control
No reports of accidents or injuries related to the issue
Let's dive into the details of this recall. The main issue lies with the rear coil springs that have been incorrectly installed in the affected vehicles. This problem specifically affects the 2021–2023 Grand Cherokee and Grand Cherokee L models. However, if your Grand Cherokee has the optional air suspension, you can breathe a sigh of relief, as it is not involved in this recall.
The installation error is something that occurred during the manufacturing process in May 2023. This mistake can lead to the separation of the coil spring, which, in turn, could cause a loss of control while driving. It's important to note that there have been no reports of accidents or injuries directly related to this faulty suspension issue.
Extent of the Problem
Approximately 13% of recalled vehicles likely to be affected
Vehicles built after May 31 not involved in the recall
Owners can check if their vehicle is affected on NHTSA recalls website
You might be wondering just how many vehicles are likely to experience this suspension problem. According to estimates, only about 13% of the 331,000 recalled vehicles are likely to be affected. It's worth noting that Grand Cherokees built after May 31 are not involved in the recall. If you're uncertain whether your vehicle is included, you can check the NHTSA recalls website for more information.
Notification Process
Owners to receive recall notices by late July
Letter to inform about the current recall
Instructions on how to proceed for free repairs
By the end of July, you should expect to receive a recall notice if your Jeep Grand Cherokee is affected. The letter will provide you with all the information you need to know about the current recall. It will outline the specific issue with the suspension and include instructions on how to proceed to get your free repairs. The safety of you and your vehicle is of utmost importance, so be sure to keep an eye out for this important notice.
Related Recalls
Recalls by GM, Ford, and Porsche
Issues with airbags, suspension, and fire risk
It's worth mentioning that other automobile manufacturers have also issued recalls recently. GM, Ford, and Porsche have all had their fair share of recall-related announcements. These recalls have covered various issues, such as problems with airbags, suspension, and fire risk. While it's never pleasant to hear about recalls, it's an essential part of ensuring the safety and reliability of vehicles.
About Stellantis
Stellantis as the parent company of Jeep
Other brands under Stellantis
Company's commitment to safety and customer satisfaction
Let's take a moment to talk about Stellantis, the parent company of Jeep. Stellantis is a leading multinational automotive group that oversees several well-known brands in addition to Jeep. These brands include Chrysler, Dodge, Ram, Fiat, Alfa Romeo, and more. Stellantis takes safety and customer satisfaction very seriously, and this recall is an example of their commitment to ensuring the well-being of their customers.
About Jeep Grand Cherokee
Overview of the Jeep Grand Cherokee model
Popularity and sales of the Grand Cherokee
Features and specifications of the affected models
The Jeep Grand Cherokee is a beloved and popular model that has gained a loyal following over the years. Known for its rugged yet refined design, the Grand Cherokee offers a comfortable and versatile driving experience. It's no wonder why so many people have chosen this SUV as their vehicle of choice. In terms of sales, the Grand Cherokee has consistently performed well and has become one of Jeep's most successful models. If you're wondering about the specific features and specifications of the affected models, we recommend reaching out to your local dealer for more information.
Stellantis Actions and Responsibilities
Stellantis taking responsibility for the recall
Offering free repairs to affected vehicle owners
Coordinating with dealers for the recall process
Rest assured that Stellantis is taking full responsibility for this recall. They acknowledge the issue with the faulty coil springs and are committed to resolving it promptly. To ensure your safety and peace of mind, Stellantis is providing free repairs to all affected vehicle owners. They are diligently working with their network of dealerships to streamline the recall process and make it as convenient and efficient as possible.
Implications for Vehicle Owners
Potential inconvenience for vehicle owners
Importance of responding to the recall notice
Ensuring the safety and reliability of the vehicle
We understand that a recall can be an inconvenience for vehicle owners. It may require a trip to the dealership and some time out of your busy schedule. However, it's crucial to acknowledge the importance of responding to the recall notice. This recall addresses a potential safety issue that could put you and others at risk. By taking the necessary steps to have the free repairs performed, you are ensuring the ongoing safety and reliability of your vehicle.
Conclusion
Importance of addressing suspension problems
Stellantis commitment to customer safety
Prompt action to rectify the issue
In conclusion, it is vital to address any suspension problems with your 2021–2023 Jeep Grand Cherokee. The faulty coil springs can pose a potential risk while driving, and it's crucial to rectify the issue promptly. Stellantis, as the parent company of Jeep, is deeply committed to customer safety. They are taking swift action by issuing the recall and offering free repairs to affected vehicle owners. Remember, your safety is their top priority, so be sure to respond to the recall notice and take advantage of the free repairs. Stay safe on the road!