So you're driving along in your Honda when suddenly the CVT transmission starts acting up. Whining noises, shaking, delayed acceleration – any number of worrying signs can strike fear and leave you wondering what to do next. Well, don't panic! Even if the worst happens and your transmission completely fails, there are still options to get your Honda back on the road.
Here's a rundown of what you can do if faced with CVT transmission problems.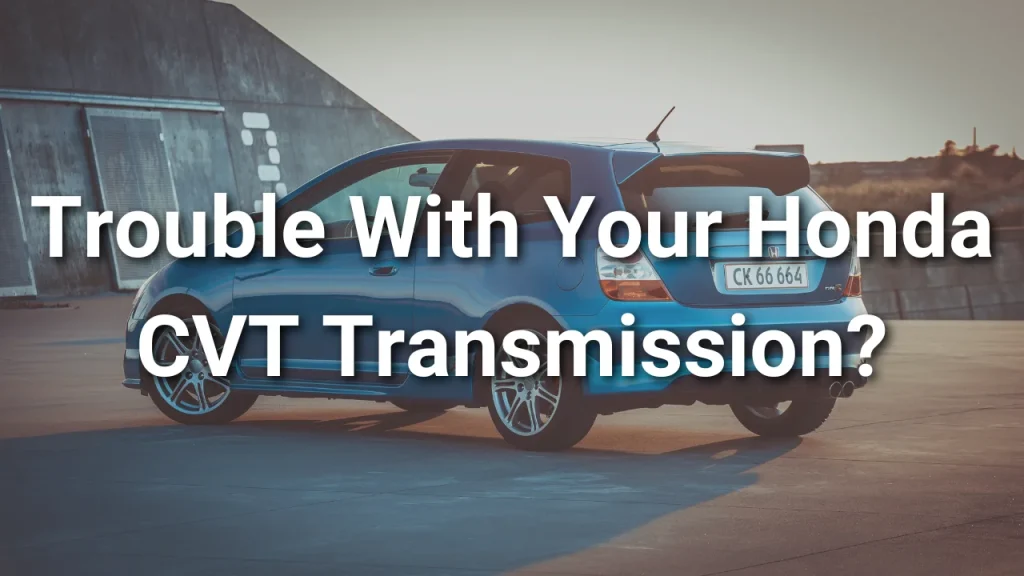 Get it Diagnosed First
Before doing anything else, it's important to get a proper diagnosis from a transmission shop or Honda dealer. There are many potential causes for transmission issues, some minor and others major. Without knowing the full extent of the problem, it's impossible to choose the right solution. A diagnostic test will identify the exact issue, whether it's a software glitch, low fluid, worn clutch plates, damaged belts, bad solenoids, or something else entirely. Once the underlying problem is uncovered, then you can weigh your options for repair or transmission replacement.
Attempt a Transmission Fluid Change
If you haven't had the fluid changed recently, doing so may help resolve minor transmission problems. Transmission fluid breaks down over time from heat and friction, losing its lubricating properties. Fresh, clean fluid can help smooth things out. Make sure to use only genuine Honda CVT fluid, never a generic or substitute brand. While a fluid change may temporarily alleviate symptoms, it's not a permanent fix for worn parts or defective components.
Repair Specific Components
Once diagnosed, some CVT issues can be fixed by replacing individual components. Solenoids, seals, valves, and friction plates are all common wear items. As long as the transmission case itself isn't damaged, component replacement is significantly cheaper than a whole new transmission. It also gets your Honda back on the road much quicker than rebuilding or replacing the entire unit. Talk to your mechanic about this option if the problem stems from a limited number of worn parts.
Replace the Transmission
If there is catastrophic damage or the transmission is completely shot, your only real option may be to replace the whole unit. While certainly not cheap, replacement with a new or remanufactured transmission of the same specifications will get the car back in working order. Using a reputable shop that offers a warranty on their work is highly recommended. This ensures that any mistake or premature failure will be taken care of.
What are my Legal Options?
If you are having ongoing issues with your Honda CVT transmission after multiple repair attempts, here are some legal options you may want to consider:
Lemon Law
Each state has its own "lemon law" to protect consumers from defective vehicles. There are specific criteria regarding the number of repair attempts or days out of service that would qualify a vehicle as a "lemon". If you took your Honda in three times for repairs and the same problem keeps happening, it will probably count as a lemon. Same thing if your car was in the shop for more than 30 days to fix an issue.
Consulting with a lemon law attorney can help determine if your Honda would qualify, allowing you to either get your money back or have Honda replace the car.
Legal Claim Against the Dealer
If the dealership has made multiple failed attempts to fix your transmission, you could have a legal claim against them for failing to properly diagnose and repair the problem. A lawyer can help negotiate a settlement or file a suit if the dealer refuses to adequately address the situation.
Small Claims Court
For moderate sums of money (usually under $5,000-$10,000 depending on the state you purchased the vehicle in), you may be able to sue the dealer or repair shop in small claims court without needing a lawyer. This is usually because of the legal cost for the individual.
For firms that take cases on contingency, they would get "paid" by taking a minimum fee or a percentage of the money they recover for their clients. A similar story with firms that charge by the hour. This would leave you with almost no monetary recovery.
You'll have to gather evidence showing their liability for the failed repairs.
FTC Complaint
You can file a formal complaint about the transmission problems with the Federal Trade Commission's Bureau of Consumer Protection. While this may not resolve your particular situation, it brings the issue to their attention for potential wider action related to the CVT defects.
Join a Class Action
Find out if any class action lawsuits have been filed against Honda for defects in their CVT transmissions. If so, join as a claimant. A large class action can sometimes compel an automaker to settle by offering compensation for repair costs, extending warranties, or other remedies.
Arbitration
Many automaker warranties require arbitration to settle disputes. Check if this is an option with Honda's powertrain warranty. Arbitration tends to be faster, less expensive, and more informal than going to court.
Consulting a lemon law or consumer protection attorney is the best way to understand all the legal options available in your state. They can advise the strongest path forward to either get compensation from Honda or seek damages from the dealership/repair shops for failing to adequately fix your CVT.
Consumer Action Law Group Offers Lemon Law Services
If you are dealing with Honda CVT Transmission problems that the manufacturer is unable to repair, don't suffer in silence – fight back. The experienced lemon law attorneys at Consumer Action Law Group are here to help. Our team aggressively pursues compensation for consumers who've been stuck with Honda lemon cars, trucks, and SUVs.
Consumer Action Law Group understands the ins and outs of state and federal lemon laws and warranty rights. Our lawyers will evaluate your situation, determine if your vehicle qualifies as a lemon, and then take on the manufacturer for a cash settlement or replacement vehicle. Don't waste time with more trips to the dealership. Get your free consultation today to explore your lemon law options and get the compensation you deserve. Call us today at (818) 254-8413 or fill out our contact form.