Imagine you have just moved into a new neighborhood and are searching for a reliable person to help you with your financial matters. As you begin your quest, it's essential to understand the importance of FCRA and its permissible purpose. The Fair Credit Reporting Act (FCRA) provides guidelines and regulations for the collection and use of consumer credit information.
By familiarizing yourself with the permissible purpose, you can ensure that your financial interactions are secure, reliable, and in compliance with the law. So, let's dive into the world of FCRA and gain a deeper understanding of its significance in safeguarding your credit information.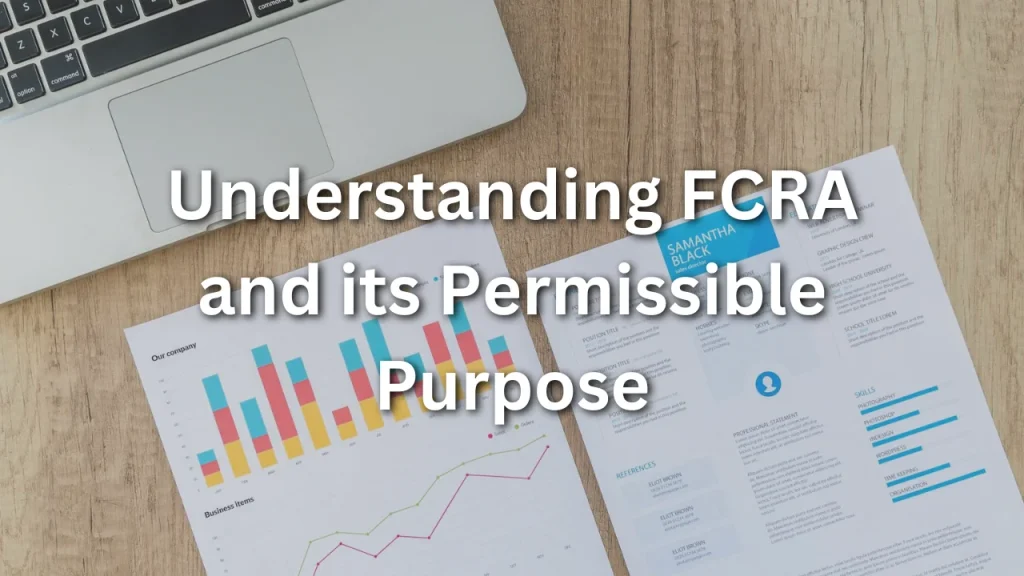 Call Us If You Have Unauthorized Pulls On Your Credit Report
What is FCRA?
FCRA stands for the Fair Credit Reporting Act, and it is a federal law that regulates the collection, dissemination, and use of consumer credit information. This law applies to credit reporting agencies (CRAs) like Equifax, Experian, and TransUnion that compile consumer credit reports.
FCRA requires CRAs to adopt reasonable procedures to ensure that the credit reports are as accurate as they can get. If consumers find that their credit reports have inaccurate or incomplete information, they can get them disputed.
CRAs are limited from giving out consumer credit reports except for specific instances like credit applications, employment background checks, insurance underwriting, etc. Consumers must also give consent for access to their credit reports.
Why Is Permissible Purpose Important?
Permissible purpose is a critical aspect of the FCRA. It determines the circumstances under which a consumer report can be obtained and used by entities. The FCRA restricts access to consumer reports to ensure that they are not misused or accessed without a legitimate reason. Adhering to permissible purposes ensures that consumer information is only accessed and used by those entities who have a valid and lawful reason to do so.
Permissible Purposes Under FCRA
The FCRA outlines various permissible purposes for obtaining and using consumer reports. These purposes include:
Employment Screening: Employers can acquire consumer reports for employment purposes, such as conducting background checks and verifying an applicant's qualifications.
Credit and Loan Applications: Financial institutions and lenders can access consumer reports to assess an individual's creditworthiness and determine whether to extend credit or approve a loan application.
Background Checks: Landlords and property management companies can obtain consumer reports to evaluate potential tenants' rental history, creditworthiness, and criminal records.
Tenant Screening: Similarly, potential tenants can access consumer reports on themselves to ensure the accuracy of the information provided and address any discrepancies.
Insurance Underwriting: Insurance companies can utilize consumer reports to assess risks, determine premiums, and make informed decisions about insurance policies.
Prescreened Offers: Entities can obtain consumer reports for prescreening purposes, enabling them to offer certain products or services to individuals who meet specific criteria.
Legitimate Business Needs: Any other lawful business purpose that is authorized under the FCRA.
Entities must have a valid permissible purpose to access consumer reports and should ensure that they adhere to the specific requirements and procedures set forth by the FCRA.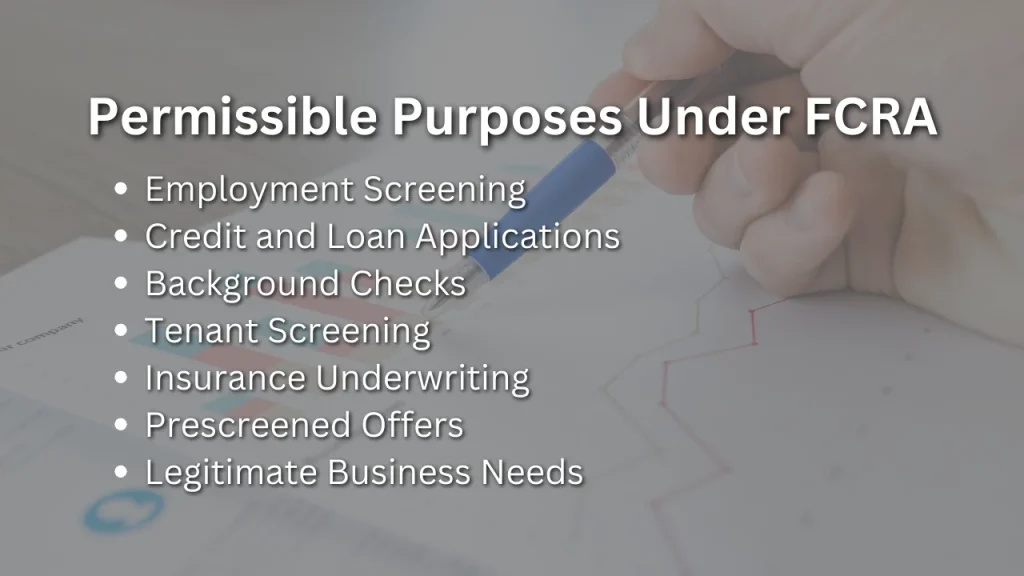 Required Procedures and Consent
When obtaining consumer reports, entities have certain responsibilities and obligations under the FCRA. These include:
Written Disclosure Requirements: Entities must provide individuals with a clear and conspicuous written disclosure informing them that a consumer report may be obtained for permissible purposes. This disclosure should be provided before the report is requested.
Certification of Permissible Purpose: Entities must certify to the CRA that they have a permissible purpose for obtaining the consumer report. This certification ensures that entities are using the information for legitimate reasons.
Obtaining and Documenting Consumer Consent: In some situations, entities may need to obtain written or electronic consent from individuals before obtaining their consumer reports. Consent should be documented and kept on file to demonstrate compliance with the FCRA.
Adverse Action Notices: If an entity takes adverse action based on information in a consumer report, such as denying employment or credit, they must provide the individual with an adverse action notice. This notice informs the individual of the decision and provides information about their rights under the FCRA.
By following these procedures and obtaining appropriate consent, entities can ensure that they are compliant with the FCRA and respect individuals' privacy rights.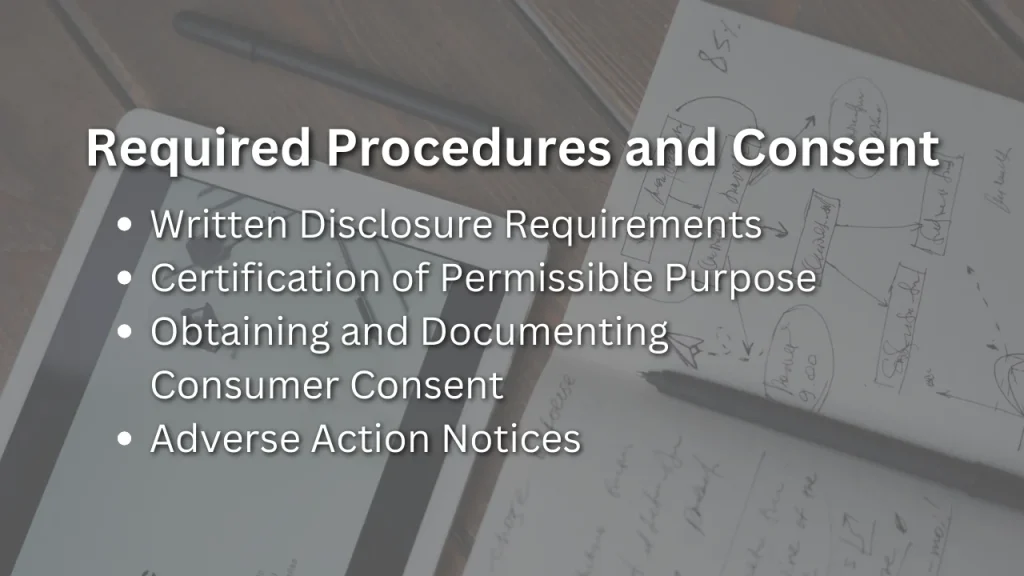 History and Significance of the FCRA
The FCRA was enacted in response to concerns about the accuracy and fairness of consumer reporting. Prior to the FCRA, the credit reporting industry operated without unified regulations, leading to inconsistencies and potential abuses. With the FCRA, Congress sought to establish a framework that would protect consumers' rights while allowing entities to access and use consumer reports for legitimate purposes.
Over the years, the FCRA has undergone amendments and updates to adapt to changing technologies and address emerging issues. These amendments have strengthened consumer rights, increased transparency, and expanded the responsibilities of entities covered by the FCRA. Today, the FCRA remains a vital law that governs the consumer reporting industry and safeguards consumer privacy.
Who Does FCRA Apply To?
The FCRA applies to a wide range of entities that use consumer reports for various purposes. Covered entities include banks, credit unions, mortgage lenders, landlords, employers, insurance companies, and other businesses that frequently access consumer information. Additionally, CRAs themselves are subject to the FCRA's regulations and obligations.
The scope of the FCRA is broad, encompassing both commercial and non-profit organizations. It is important for entities to understand their responsibilities under the FCRA and ensure compliance with its provisions.
Key Definitions of FCRA
To understand the FCRA effectively, it is essential to be familiar with key definitions provided by the law:
Consumer Reporting Agency (CRA): A consumer reporting agency is an entity that collects and maintains consumer information and provides consumer reports to businesses, employers, and other entities with a legitimate need.
Consumer Report: A consumer report is a compilation of an individual's information, including credit history, criminal records, employment history, and other personal data, provided by a CRA.
Investigative Consumer Report: An investigative consumer report is a type of consumer report that includes information obtained through interviews, personal references, and other investigations.
Consumer: A consumer refers to an individual about whom information is collected by a CRA.
Permissible Purpose: Permissible purpose refers to a lawful and valid reason for obtaining and using a consumer report under the FCRA.
Understanding these definitions is crucial for entities seeking consumer reports and for individuals who want to protect their privacy rights.
Obtaining Consumer Reports
Entities seeking consumer reports must understand their roles and obligations during the process. Some important aspects include:
Roles and Obligations of Entities Seeking Consumer Reports: Entities must understand their responsibilities under the FCRA when requesting and using consumer reports. They must ensure that they have a valid permissible purpose and use the information in compliance with the law.
Fair Credit Reporting Act Disclosures: If a consumer report is obtained from a CRA, entities are required to make certain disclosures to the consumer. These disclosures inform individuals about their rights and provide them with the opportunity to review and dispute any inaccurate information.
Verifying the Lawful Permissible Purpose: Entities should verify that they have a legitimate and lawful permissible purpose before obtaining a consumer report. This includes confirming that the purpose falls within the scope of the FCRA and complies with applicable regulations.
Record-Keeping Requirements: Entities must maintain records of their compliance with the FCRA, including certifications of permissible purpose, disclosures made to individuals, consent forms (if applicable), and copies of adverse action notices. These records are crucial for demonstrating compliance during audits or investigations.
Adhering to these guidelines ensures that entities access and use consumer reports in a responsible and compliant manner.
How to Ensure Compliance
Compliance with the FCRA is vital for entities seeking consumer reports. To ensure compliance, organizations can take the following steps:
Developing Comprehensive Policies and Procedures: Organizations should establish clear policies and procedures that outline how they will comply with the FCRA's requirements. These policies should cover areas such as permissible purpose, consent, disclosure, adverse action procedures, and record-keeping.
Providing Employee Training on FCRA: Proper training of employees is essential to ensure they understand their roles and responsibilities under the FCRA. Training should cover permissible purpose, consent, disclosure, and other important aspects of the law.
Regular Internal Audits and Monitoring: Conducting regular audits and monitoring practices can help identify any gaps or areas of non-compliance. Organizations should review their processes, procedures, and documentation to ensure ongoing adherence to the FCRA's requirements.
Working with Reliable Consumer Reporting Agencies: Selecting reputable and reliable CRAs is crucial for entities seeking consumer reports. CRAs that prioritize compliance with the FCRA and maintain accurate and up-to-date information are essential for entities to make informed decisions.
Seeking Legal Counsel if Uncertain: If organizations are uncertain about any aspect of the FCRA or their compliance obligations, seeking legal counsel is advisable. Legal professionals specializing in consumer reporting laws can provide guidance and ensure organizations are meeting their obligations.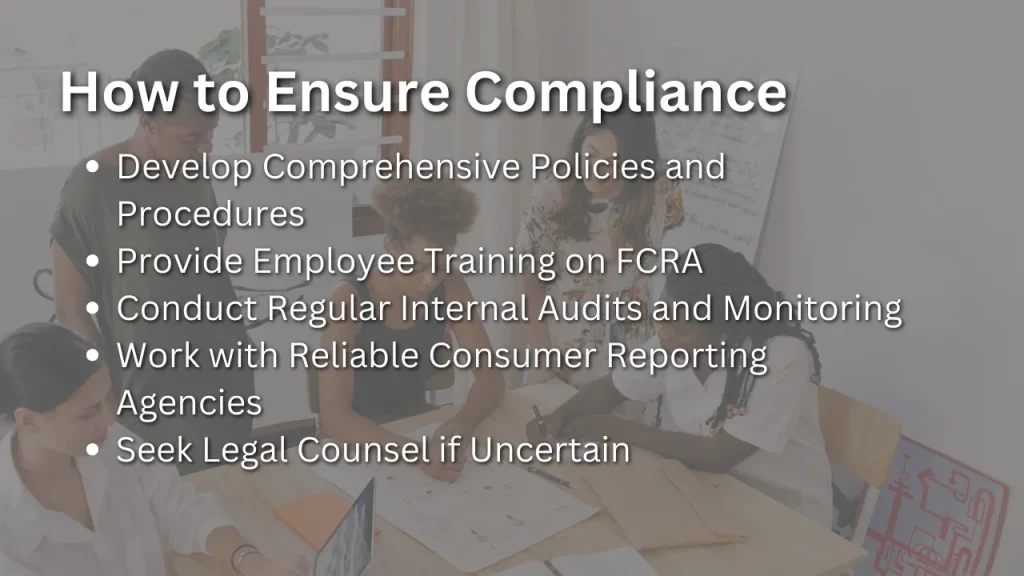 By following these steps, entities can foster a culture of compliance, protect consumer privacy, and mitigate the risk of non-compliance penalties.
The Fair Credit Reporting Act sets rules for when credit reports can be accessed. This law balances people's privacy rights with companies' need to check credit information. Credit bureaus and businesses must follow the law's guidelines on accuracy, fixing errors, and allowable uses of reports. Doing so respects the law's goal to protect consumers and enable responsible lending and screening. Simply put, knowing the legal reasons to access credit reports lets companies use them fairly without invading privacy. Following the rules is vital for fair credit access and individual rights.