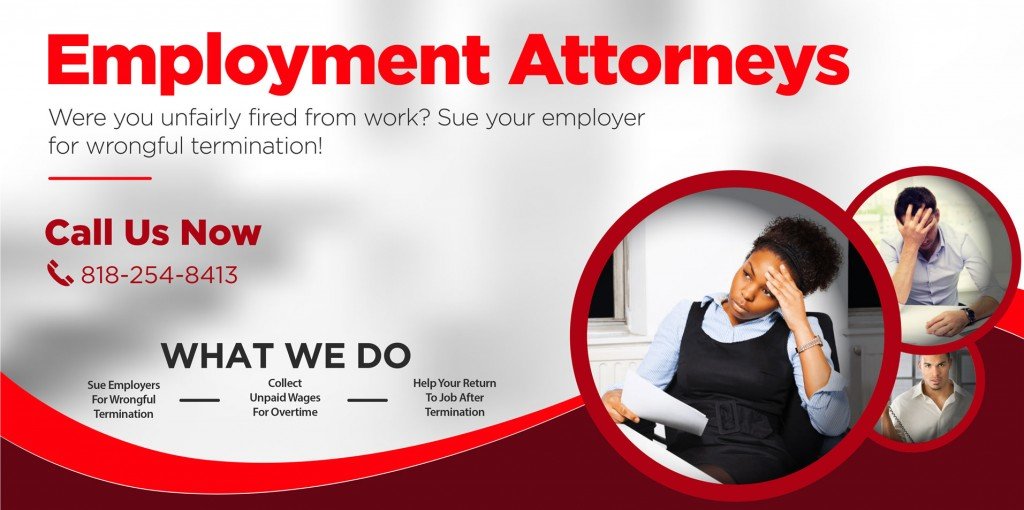 Labor law lawyers work to ensure that employees are treated fairly in the workplace. When there are legal issues that arise in the workplace, our labor law attorneys help to put an end to employer violations and get you compensated for any damages.
If you have been mistreated as an employee, in the workplace, talk to our employment lawyers to see if you might have a case. We offer free case evaluations.
What Do Labor Law Lawyers Do?
Our labor law attorneys help employees to defend their rights in the workplace. Our employment lawyers fight for employees' rights and seek compensation for any labor law violations directed against employees in the workplace. Our labor lawyers help to guide you and strategically negotiate for your interests. Here at Consumer Action Law Group, our workplace lawyers will defend your rights as an employee.
Should I Hire a Labor Attorney?
If you have experienced any of these at your workplace, our labor attorneys can help:
The employer tells you that your position/job will be eliminated if you complain

You get fired after reporting the misconduct of your employer (known as a whistleblower)

Your employer threatened your position if you criticize their actions  

Your employer does not want to pay overtime wages owed

You were misclassified as a 1099 independent contractor or hourly employee
If you have experienced any of the above, our labor law lawyers can help:
sue for wrongful termination and treatment,

collect unpaid wages for overtime,

get your employment reinstated after you were terminated for speaking up, and

if your employer eliminated your position while you were on sick leave.
Labor Laws and Labor Law Lawyers
Labor law is a component of a larger set of laws known as employment laws. Employment laws govern all employment relations in the U.S. These particular laws prohibit discrimination against disability, age, skin color, nationality, sex, religion, and race. They ensure that the appropriate safety standards are in place for employees. Employment laws also allow programs that allow employees to be compensated when they get injured while on the job.
Labor laws are important because they help create fair employer-employee relationships for all parties.  Labor law lawyers help employers and employees to resolve disputes when a workplace incident arises.
Other Illegal Employer Practices
Wrongful Termination
When people are terminated for complaining about their wages, misconduct in the workplace, whistleblowing, or questionable practices related to the workplace, this is known as wrongful termination. This is illegal, and you are able to sue your employer for it.
Other causes for wrongful termination include:
Being fired for being injured or sick,

Being fired for or requesting disability,

Your job was eliminated because you requested or expressed intent of taking maternity leave, and if

You were discriminated against, intimidated, or lost hours after requesting maternity, disability or leave of absence.
If you were fired for being sick, Consumer Action Law Group may be able to help you sue for wrongful termination.
Illegal Employer Practices in the Workplace
You should hire employment lawyers to defend your rights if your employer wants you to break the law in any form, prevent or prohibit you from taking any kind of leave, or violate your health and safety rights.  When you become aware of illegal employer practices you should consult with a lawyer to make sure that you are not entangled in the web of misconduct.
Even if you fear retaliation or termination and have not been fired yet, an employment law attorney can assist you. You should never work in fear or deal with intimidation while working for any employer. Our employment lawyers can help you to cope and get you compensated.
Sexual Harassment in the Workplace
Sexual harassment is one of the top claims that we deal with. Our experienced labor law lawyers can evaluate your claim and guide you through the appropriate process and next steps.
Our employment lawyers are available to help with questionable practices in the workplace, including sexual harassment related issue. Whether it's unwanted advances from your boss or demeaning comments from a supervisor or coworker, our employment lawyers take these claims seriously.
Our Labor Law Lawyers Can Help – Free Consultation
Our labor law lawyers can determine if any illegal conduct occurred during the application process,  or during your employment. The illegal actions in the workplace can be at any point in your employment. Contact our office if you believe you have been mistreated at your workplace.  Our employee rights lawyers will help sue your employer and any other involved in illegal behaviors in the workplace.
Call us at 818-254-8413. Our office hours are between 9 am – 5 pm PST, Monday through Friday.