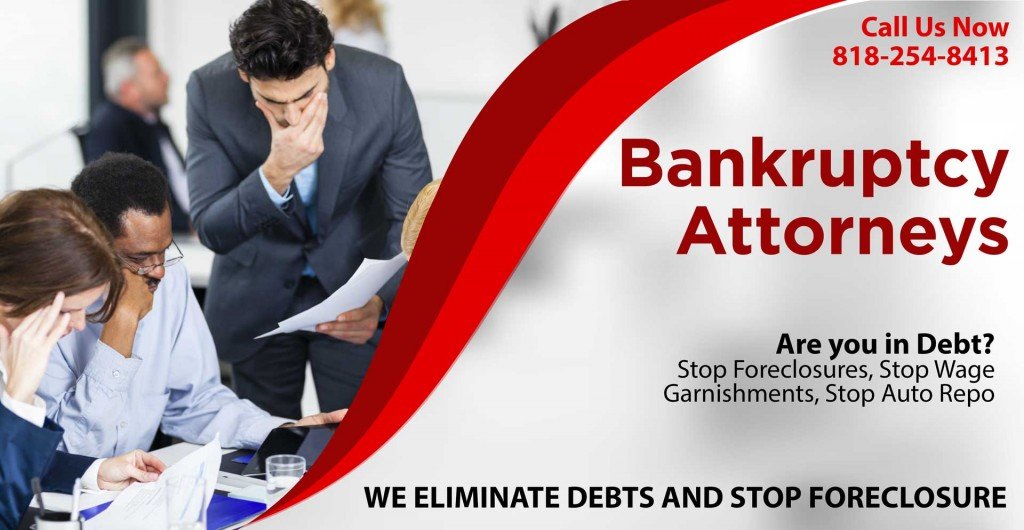 November 4, 2015, Los Angeles, California — More homeowners facing foreclosure are filing chapter 13 bankruptcy to stop foreclosure and eliminate debts.
Chapter 13 Bankruptcy filings are consistent even though the economy has improved in recent years. One of the reasons for the relatively high number of bankruptcy filings is the number of foreclosures initiated by lenders. Foreclosures have been decreasing, but there is still a very high number of homeowners that are struggling to keep up with mortgage payments and monthly expenses. Any sudden illness or job loss is enough to cause most people to fall behind and often leads to a default on mortgage payments.

There are multiple benefits for filing Chapter 13 bankruptcy. Filing will immediately stop foreclosure, get rid of credit card debt and medical bills, and may allow a homeowner to strip a 2nd loan [heloc] or any old IRS debt [back taxes owed from more than 3 years ago]. Filing Chapter 13 bankruptcy also stops wages from being garnished.
Most judges feel that it is important to work with experienced bankruptcy attorneys because they can help homeowners to file the proper paperwork. There are very technical requirements for filing a chapter 13 bankruptcy. A homeowner must qualify under a means test, proving that they are able to afford monthly mortgage payments as well as monthly expenses with enough income to afford a payment plan to repay the arrears.
There are many requirements that have to be met in order to be eligible for a chapter 13 filing, which is why homeowners are advised to consult with an experienced bankruptcy lawyer. Lauren Rode is considered to be one of the better Los Angeles bankruptcy attorneys by her peers. She is a partner at Consumer Action Law Group and is the managing attorney for bankruptcy filings within the firm.
According to Ms. Rode, "chapter 13 bankruptcy is advantageous for homeowners, because there is less chance of a home being repossessed by the bank and auctioned off once a petition is filed with the court." She points out the difference between chapter 13 and chapter 7 bankruptcy. "Chapter 7 does not have the same benefits when it comes to avoiding foreclosure and homeowners will probably lose their home in a chapter 7 bankruptcy." According to Ms. Rode, one should seek out a foreclosure bankruptcy attorney who deals in this area specifically.
An additional benefit of Chapter 13 bankruptcy is that foreclosure stops immediately upon filing. A homeowner that files bankruptcy enjoys court protection immediately upon the 1st filing. Under the bankruptcy laws, an "automatic stay" is granted when a person files Chapter 13 bankruptcy, which means that a home cannot be sold, a car can't be repossessed, and all collection calls must stop.
Get Legal Help Today
Many homeowners facing tough times have gotten help from the legal team at Consumer Action Law Group. Their Bankruptcy attorney is available for a free meeting and a personal bankruptcy evaluation.
Consumer Action Law Group is home to some of the top bankruptcy attorneys Los Angeles has to offer. Anyone facing foreclosure with a sale date coming up is strongly advised to call and talk to a lawyer right away! For anyone facing foreclosure, it is critical not the wait for the lender to help; call and talk to a foreclosure attorney today.
The foreclosure attorneys at Consumer Action Law Group can stop a foreclosure sale in less than one hour. Saving a home requires hiring a foreclosure lawyer with a successful record of saving properties from foreclosure sales.
Anyone who wants to hire a foreclosure attorney or wants to know how to stop foreclosure in California visit https://consumeractionlawgroup.com/ or call (818) 254-8413.
This article is also published on:
https://www.SBWire.com/
https://www.BriefingWire.com