In a recent development, Nissan has announced a recall of over 80,000 LEAF EVs in the U.S. due to the risk of unintended acceleration. The recall is a result of a problem with the vehicle control module software, which can cause sudden acceleration after exiting cruise control or even lead to the electric motor stopping while driving.
While the recall affects several Nissan models globally, in the U.S., only the 2018 through 2022 model LEAF EVs are affected. Nissan plans to install updated software in the affected vehicles to address the issue. It is important for LEAF EV owners to check if their vehicle is affected and contact a dealer for the necessary software update.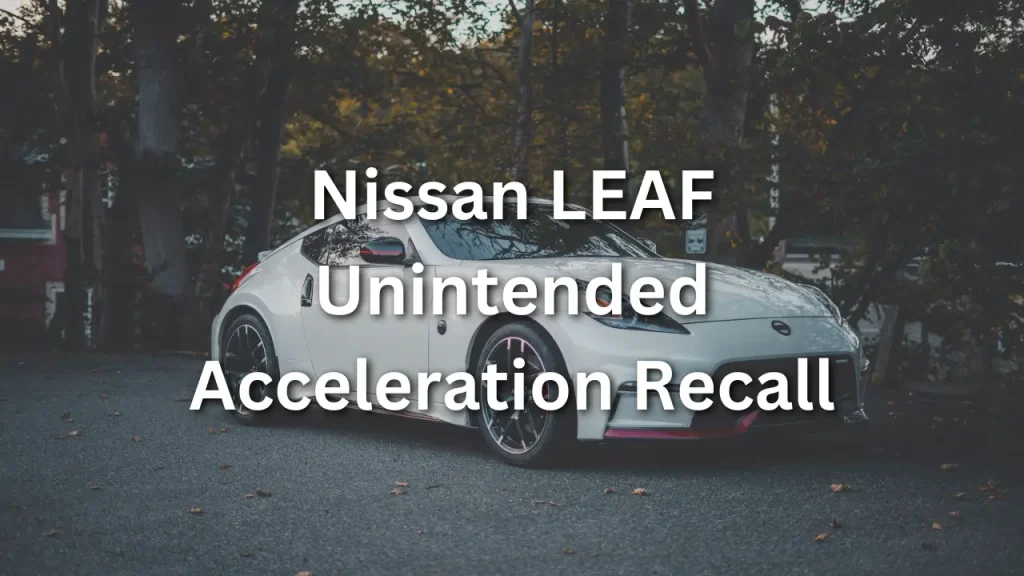 Having Problems With Your Nissan? Call Us For A Free Consultation.
What is Causing the Unintended Acceleration?
Nissan is recalling their 2018-2023 LEAF vehicles because the vehicles may accelerate unintentionally if the driving mode is changed, either from "D" to "B"; e-Pedal "On"; or "ECO" mode, after disengaging the cruise control.
When this occurs in certain operating conditions, the vehicle may continue accelerating even when the brake is applied or may not slow down as expected when releasing the accelerator pedal. Both these instances can lead to an increased risk of crash and injury.
Which Nissan LEAF Vehicles Are Affected by the Unintended Acceleration Issue?
Nissan North America is recalling certain 2018-2023 Nissan LEAF vehicles manufactured at its Smyrna, Tennessee factory over a specific time period. The recall involves problematic programming logic for the LEAF's Vehicle Control Module (VCM) that could lead to unintended acceleration. No Infiniti models or other Nissan vehicles aside from the LEAF are affected by this U.S. recall. However, Nissan is conducting similar recalls for e-POWER-equipped models sold outside the United States. e-POWER vehicles are not offered in the U.S. market. This Nissan LEAF recall is confined to the North American region.
How is Nissan Handling the Recall?
Nissan is instructing its dealers to reprogram the affected LEAF vehicle's control module. Dealers will also be notifying LEAF owners regarding the recall starting August 30, 2023. Affected owners can take their vehicles to the dealers and the repairs will be done free of charge. The whole process is estimated to take up to 30 minutes to complete.
How Do I Check If My Nissan LEAF is Recalled?
If you own a Nissan LEAF vehicle, you can check whether your vehicle is recalled by checking the National Highway Traffic Safety Administration (NHTSA) site. You can look up your VIN or the vehicle year, make, and model, and the site will tell you if your vehicle is included in the recall.
What Should I Do If My Nissan is Having Problems?
Here are some tips on what to do if your Nissan vehicle is having issues:
Don't ignore warning lights or signs of trouble. Addressing problems early can often prevent more serious issues down the road.
Review your owner's manual and warranty coverage to understand what may be covered for free repairs or at reduced cost.
Make an appointment with your local Nissan dealership. Their technicians will be specifically trained to diagnose and service Nissan models.
Clearly describe the symptoms and any warning lights to the service advisor. Be prepared to reproduce the problem if possible, as this helps them properly diagnose.
Ask questions if you don't understand recommended repairs or why they are needed. Get a second opinion if uncertain.
Save repair invoices and service records related to any work done. This documentation helps if you need to utilize your warranty later.
Check for any outstanding recalls that may apply to your Nissan and have the dealership complete them if needed. Recalls are fixed for free.
Contact Nissan consumer affairs if any warranty repairs are denied and you believe they should be covered. Escalate to corporate if needed.
Consider an extended warranty for additional protection once the factory warranty expires, especially for costly repairs.
Maintain your Nissan according to the maintenance schedule to help minimize problems and control repair costs.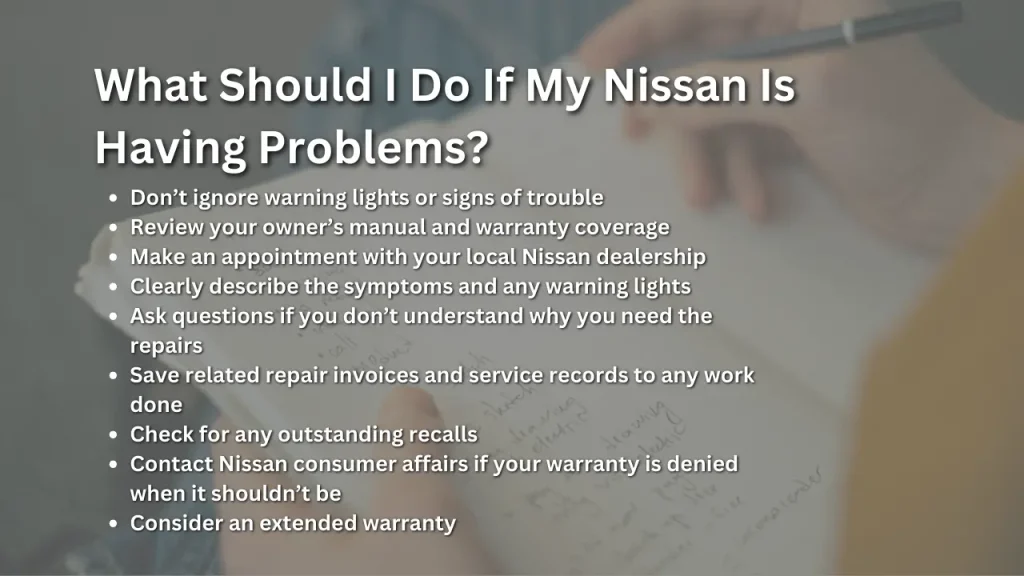 Other Recent Recalls
Honda and Acura Brake Recall
Aside from the Nissan LEAF EV recall, there have been other recent recalls in the automotive industry. One notable recall is the brake recall affecting 125,000 Honda and Acura vehicles. This recall is being initiated due to a brake-related issue and ensures the safety of the affected vehicles' braking systems.
BMW iX Cruise Control Problem
Another recent recall involves BMW's iX model, which has experienced a cruise control problem. As a safety precaution, BMW is issuing a recall to address this issue and guarantee the proper functioning of the cruise control system.
Ford Truck and SUV Fire Risk
Additionally, Ford is recalling 125,000 trucks and SUVs due to a fire risk. This recall is aimed at addressing potential issues that could result in fires in these vehicles. Ford is committed to resolving the problem promptly and ensuring the safety of its customers.
Ford Explorer Rollaway Risk
One upcoming recall to be aware of is the Ford Explorer rollaway risk. This recall aims to address potential issues that could result in the vehicle rolling away unintentionally. Ford is taking proactive measures to rectify the problem and ensure the safety of its customers.
Volkswagen Jetta Ignition Issue
Lastly, there is the Volkswagen Jetta ignition issue recall. This recall is being initiated to address potential problems with the ignition system that might compromise the safe operation of the affected vehicles. Volkswagen is committed to resolving the issue and ensuring the safety of its customers.
Should I Get An Attorney's Help?
If your Nissan vehicle is having issues that keep happening even after taking it in for repairs, it may be time to get an attorney's help. Some vehicle defects can pose a serious danger to the driver and passengers, and you have legal protection if the manufacturer is unable to fix the problem.
A lemon law attorney can help by providing legal advice and putting legal pressure on the other side to provide remedies for your lemon car. The remedies usually come in the form of a lemon law buyback or a replacement vehicle.
Lemon Law Attorneys at Consumer Action Law Group can Help
If you have a Nissan car and believe that it is a lemon, attorneys at Consumer Action Law Group can help. We understand that having your new car end up being defective and continue to persist after multiple repair attempts by the manufacturer can be stressful.
When you contact our firm, you will be talking with one of our paralegals so we can get a better understanding of your situation. We will determine the strength of your claim (likelihood chance of winning) and advise you on your next steps. This case evaluation is free, so it won't cost you a dime to see if you have a good lemon claim.