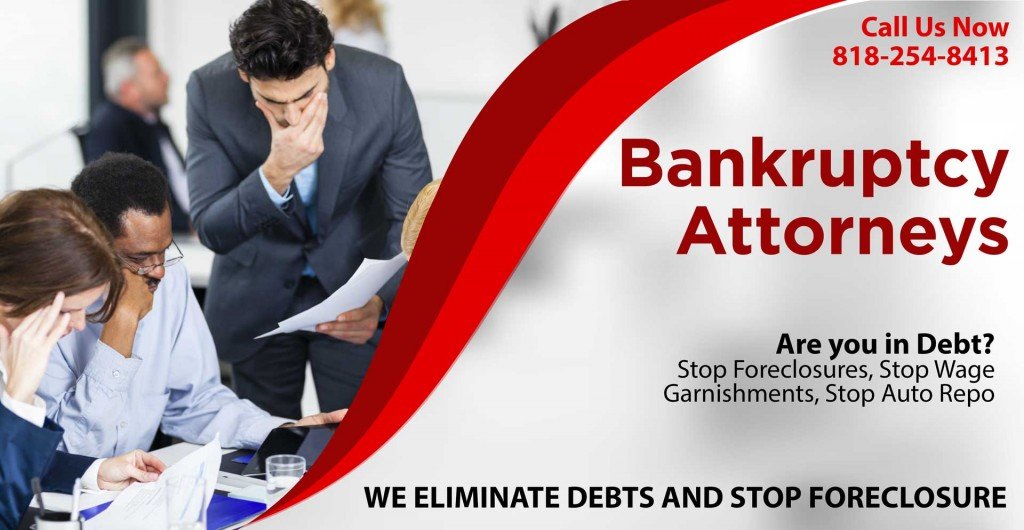 When you are facing some financial problems and you are not able to repay your loans and debts, then it is time to consult with our experienced Chapter 7 bankruptcy attorney. We will advise you of the best bankruptcy options. During your free legal consultation with our Chapter 7 bankruptcy attorney, we will help you determine which bankruptcy chapter will be the best option for you.
We are Experienced Chapter 7 Bankruptcy Attorneys
Since bankruptcy is a financially complex area of law, you must hire an experienced bankruptcy attorney who has experience with filing bankruptcy Chapter 7 and Chapter 13. This way, they can work according to the correct law and protect the properties and assets that belong to you.
Our firm is one of the most reputable bankruptcy law firms that successfully eliminate debt for clients. We will provide you with the best lawyers who will be with you during the bankruptcy process and even litigate for you. Our experienced bankruptcy attorney has a lot of experience with file bankruptcy cases and a high success rate to help you eliminate debt easily. Taking the advice from our lawyers when you want to file bankruptcy Chapter 7 is quite important.
Benefits of Chapter 7 Bankruptcy

You have to file a petition with supporting forms as the debtor with the bankruptcy court under a Chapter 7 bankruptcy. A bankruptcy trustee will review your petition and supporting forms and ask your bankruptcy lawyer to provide relevant documents and file amendments, if necessary. It is imperative to hire an efficient and experienced bankruptcy lawyer before filing for bankruptcy and we are your perfect match.
To increase your success rate, it is very important to discuss every single detail of your financial picture with your experienced bankruptcy attorney. This will ensure we advise you properly and plan for any objections by the bankruptcy trustee or the court. With an experienced and skilled attorney by your side you will have the confidence that your paperwork is filed correctly and your case will be fully approved by all parties involved.
If you feel that you are in huge financial trouble and you don't have much money left then filing Chapter 7 bankruptcy may be a good option for you to gain a fresh new start. With help from a bankruptcy attorney you can save your assets, such as real estate and bank accounts, from being seized by the creditors. It is a wise decision to contact a reliable bankruptcy law firm so you can get a trusted bankruptcy lawyer to provide you with strong representation.
How a Chapter 7 Bankruptcy Attorney Wipes Out Your Credit Card Debt and Medical Bills
Hiring a Chapter 7 Bankruptcy attorney is the most effective way to get rid of debts and bills that are too high to pay back. Chapter 7 Bankruptcy immediately stops collection calls and eliminates credit card debts and medical bills. Chapter 7 Bankruptcy also eliminates IRS debt over 3 years old, and any court judgments, as well as wage garnishment orders.
When to Call a Chapter 7 Bankruptcy Attorney
Generally speaking, Chapter 7 Bankruptcy makes sense when collection calls are coming in, and stress and anxiety make it very difficult to maintain control of debts. Many people have been laid off, have lost their medical insurance, have spent time in the ER with extremely high medical bills and credit card bills that will take years to pay back; if all goes well. Individuals looking into debt consolidation programs don't realize that Chapter 7 Bankruptcy is a better way to wipe out debt and rebuild credit. Many people believe that Chapter 7 Bankruptcy will hurt their credit when, in fact, filing bankruptcy is usually the best thing they can do.
How to Qualify for Chapter 7 Bankruptcy
Not everyone is eligible to file Chapter 7 Bankruptcy. Some individuals and some households have too much income, savings, home equity, or even too much debt to qualify for Chapter 7 Bankruptcy. The best way to know, with certainty, if you qualify for bankruptcy protection is to consult with a Chapter 7 Bankruptcy Attorney today. At Consumer Action Law Group, our Chapter 7 Bankruptcy Attorney will quickly assess your situation and give you free legal advice. Call today and talk to our Chapter 7 Bankruptcy attorney at 818-254-8413.
What Our Chapter 7 Bankruptcy Lawyer Can Do for You
Our chapter 7 bankruptcy lawyer can help you clear debt by filing chapter 7 bankruptcy for you. There are many meetings and requirements needed to successfully file chapter 7 bankruptcy. Failing to attend or meet the requirements can cause your bankruptcy to delay or even be denied.
A failed bankruptcy will cause you to fall further behind in debt. Having our chapter 7 bankruptcy lawyer by your side during the bankruptcy process will help make sure that the time, money, and effort you put into chapter 7 bankruptcy does not go to waste.
Eliminate Debt by File Chapter 7 Bankruptcy
Since declaring bankruptcy is a case that goes through the court system, it is crucial that each document and all of the information filed with the court is done so correctly. It is also very important to respond promptly to any questions or requests from the bankruptcy trustee. Filing bankruptcy requires a lot of proper planning and analysis.
Hiring an excellent bankruptcy lawyer you trust to advise you as to the pros and cons of filing bankruptcy and what would be the best option in your unique situation will be a step in the right direction for solving your financial crisis. Our Los Angeles Bankruptcy attorney will help you save your home and other assets, eliminate your debts, and give you fresh credit history. Call us now 818-254-8413