You never anticipate it happening to you, but accidents can occur in the blink of an eye. One moment, you're walking with confidence, and the next, you find yourself slip and falling, leaving you with potential injuries and mounting medical bills. However, there is a glimmer of hope amidst this unfortunate situation: slip and fall settlements without surgery. In this article, we will explore how you can avoid the hefty costs of surgery through fair and just settlements, providing you with the peace of mind you deserve.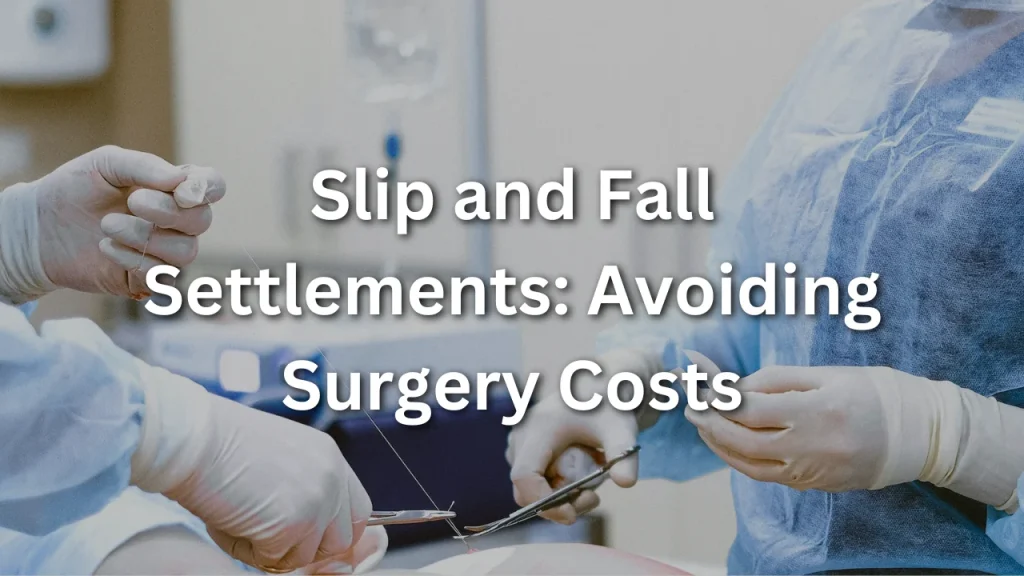 Common Injuries from Slip and Fall
Slip and fall can result in a variety of injuries, ranging from minor to severe. Some common injuries include fractures, soft tissue injuries, head injuries, back and spinal cord injuries, and sprains and strains.
Fractures, such as broken bones, are often seen in slip and fall cases due to the impact and force exerted on the body during a fall.
Soft tissue injuries, such as bruises, sprains, and strains, can occur when the body's tissues are stretched or torn.
Head injuries, including concussions and traumatic brain injuries, are a serious concern and can have long-term effects.
Back and spinal cord injuries can also be highly debilitating, potentially leading to chronic pain or paralysis.
Sprains and strains are common in slip and fall accidents, often affecting the ankles, knees, or wrists.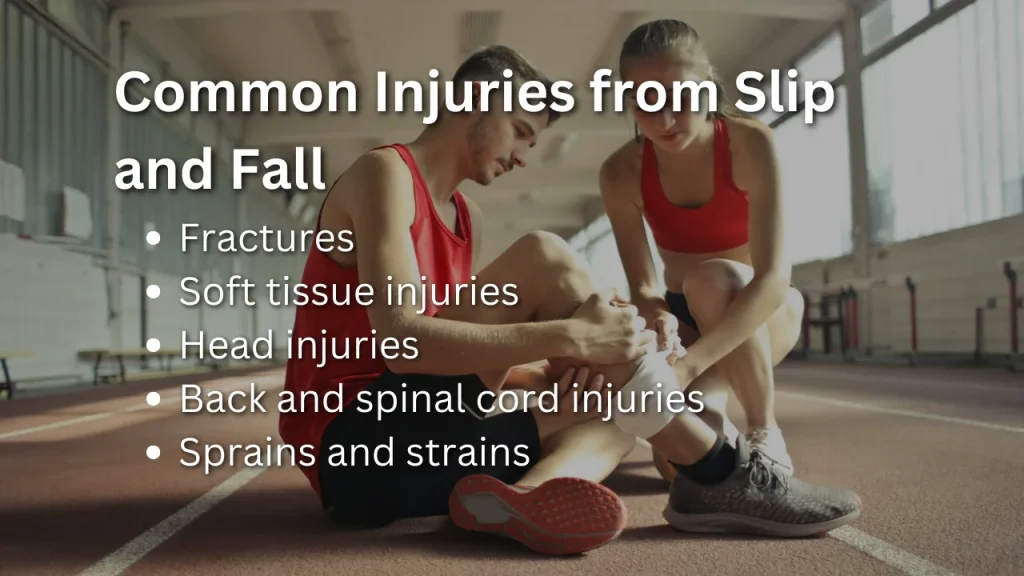 Importance of Avoiding Surgery
While surgery may sometimes be necessary to treat slip and fall injuries, it is generally best to avoid it if possible. Surgery carries certain risks and complications, including the potential for infection, adverse reactions to anesthesia, and prolonged recovery time.
Additionally, the financial burden of surgery can be significant, with costs for procedures, hospital stays, medications, and follow-up care quickly adding up (though you may recover the cost if you win the case). Recovery time after surgery can be lengthy, requiring individuals to take time off work or limit their daily activities. Therefore, it is crucial to explore non-surgical treatment options whenever possible.
Treatment Options for Slip and Fall Injuries
Fortunately, not all slip and fall injuries require surgical intervention. Non-surgical treatments can often effectively address the symptoms and promote healing. These treatments may include physical therapy, pain management techniques, such as medication or injections, and alternative therapies like acupuncture or chiropractic care.
Physical therapy plays a crucial role in the rehabilitation process, focusing on improving strength, flexibility, and range of motion to help individuals regain their independence and prevent further injuries. Pain management techniques aim to alleviate discomfort and improve quality of life. Alternative therapies can provide additional support and aid in the recovery process, offering non-invasive and drug-free options for pain relief.
Working with a Personal Injury Lawyer
When dealing with slip and fall injuries, it is essential to work with a personal injury lawyer. They can provide valuable legal representation and guide you through the complex process of seeking compensation. One of the key roles of a personal injury lawyer is determining liability, which involves identifying the party or parties responsible for the slip and fall incident. They will also assist in gathering evidence, such as accident reports, witness statements, and medical records, to bolster your case.
In the event that a settlement cannot be reached outside of court, a personal injury lawyer will help you file a lawsuit and navigate the legal proceedings. They will negotiate on your behalf to secure a fair settlement that covers your damages and reflects the pain and suffering you have endured.
Factors Affecting Slip and Fall Settlements
Various factors can influence the amount of compensation received in slip and fall settlements. The extent of the injury plays a significant role in determining the settlement amount, as more severe injuries often result in higher compensation.
Medical expenses incurred as a result of the slip and fall, including emergency room visits, doctor appointments, diagnostic tests, and rehabilitation, are carefully considered when calculating settlement figures.
Pain and suffering, both physical and emotional, are also taken into account.
Lost wages and future earning capacity may contribute to the settlement amount if the injuries prevent you from working or limit your ability to earn income.
Additionally, the concept of comparative negligence, which considers the degree of responsibility held by each party involved, can impact the final settlement.
Compensation for Non-surgical Treatment Costs
If you opt for non-surgical treatment for your slip and fall injuries, you may be entitled to compensation for various related expenses.
Medical bills, including consultations, examinations, and any necessary diagnostics, can be included in your claim.
Physical therapy expenses, such as session fees and equipment costs, can also be compensated.
Prescription medications required for pain management or recovery can be reimbursed.
Additionally, the cost of assistive devices and equipment, like crutches or braces, may be covered to aid in your rehabilitation.
Pain management techniques, such as massage therapy or acupuncture, can also be considered in the compensation settlement, allowing you to pursue alternative treatment options without incurring additional expenses.
Proving the Need for Non-surgical Treatment
When seeking compensation for non-surgical treatment costs, it is crucial to provide evidence that supports the necessity of these treatments.
Medical records and documentation detailing your injuries, diagnosis, treatment plans, and progress are invaluable in demonstrating the need for non-surgical interventions.
Expert testimony from healthcare professionals can also reinforce the importance of non-surgical treatment in promoting your recovery.
Witness statements from individuals familiar with your condition and the impact of the slip and fall incident can provide further support.
Photographic evidence of your injuries, medical procedures, or assistive devices used can further substantiate your claim.
Negotiating with Insurance Companies
Negotiating with insurance companies is an essential part of the slip and fall settlement process.
Understanding insurance policies, including coverage limits and exclusions, is crucial to ensure that you receive fair compensation.
Presenting evidence of the non-surgical treatment you have undergone and the associated costs is vital in demonstrating the impact of the slip and fall incident on your life and the need for compensation.
Insurance companies may make settlement offers throughout the negotiation process, and it is important to carefully evaluate these offers with the guidance of your personal injury lawyer.
Mediation or arbitration may be recommended to resolve any disputes and reach a satisfactory settlement agreement.
Legal Options if Surgery is Necessary
In some cases, surgery may be necessary to treat slip and fall injuries effectively. If non-surgical options have been exhausted or deemed insufficient, filing a personal injury lawsuit may be necessary to seek compensation for these additional medical costs. Surgery often entails substantial expenses, including surgeon fees, hospital charges, anesthesia costs, and post-operative care.
By filing a lawsuit, you can pursue compensation not only for the immediate surgical expenses but also for future medical expenses that may arise as a result of the procedure. Estimating future healthcare costs is a critical component of the legal process, ensuring that you are adequately compensated for the long-term impact of your injuries.
Role of Expert Witnesses in Slip and Fall Cases
Expert witnesses are critical in slip and fall cases, offering professional opinions and testimony to bolster your claim. For instance, medical experts can speak to the extent of your injuries, the needed treatments, and long-term impacts resulting from the incident. Economic experts can thoroughly analyze and quantify the financial losses – medical bills, lost income, reduced future earning ability – helping set fair compensation.
Accident reconstruction experts may also prove invaluable; by recreating the slip and fall scene and circumstances, they provide compelling evidence of liability. Their testimony often makes or breaks these cases, driving more favorable settlements or court verdicts. Between substantiating injuries, validating losses, and establishing responsibility, the right expert can strengthen any aspect of your slip and fall lawsuit.
Navigating slip and fall settlements requires understanding key points. First, recognize the common injuries and their severity. Also important is avoiding unnecessary surgery if possible. Understanding all treatment options available helps make informed choices. Finally, skilled legal representation proves critical when negotiating settlements.
Equipped with evidence and a lawyer's guidance when interacting with insurers, you can actively pursue compensation for injuries, expenses, lost wages, and other costs. The settlement process involves complexities, but the right knowledge and support empowers injured parties to seek fair restitution. Whether treatments are non-invasive or require surgery, an experienced personal injury attorney can provide invaluable direction. With their counsel, claimants can confidently traverse the intricacies of securing maximum settlement awards after slip and fall incidents.