Imagine this scenario: You diligently pay your bills on time, carefully managing your finances, only to find out that your credit history is a tangled mess due to something called a mixed credit file. You might be wondering what on earth a mixed credit file is, and how it could possibly affect your financial standing. Well, don't worry, because in this article, we will unravel the mysteries of mixed credit files and provide you with the knowledge you need to navigate this murky territory. So sit back, relax, and let's understand what exactly a mixed credit file entails.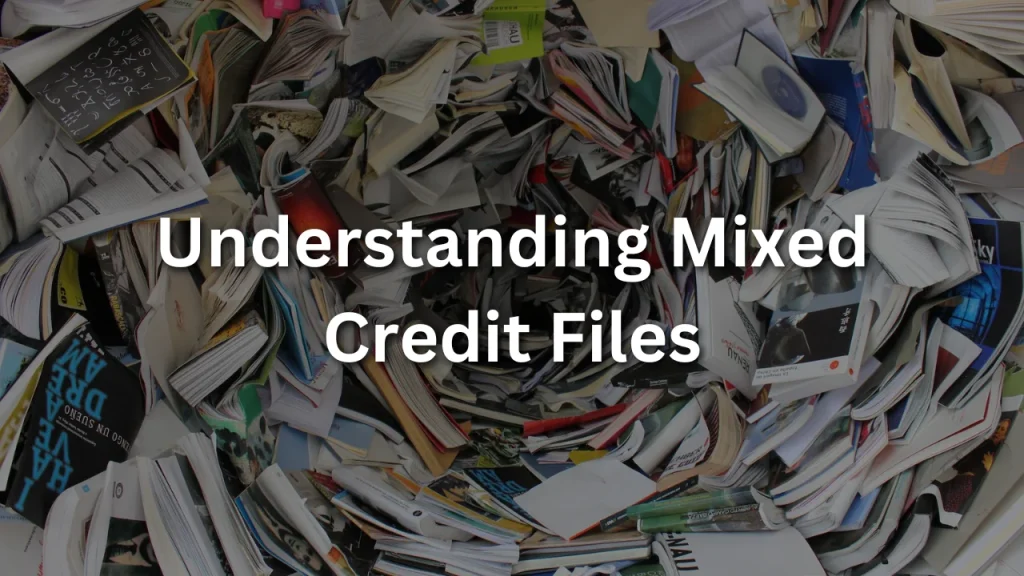 What is a Mixed Credit File?
A mixed credit file refers to a situation where the credit information of two or more individuals gets inaccurately merged into a single credit report. This can occur due to various reasons, such as similar names, addresses, or social security numbers. When this happens, it becomes difficult for lenders, credit bureaus, and consumers themselves to distinguish between the credit history and information of each individual. It can lead to confusion and potential harm to the affected individuals' creditworthiness and financial well-being.
Causes of Mixed Credit Files
There are several causes that can contribute to the creation of mixed credit files. One common cause is human error during the data entry process, where a credit bureau mistakenly merges the information of two or more individuals with similar identifying details. Additionally, outdated or incorrect personal information, such as outdated addresses or misspelled names, can also contribute to the creation of mixed credit files. Identity theft or fraud can further complicate the situation, as malicious actors may exploit personal information to create mixed credit files for their own gain.
Impact of Mixed Credit Files on Consumers
Mixed credit files can have significant negative consequences for consumers. When credit histories of multiple individuals are combined, it becomes challenging for lenders to accurately assess an individual's creditworthiness. This can result in higher interest rates, difficulties in obtaining loans, credit denials, or even job rejections. Furthermore, mixed credit files can make it difficult for individuals to monitor their own credit reports, as the information displayed may not accurately reflect their financial behavior and responsibility. This can lead to additional stress, frustration, and financial hardships for those affected.
How to Identify a Mixed Credit File
Identifying a mixed credit file can be a complex process, but there are several signs that can indicate its existence. One common indicator is the appearance of unfamiliar accounts, loans, or transactions on your credit report. If you notice information that doesn't align with your financial activities or if you receive correspondence, such as collection letters, for debts you have no knowledge of, it could be a sign of a mixed credit file. Additionally, if you observe inconsistencies in your personal information, such as incorrect addresses or wrong social security numbers, it may warrant further investigation.
Steps to Rectify a Mixed Credit File
If you suspect or have confirmed the existence of a mixed credit file, there are steps you can take to rectify the situation. The first course of action is to contact the credit bureaus that are reporting the mixed credit file. Explain the situation clearly and provide any evidence or documentation that supports your claim. The credit bureaus should investigate the matter and work to correct any inaccuracies in your credit report. Additionally, it's crucial to reach out to the lenders or institutions that have provided incorrect information about your credit history. By notifying them, they can update their records and provide the correct information to the credit bureaus.
Challenges in Resolving Mixed Credit Files
Resolving mixed credit files can often be a challenging and time-consuming process. One of the main challenges is the need for extensive documentation and evidence to support your claim that a mixed credit file exists. Collecting and organizing this evidence can be burdensome and require significant effort on the part of the affected individuals. Additionally, the investigation and correction process may take several weeks or even months, during which time the individual's creditworthiness and financial opportunities may be adversely affected. It is crucial to remain persistent and be prepared for potential obstacles when navigating this process.
Preventing Mixed Credit Files
While preventing mixed credit files entirely may be difficult, there are steps you can take to minimize the risk of experiencing this issue. First and foremost, ensure that your personal information is up to date and accurate with all relevant institutions and entities. Regularly review your credit reports from different credit bureaus to detect any discrepancies or unfamiliar accounts promptly. If you discover any inconsistencies, contact the credit bureaus and the relevant lenders immediately. By actively monitoring your credit and promptly addressing any issues, you can reduce the likelihood of encountering mixed credit files.
Legal Rights and Protections Regarding Mixed Credit Files
Consumers have legal rights and protections when it comes to mixed credit files. Under the Fair Credit Reporting Act (FCRA), individuals have the right to dispute inaccurate information on their credit reports and have those inaccuracies investigated and corrected by the credit bureaus. The FCRA also mandates that credit reporting agencies must maintain reasonable procedures to ensure the accuracy of the information in their reports. If your rights under the FCRA are violated, you have the right to seek legal recourse and potentially be awarded damages for any harm caused by the mixed credit file.
Common Misconceptions about Mixed Credit Files
There are several common misconceptions surrounding mixed credit files that are important to address. One misconception is that mixed credit files are solely the result of identity theft or fraud. While malicious actors can contribute to the creation of mixed credit files, human error, and outdated information are also significant factors. Another misconception is that mixed credit files are easy to resolve. In reality, resolving mixed credit files can be a lengthy and arduous process that requires persistence and diligence to ensure accurate resolution. It is crucial to approach the situation with patience and a willingness to provide the necessary documentation and evidence.
Additional Resources for Dealing with Mixed Credit Files
Dealing with mixed credit files can be overwhelming, but there are resources available to help individuals navigate this complex issue. The Consumer Financial Protection Bureau (CFPB) provides valuable information and resources on credit reporting, including guidance on disputing inaccuracies and resolving mixed credit files. The Federal Trade Commission (FTC) also offers guidance and assistance to consumers encountering issues related to credit reporting and mixed credit files. Additionally, credit counseling agencies and legal professionals specializing in consumer rights and credit reporting can provide expert advice and assistance throughout the process of rectifying mixed credit files.