Have you ever wondered how often mixed credit file incidents occur? In this article, we aim to shed light on the frequency of these incidents and provide insight into the potential consequences they can have on individuals. By understanding the prevalence and impact of mixed credit files, you will be better equipped to protect your financial reputation and navigate potential challenges that may arise from these incidents. So, let's dive in and explore the fascinating world of mixed credit file incidents together!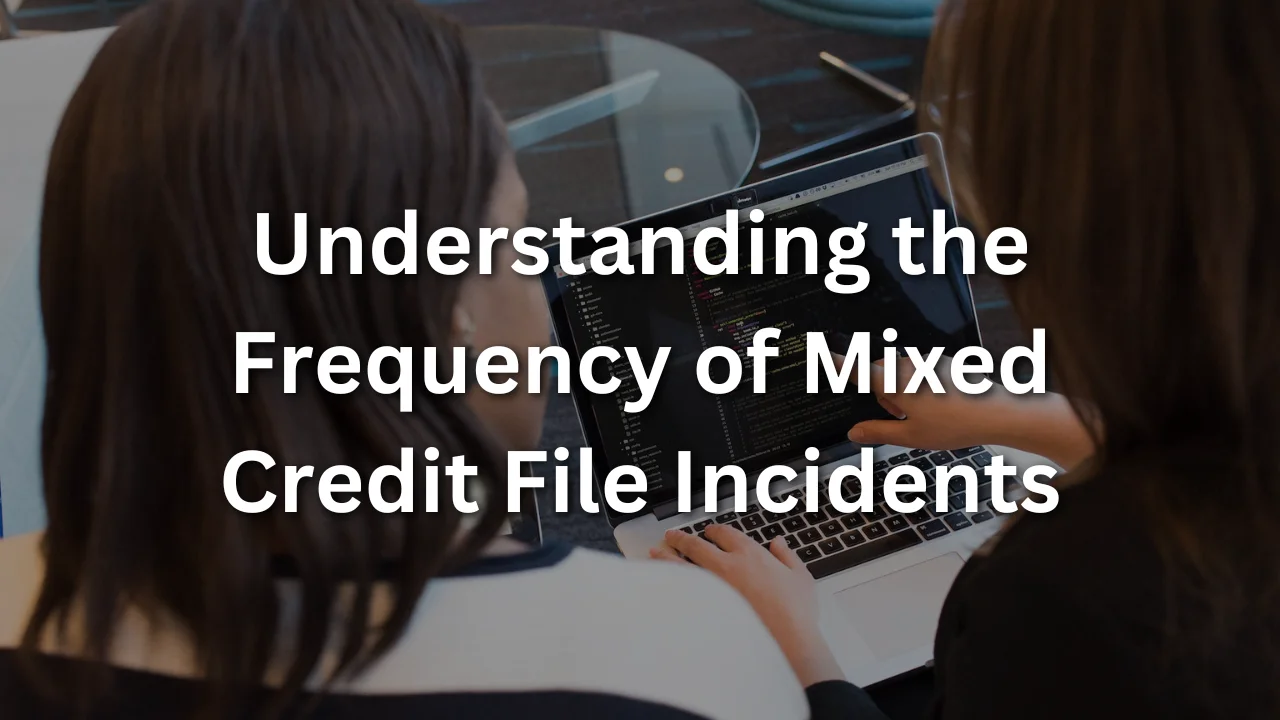 Definition of Mixed Credit File Incidents
Mixed credit file incidents occur when individuals' credit information gets mixed up with others, leading to inaccuracies and errors in their credit reports. This can happen due to various reasons, such as similar names, clerical errors, outdated information, or data breaches. When a mixed credit file incident occurs, it can have significant repercussions on individuals' financial well-being and overall creditworthiness.
Overview of Credit File Mix-Ups
Credit file mix-ups can have severe consequences for individuals. When credit information from multiple individuals gets merged into one credit file, it becomes challenging to differentiate between their credit histories, debts, and repayment behaviors. This conflation can lead to misrepresentations of an individual's creditworthiness, impacting their ability to secure loans, obtain employment, or even rent a property.
Causes of Mixed Credit File Incidents
Mixed credit file incidents can be caused by various factors, ranging from human error to technological glitches. Some common causes include errors made by credit reporting agencies when processing and updating credit information, outdated or incorrect personal identifying information, identity theft or fraud, data breaches, and incomplete or inaccurate data provided by creditors and lenders. Understanding these causes is essential in order to prevent and address such incidents effectively.
Consequences of Mixed Credit File Incidents
When individuals become victims of mixed credit file incidents, they may face numerous challenges and negative consequences that can significantly impact their financial stability and opportunities. Some main consequences of mixed credit file incidents include:
Negative Impact on Credit Scores
One of the immediate consequences of mixed credit files is a negative impact on credit scores. When an individual's credit file is mixed with someone else's, their credit history may include inaccurate information and debts that do not belong to them. This can cause their credit score to drop, making it difficult to qualify for credit cards, loans, or favorable interest rates.
Potential Denial of Credit or Loans
Mixed credit files can also lead to potential denial of credit or loans. Lenders rely heavily on credit reports to assess an individual's creditworthiness and determine their eligibility for financing. If a mixed credit file inaccurately represents an individual's credit history, lenders may view them as high-risk borrowers and deny their applications for credit or loans.
Difficulty in Obtaining Employment
Employers often conduct background checks on potential employees, which may include reviewing their credit reports. When individuals have mixed credit files, employers may find inaccurate and negative information that does not actually pertain to the job applicant. This can create an unfavorable impression and potentially affect the individual's chances of obtaining employment.
Challenges in Renting or Leasing Properties
Similarly, landlords and property management companies often utilize credit reports to assess the financial reliability of prospective tenants. If an individual's credit file is mixed with another person's, landlords may perceive them as a higher risk, leading to difficulties in securing rental properties or leases.
Assessing the Scope of Mixed Credit File Incidents
To understand the extent of mixed credit file incidents, it is important to consider various factors, such as statistics, the role of reporting and monitoring agencies, and the industries most affected by these incidents.
Statistics on Mixed Credit File Incidents
While it is challenging to determine the exact frequency of mixed credit file incidents due to underreporting and varying definitions, studies suggest that such incidents are more common than generally perceived. According to a study by the Federal Trade Commission (FTC), around 20% of individuals had at least one error on their credit reports, with 5% of individuals experiencing errors significant enough to impact their creditworthiness. These statistics highlight the prevalence of mixed credit file incidents and the need for increased awareness and prevention.
Reporting and Monitoring Agencies' Role
credit reporting agencies play a crucial role in the identification and resolution of mixed credit file incidents. They are responsible for collecting and maintaining individuals' credit information and generating credit reports. When a mixed credit file incident is reported, it is the agency's responsibility to investigate the issue, correct any errors, and update the individual's credit information accordingly. However, the effectiveness of their response and the timeliness of their actions can vary, leading to potential delays and frustrations for affected individuals.
Industries Most Affected by Mixed Credit Files
While mixed credit file incidents can affect individuals across various industries, some sectors are particularly vulnerable. For example, the financial industry, including banks and lenders, heavily relies on accurate credit information to make lending decisions. Additionally, industries that conduct background checks, such as employers and property management companies, are also significantly affected. By understanding the industries most affected by mixed credit files, it becomes possible to focus efforts on prevention and resolution within these sectors.
Identification and Resolution of Mixed Credit Files
When individuals suspect they have fallen victim to a mixed credit file incident, it is crucial to recognize the signs, follow specific steps, and work with credit bureaus and data furnishers to resolve the issue. Understanding the process and being aware of their legal rights and protections can significantly help affected individuals in their pursuit of credit file accuracy.
Recognizing Signs of a Mixed Credit File
Signs of a mixed credit file may include debts, loans, or accounts that do not belong to an individual, incorrect personal information, unfamiliar credit inquiries, or credit limits that are inconsistent with an individual's financial history. If any of these signs are present, it is important to take immediate action to rectify the issue.
Steps to Take if You Suspect a Mixed Credit File
Suspecting a mixed credit file requires prompt action to rectify the situation. It is advisable to start by carefully reviewing credit reports from all three major credit bureaus – Equifax, Experian, and TransUnion – to identify any inconsistencies or inaccuracies. Individuals should then file a dispute with each credit bureau, detailing the errors and providing supporting documentation. It is essential to maintain thorough records of all communication and follow up regularly until the issue is resolved.
Working with Credit Bureaus and Data Furnishers
When resolving a mixed credit file incident, individuals must work closely with the credit bureaus and data furnishers involved. This may require providing additional documentation, exercising patience during the investigation process, and following up consistently to ensure a resolution is reached. Understanding the rights and protections afforded by laws such as the Fair Credit Reporting Act (FCRA) can also guide individuals through the resolution process.
Legal Rights and Protections for Consumers
Affected individuals have legal rights and protections under the Fair Credit Reporting Act (FCRA) when it comes to mixed credit file incidents. These include the right to dispute inaccurate information, the right to have errors investigated and corrected within 30 days of filing a dispute, and the right to obtain a free credit report annually. It is important for individuals to be aware of these rights and exercise them when necessary to protect their credit information.
Preventing Mixed Credit File Incidents
Prevention is key in reducing the occurrence of mixed credit file incidents. By adopting proactive measures and maintaining accurate personal information, individuals can minimize the risk of credit file mix-ups and protect their creditworthiness.
Maintaining Accurate Personal Information
Keeping personal information up to date is crucial in preventing mixed credit file incidents. Individuals should ensure that their addresses, phone numbers, and other identifying information provided to creditors and lenders are accurate and regularly updated. This reduces the likelihood of confusion and misidentification when credit information is collected and reported.
Regularly Monitoring Credit Reports
Regularly monitoring credit reports from all three major credit bureaus allows individuals to identify and address any inaccuracies or fraudulent activities promptly. By reviewing credit reports at least once a year, individuals can proactively detect and correct any errors before they cause significant damage to their credit profile.
Alerts and Credit Freezes
Credit monitoring alerts and credit freezes can provide added security against mixed credit file incidents. Credit monitoring alerts notify individuals of any changes or activities on their credit reports, allowing for immediate action if any suspicious information is detected. Credit freezes, on the other hand, restrict potential creditors from accessing an individual's credit report without explicit authorization, reducing the risk of unauthorized access and potential credit file mix-ups.
Secure Transmission of Information
When providing personal information to creditors, lenders, or credit reporting agencies, individuals should ensure the secure transmission of this data. This includes using secure websites, encrypted communication channels, and taking precautions to protect sensitive information from being intercepted or accessed by unauthorized parties.
Responsibilities of Credit Reporting Agencies
Credit reporting agencies have a crucial role to play in preventing and addressing mixed credit file incidents. By implementing data accuracy and verification practices, conducting timely investigations of complaints, and taking proactive measures, these agencies can help mitigate the risk of credit file mix-ups and safeguard individuals' credit information.
Data Accuracy and Verification Practices
Credit reporting agencies must prioritize data accuracy and implement strong verification practices to prevent mixed credit file incidents. This includes verifying the accuracy of information received from data furnishers, ensuring proper identification and differentiation of individuals within their credit files, and regularly updating and maintaining accurate credit information.
Timely Investigation of Complaints
When individuals report a mixed credit file incident, credit reporting agencies should conduct timely investigations, acknowledging the urgency and potential impact on individuals' financial well-being. This involves thoroughly reviewing the reported issues, gathering relevant information, and rectifying any errors or inaccuracies promptly.
Proactive Measures to Prevent Mixed Credit Files
Credit reporting agencies can implement proactive measures to prevent mixed credit files from occurring in the first place. This may include enhancing data matching algorithms, employing advanced technology systems for data integrity and validation, and collaborating with other industry stakeholders to establish standardized protocols for data reporting and verification.
Consumer Advocacy and Assistance
In situations where individuals encounter mixed credit file incidents, various consumer rights organizations, government agencies, and legal options offer support and guidance to affected individuals.
Consumer Rights Organizations
Consumer rights organizations, such as the Consumer Financial Protection Bureau (CFPB), National Consumer Law Center (NCLC), and local consumer advocacy groups, provide resources and guidance to individuals facing credit file mix-ups. These organizations offer valuable information on consumer rights, credit reporting practices, and avenues for resolving credit-related issues.
Government Agencies for Consumer Support
Government agencies, including the Federal Trade Commission (FTC) and the Consumer Financial Protection Bureau (CFPB), are dedicated to protecting consumers' rights and interests. These agencies not only provide educational resources about credit reporting and mitigation of mixed credit file incidents but also handle complaints filed by individuals who have experienced credit reporting errors.
Legal Options for Affected Consumers
In some cases, affected individuals may need to explore legal options to address mixed credit file incidents. Consulting with consumer protection attorneys who specialize in credit reporting and identity theft cases can help individuals understand their rights, navigate the legal process, and seek appropriate remedies for damages they may have suffered.
Implications for Lenders and Creditors
Mixed credit file incidents also have implications for lenders and creditors who rely on accurate credit information when making lending decisions. It is essential for these entities to be aware of the potential risks associated with mixed credit files and take appropriate measures to mitigate potential damages and liabilities.
Risk Assessment for Lending Decision
Lenders and creditors should conduct thorough risk assessments when evaluating loan applications. By recognizing the possibility of mixed credit file incidents and implementing robust verification procedures, lenders can ensure that applicants' creditworthiness is accurately assessed, reducing the likelihood of granting credit based on inaccurate information.
Vigilance in Verifying Applicant Information
Lenders and creditors must exercise vigilance in verifying applicant information to prevent reliance on erroneous credit reports. This involves cross-checking personal identifying information, such as Social Security numbers, addresses, and employment history, to ensure accuracy and prevent credit file mix-ups.
Mitigating Potential Damages and Liabilities
In instances where lenders or creditors inadvertently grant credit based on mixed credit files, they should be proactive in mitigating potential damages and liabilities. This may include working closely with affected individuals to rectify any errors or inaccuracies, providing appropriate explanations to credit reporting agencies regarding the discrepancies, and taking necessary steps to ensure accurate credit reporting moving forward.
Addressing Mixed Credit File Incidents at the Systemic Level
To effectively address mixed credit file incidents, it is crucial to tackle the root causes and implement systemic solutions that promote accuracy and transparency in credit reporting practices.
Improving Communication Channels
Enhancing communication channels between consumers, credit reporting agencies, data furnishers, and other relevant stakeholders can greatly reduce the occurrence of mixed credit file incidents. Transparent and easily accessible channels for reporting and resolving credit reporting errors allow for efficient communication and prompt resolution of issues.
Industry Collaboration for Standardization
Collaboration among industries, such as finance, employment, and leasing, is instrumental in establishing standardized protocols for data reporting, verification, and identification. By working together, stakeholders can identify and address common challenges, develop best practices, and reduce the occurrence of mixed credit file incidents.
Technological Solutions for Data Integrity
Leveraging technology solutions can significantly improve data integrity and accuracy in credit reporting. Automation and digitalization of processes can minimize the risk of human error, enhance data matching algorithms, and improve data verification procedures. Implementing advanced technologies can help prevent and detect mixed credit file incidents, ensuring a more reliable and secure credit reporting system.
Conclusion
Mixed credit file incidents can have significant and far-reaching consequences for individuals, affecting their credit scores, financial opportunities, and overall well-being. By understanding the frequency, causes, consequences, and prevention measures associated with mixed credit files, individuals can better protect themselves and advocate for fair and accurate credit reporting practices. Furthermore, credit reporting agencies, lenders, creditors, and government entities must collaborate and take proactive measures to prevent and address mixed credit file incidents, working towards a more reliable and transparent credit reporting system that benefits consumers and businesses alike.