In the world of finance, it's not uncommon to encounter errors or discrepancies in your credit report. These mistakes can have a significant impact on your financial well-being, affecting everything from your ability to secure a loan to the interest rates you receive. But fear not, dear reader, because we're here to guide you through the process of disputing a credit report. In this article, we'll walk you through the steps you need to take to resolve any issues and ensure that your credit history is accurate and up-to-date. So, let's get started on the path to financial peace of mind!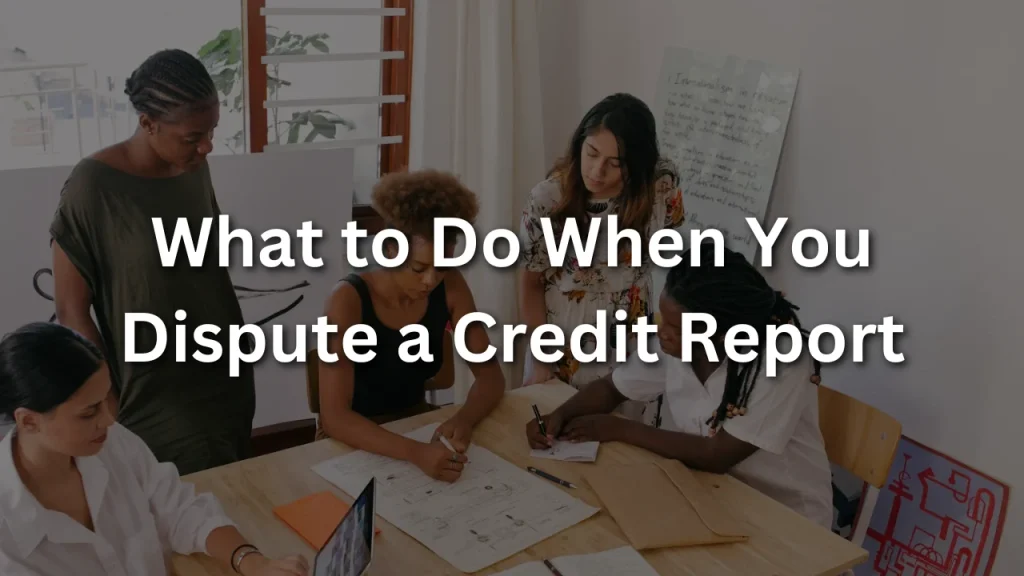 Understanding Credit Report Disputes
Your credit report is a crucial document that provides a snapshot of your financial history and creditworthiness. It contains information about your credit accounts, payment history, and any negative actions such as late payments or accounts in default. Reviewing your credit report regularly is essential to ensure its accuracy and identify any potential errors or inaccuracies that may impact your credit score and financial well-being.
Importance of reviewing your credit report
Reviewing your credit report offers several benefits. Firstly, it allows you to verify the accuracy of the information reported by lenders, creditors, and collection agencies. Any discrepancies or errors on your credit report can have significant consequences, potentially leading to lower credit scores and limited access to credit options. By identifying and addressing these errors promptly, you can protect your financial reputation and avoid unnecessary complications when applying for loans, credit cards, or renting property.
Common errors on credit reports
credit report errors are more common than you might think. Some of the most frequent mistakes include incorrect personal information, such as your name, address, or Social Security number. Inaccurate account information, such as closed accounts still listed as open or incorrect balances, can also appear on your credit report. Additionally, you may find accounts that do not belong to you or records of late payments or delinquencies that you know you never made.
Negative consequences of inaccurate information on credit reports
Inaccurate information on your credit report can have far-reaching consequences. It can lead to higher interest rates on loans and credit cards, making it more expensive for you to borrow money. Inaccurate negative items on your report can also hinder your ability to secure favorable terms on new credit applications or rental agreements. Furthermore, employers and insurance companies may use your credit report as a factor in making hiring or coverage decisions. Therefore, it is essential to address and correct any inaccuracies promptly to mitigate these negative consequences.
Steps to Take When You Dispute a Credit Report
If you discover errors or inaccuracies on your credit report, it is crucial to take action to correct them. Follow these steps when disputing a credit report to ensure a smooth and successful resolution.
1. Gather necessary information
Before contacting the credit bureau, gather all relevant information related to the disputed item(s). This may include account statements, payment receipts, correspondence with lenders or creditors, and any other documentation that supports your claim. Having this information readily available will help you present a well-substantiated case.
2. Contact the credit bureau
Reach out to the credit bureau that issued the credit report containing the errors. There are three major credit reporting agencies in the United States: Equifax, Experian, and TransUnion. Each has a dispute resolution department to handle consumer inquiries. You can typically find their contact information on their websites or on the credit report itself.
3. Initiate a dispute online or by mail
The credit bureaus offer online dispute resolution platforms where you can submit your dispute electronically. Alternatively, you can send a written dispute letter by mail. Include all relevant details, such as your identifying information, the disputed items, and the reasons for your dispute. Be clear and concise in explaining your concerns.
4. Provide clear and concise explanations
When detailing your dispute, it is important to provide clear and concise explanations. State the specific errors or inaccuracies you are disputing and provide supporting evidence and documentation. Keep your explanations focused on the facts and avoid including emotional or subjective opinions.
5. Compile supporting evidence
Support your dispute with documents that back up your claims. This may include account statements, payment receipts, letters or emails from creditors, or any other evidence that proves the inaccuracies on your credit report. Remember to make copies of all original documents and include copies, not originals, with your dispute submission.
6. Keep copies of all communications
Throughout the dispute process, it is crucial to maintain a record of all communications. This includes written correspondence, emails, online dispute submission confirmations, and any other relevant documentation. By keeping a comprehensive paper trail, you can easily reference past interactions and provide evidence if the dispute needs further escalation.
7. Follow up on the dispute
After submitting your dispute, it is important to follow up with the credit bureau to ensure timely and accurate resolution. Keep track of the timeframe for resolution provided by the credit bureau and be proactive in checking for updates. If necessary, reach out to the credit bureau to inquire about the progress of your dispute.
8. Review the outcome
Once the credit bureau completes its investigation, they will send you a response indicating the outcome of your dispute. Review this response carefully to determine if the errors have been corrected or if further action is needed. If the inaccuracies have been resolved, verify that your credit report accurately reflects the changes.
9. Escalate the dispute if necessary
If the credit bureau's response does not resolve the errors satisfactorily, you have the option to escalate the dispute. Consider reaching out to a consumer protection agency, such as the Consumer Financial Protection Bureau (CFPB), for further assistance. They can provide guidance on how to proceed and may be able to help facilitate a resolution with the credit bureau.
Seeking Legal Assistance in Credit Report Disputes
While disputing credit report errors can often be resolved independently, there are instances where seeking legal assistance may be beneficial.
Hiring a credit repair company
Credit repair companies specialize in assisting individuals in disputing credit report errors. They have experience navigating the dispute process and can handle the entire process on your behalf. However, it is important to research and choose a reputable credit repair company to ensure that they operate legally and ethically.
Consulting a consumer protection attorney
If you encounter significant challenges in resolving credit report disputes, it may be wise to consult a consumer protection attorney. These professionals are well-versed in consumer laws and can provide legal expertise and guidance throughout the dispute process. They can help you understand your rights, navigate complex legal situations, and advocate for your interests.
In conclusion, understanding credit report disputes and taking appropriate action when errors are detected is essential for maintaining a healthy financial profile. By reviewing your credit report regularly, identifying common errors, and following the necessary steps to dispute inaccuracies, you can protect your creditworthiness and financial well-being. Remember, seeking legal assistance in credit report disputes is always an option if needed.