If you find yourself in a situation where you need to dispute something on your credit report, it's important to know exactly who to call. The process can seem overwhelming but don't worry, you're not alone. In this article, we will guide you through the steps to take and tell you exactly who you should contact when disputing a credit report. Rest assured, help is just a phone call away.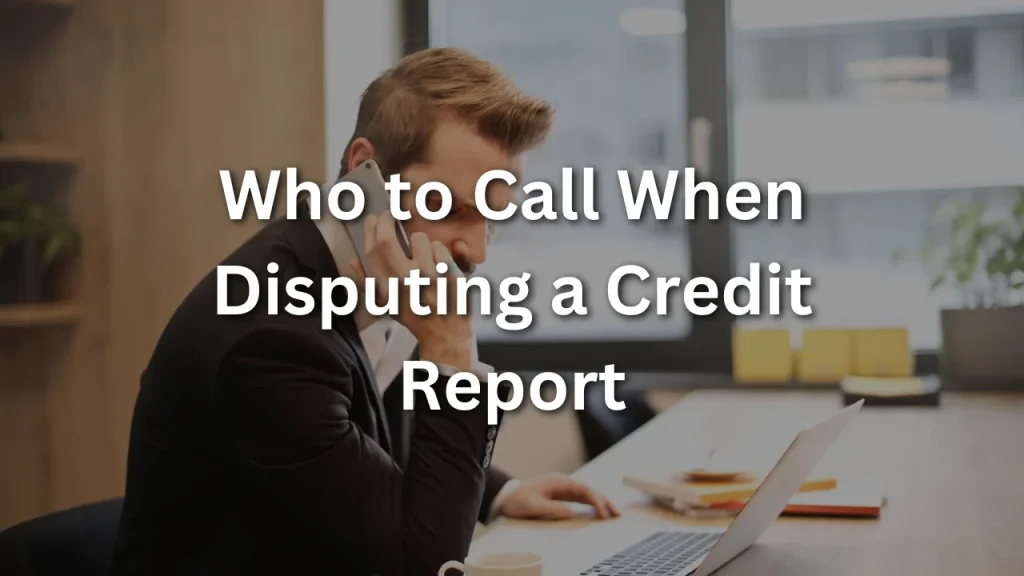 Understanding Credit Reports and Disputes
What is a Credit Report?
A credit report is a document that provides a comprehensive overview of an individual's credit history, including their borrowing and repayment behavior. It includes information about the individual's accounts, such as credit cards, loans, and mortgages, as well as their payment history, outstanding balances, and any negative events like late payments, defaults, or bankruptcies. Lenders use credit reports to assess an individual's creditworthiness and determine their eligibility for loans or credit.
Credit Report Disputes: Overview
credit report disputes arise when you believe that there is inaccurate or incorrect information on your credit report that is negatively impacting your creditworthiness. This can include incorrect personal information, accounts that don't belong to you, duplicate entries, or inaccurate payment history. Resolving such disputes is important as it can have a significant impact on your ability to obtain favorable credit terms and interest rates.
Initial Steps in Disputing a Credit Report
Review Your Credit Report
The first step in disputing a credit report is to carefully review it for any errors or discrepancies. Take note of any accounts, balances, or personal information that you believe is incorrect. It's important to review all three major credit reports from Equifax, Experian, and TransUnion since information may vary between them.
Understand Your Rights
As a consumer, you have specific rights when it comes to disputing information on your credit report. Familiarize yourself with the provisions of the Fair Credit Reporting Act (FCRA), which grants you the right to dispute inaccurate information and ensures that credit bureaus and information providers must investigate your claims within a reasonable timeframe.
Gather Supporting Documents
To support your dispute, gather any relevant documentation that proves the inaccuracies in your credit report. This may include bank statements, payment receipts, or any other evidence that can verify your claims. The more supporting documents you have, the stronger your dispute will be.
Contact the Credit Bureau
Determine the Correct Credit Bureau
Identify which credit bureau is reporting the inaccurate information. Since each credit bureau operates independently, it's crucial to contact the appropriate one to initiate the dispute process.
Obtain Contact Information
Once you determine the correct credit bureau, obtain their contact information. This includes their mailing address, phone number, and website where you can access online dispute forms.
Submit a Dispute Online
Many credit bureaus provide online platforms for submitting disputes. This can be the quickest and most convenient method. Simply complete the online dispute form, providing the necessary details and supporting documentation, and submit it electronically.
Send a Dispute by Mail
If you prefer to dispute the information by mail, you can send a written dispute letter to the credit bureau. Make sure the letter includes your personal information, a detailed explanation of the inaccuracy, and any supporting documents. Send it via certified mail with a return receipt to ensure it is received.
Follow up on Your Dispute
After submitting your dispute, it's important to follow up with the credit bureau to ensure your claim is being investigated. Stay persistent and keep records of any communication, including dates, names of representatives spoken to, and any reference numbers provided.
Contact the Information Provider
Identify the Information Provider
In addition to contacting the credit bureau, it is equally important to reach out to the information provider. The information provider is the entity that reported the inaccurate information to the credit bureau, such as a bank, lender, or creditor.
Obtain Contact Information
Find the contact information of the information provider. This can typically be found on your credit report or by contacting their customer service department directly. If the information provider is a smaller institution or local business, you may need to do some additional research to find the appropriate contact.
Communicate Your Dispute
Once you have the contact information, reach out to the information provider and clearly communicate your dispute. Explain the inaccuracy, provide any supporting documentation, and make a formal request for them to correct the information they reported to the credit bureau.
Provide Supporting Documents
Just like with the credit bureau dispute, provide the information provider with any supporting documents that prove the inaccuracy. This will strengthen your case and increase the chances of a swift resolution.
Keep Records of Communication
Throughout the dispute process with the information provider, make sure to keep detailed records of all communication. This includes notes from phone conversations, emails, or any other correspondence. These records can be valuable if further action needs to be taken or if the dispute is not resolved satisfactorily.
Seek Legal Advice or Help
Determine the Need for Legal Assistance
In some cases, disputing a credit report may require legal assistance, especially if the inaccuracies persist despite your efforts. An attorney specializing in consumer law can guide you through the legal process and ensure your rights are protected.
Consult with Consumer Protection Agencies
If legal assistance is not necessary, consider consulting with consumer protection agencies, such as the Federal Trade Commission (FTC) and the Consumer Financial Protection Bureau (CFPB). These agencies offer resources, guidance, and tools to help consumers handle credit report disputes.
Hire a Credit Repair Agency
Another option is to hire a reputable credit repair agency. These agencies specialize in credit disputes and have experience dealing with credit bureaus and information providers. They can act on your behalf and increase the likelihood of a favorable resolution.
File a Complaint with Regulatory Authorities
If you believe the credit bureau or information provider has violated your rights or mishandled your dispute, you can file a complaint with relevant regulatory authorities. This can include state and local consumer protection offices or, in some cases, the credit reporting agencies themselves.
Monitor the Resolution Process
Follow Up with the Credit Bureau
Follow up with the credit bureau to ensure that your dispute is being actively investigated. Stay engaged in the process and inquire about the status of your claim. Be prepared to provide any additional information or documentation as requested.
Track Progress with the Information Provider
Similarly, stay in touch with the information provider throughout the resolution process. Request updates on the actions they are taking to investigate and correct the inaccurate information. This will help ensure that the necessary steps are being taken to resolve the dispute.
Review Updated Credit Reports
Once the credit bureau and information provider have completed their investigations, review your updated credit reports. Ensure that the inaccuracies have been corrected and that your credit history reflects the accurate and updated information. If discrepancies persist, continue to take appropriate action.
Address Any Lingering Issues
If the dispute resolution process does not completely resolve the issues with your credit report, it's essential to address any lingering problems. This may involve reaching out to the credit bureau or information provider again, gathering additional evidence, or seeking further legal assistance if necessary.
Understanding Credit Report Dispute Related Rights
Fair Credit Reporting Act (FCRA)
The Fair Credit Reporting Act (FCRA) is a federal law that regulates the collection, dissemination, and use of consumer credit information. It grants consumers certain rights, including the right to dispute inaccurate or incomplete information on their credit reports. The FCRA also requires credit reporting agencies to investigate and correct any errors within 30 days of receiving a dispute.
Fair and Accurate Credit Transactions Act (FACTA)
The Fair and Accurate Credit Transactions Act (FACTA) is an amendment to the FCRA that provides consumers with additional rights and protections. FACTA entitles consumers to one free credit report per year from each credit bureau, as well as the right to request a free credit report after being denied credit or experiencing fraud.
Equal Credit Opportunity Act (ECOA)
The Equal Credit Opportunity Act (ECOA) prohibits credit discrimination based on race, color, religion, national origin, sex, marital status, age, or receipt of public assistance. It ensures that credit decisions are made based on objective criteria and not on discriminatory factors. If you believe you have been a victim of credit discrimination, the ECOA provides avenues for recourse.
Additional Steps to Protect Your Credit
Establish Good Credit Habits
To protect your credit in the long term, it's important to establish and maintain good credit habits. This includes paying your bills on time, keeping your credit card balances low, avoiding excessive borrowing, and regularly checking your credit reports for any inaccuracies.
Monitor Your Credit Regularly
Stay vigilant by monitoring your credit regularly. Review your credit reports periodically to ensure the accuracy of the information and be on the lookout for any signs of fraudulent activity or unauthorized accounts. Promptly report any suspicious or fraudulent activity to the appropriate authorities.
Safeguard Personal Information
Protecting your personal information is crucial in preventing identity theft and unauthorized access to your credit accounts. Be cautious when sharing personal information online or over the phone. Use secure networks, regularly update passwords, and monitor your financial statements for any unauthorized transactions.
Be Cautious with Credit Repair Companies
While there are reputable credit repair agencies that can assist with credit disputes, be cautious of fraudulent or unscrupulous companies. Research and verify the credibility of any agency before engaging their services. Be wary of agencies that promise immediate credit repair or ask for upfront payment.
Resources and Support
Federal Trade Commission (FTC)
The Federal Trade Commission (FTC) is a government agency that enforces consumer protection laws and provides valuable resources for consumers. Their website offers information on credit reporting, disputing inaccuracies, and dealing with identity theft. They also provide a platform to file complaints against credit bureaus and other entities involved in credit reporting.
Consumer Financial Protection Bureau (CFPB)
The Consumer Financial Protection Bureau (CFPB) is another government agency that focuses on consumer protection in the financial sector. They provide educational resources, tools, and guidelines on credit reporting and dispute resolution. The CFPB also accepts complaints related to credit reporting and monitors consumer financial products and services.
Credit Reporting Agencies
The three major credit reporting agencies, Equifax, Experian, and TransUnion, play a critical role in the credit reporting process. Visit their websites to access your credit reports, dispute inaccurate information, and obtain information on credit-related resources.
State and Local Consumer Protection Offices
State and local consumer protection offices can offer additional support and guidance in credit report disputes. These offices can assist in resolving disputes, provide legal resources, and offer advice tailored to your specific jurisdiction. Contact your local consumer protection office for more information.
Conclusion
Disputing a credit report can be a complex and challenging process, but it's essential to take action if you believe that your credit history contains inaccuracies. By understanding your rights, following the necessary steps, and seeking appropriate support, you can work towards ensuring that your credit report reflects accurate and favorable information. Remember to monitor your credit regularly, establish good credit habits, and protect your personal information to maintain a healthy credit profile.