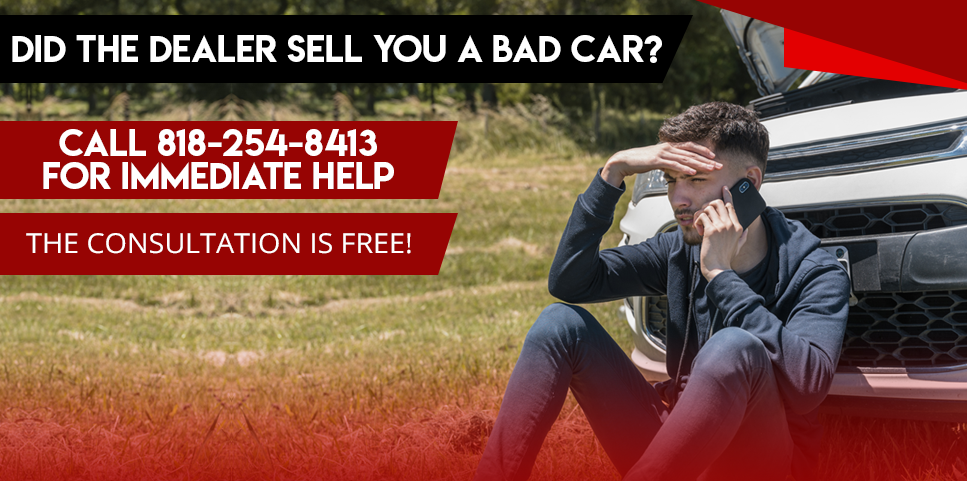 It's easy to get frustrated when you find out that you bought a used car from dealer with problems. But don't worry! There are many options available to you that can help rectify the issue. One easy way to find out about your options is to speak with an experienced auto fraud attorney. Many law firms will offer free consultation on their first call to help you figure out what you want and how you can achieve that goal.
If you bought a used car that has problems, we can help. Our experienced attorneys at Consumer Action Law Group help car buyers figure out their best option and can help you too. Call us at (818) 254-8413 for your free consultation.
Work It Out with the Dealer
Usually, many problems will be covered by your warranty or service contract. Check whichever document that covers your problem and follow the instructions listed there to get the appropriate service. However, this may not always as you want it to. If this is the case, you can always try working it out with the dealer.
Go back to the dealership where you purchased your car from and talk with the salesperson or the dealership owner if you need to. Just by the fact that you are there in person can persuade the dealer into fixing the problem for you. However, if the dealer is not willing to fix the issue or you think that you are entitled to the service, you have some options.
Contact Your Local Manufacturer's Representative
If your warranty is backed by a car manufacturer, you can contact your local manufacturer's representative. The representative can decide to give warranty services and repairs for the customers. Sometimes, the manufacturer will even agree to fix problems that are not covered by the warranty if it means satisfying the customers. Contact your local manufacturer's representative to see if such a policy exists for your car's year, make, and model.
Go to Small Claims Court
Going to small claims court is an option for those whose car problems involve small amounts of money. You can resolve disputes with the dealer regarding your car problems with a small claims court. Small claims court does not involve attorneys can will be more cost-efficient for those seeking damages that do not exceed the small claims court limit. The limit is different for different states, so you should look up your state's small claims limit.
Get Help From An Auto Fraud Attorney
If none of the steps above is for you, you can turn to an auto fraud attorney for help. Auto fraud attorneys can apply legal pressures against the dealer in order to make sure that they make the repairs that you are owed. Additionally, the attorneys can review your contracts and warranties to spot anything that seems fraudulent or illegal. If so, they can demand those wrongs to be righted through legal action by using the Magnuson-Moss Warranty Act. Consult with an auto fraud attorney near you to see if this is the case. Most law firms offer free legal advice.
Get Legal Help If You Bought a Used Car From Dealer With Problems
If you bought a used car from dealer with problems and the dealer won't cooperate, getting legal help might be your best option. When dealers get legal letters from attorneys, they suddenly become glad to make the repairs for you. They don't want to waste time and risk losing a fair bit of money by dragging out the issue.
Our auto fraud attorneys are experienced in dealing with dealers and know how to get the best result for our clients. If you want to learn more about your options, feel free to give us a call. We offer free legal advice.